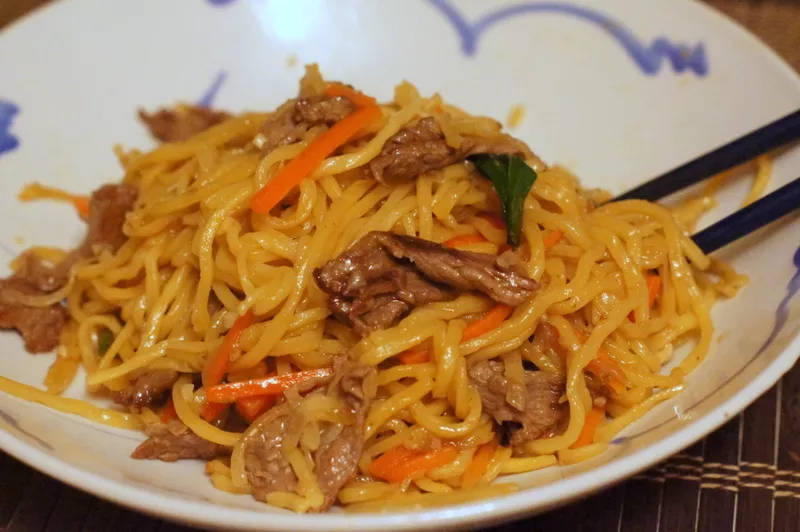 There are two stir-fry Asian noodles dishes that I and my family really love:
Yakisoba
and
Lo Mein
. Chances are, you've had one or both at Japanese or Chinese restaurants. They are very similar.
Yakisoba
, in Japanese, literally means "fried buckwheat," but has come to more generally refer to a fried Japanese noodle dish made with
soba
(buckwheat) noodles and stir-fried with veggies and protein.
Similarly,
lo mein
means "stirred noodles" in Chinese and has come to refer to wheat flour noodles stir-fried with protein (typically pork) and vegetables such as carrots and cabbage.
I like both
yakisoba
and
lo mein
, but I sometimes find
yakisoba
a bit cloying, especially when it's overly-sauced. On the other hand,
lo mein
can be a little bland. So, I've melded the two Asian noodle dishes together to create one I especially enjoy. I'm calling it Yaki-Mein.
This recipe calls for beef, but you could easily substitute chicken, pork, tofu, shrimp or other proteins. Similarly, you could add veggies like shredded Napa cabbage,
bok choy
, broccoli, bean sprouts, snow peas and such. I just tried to keep the recipe simple here; feel free to expand on it and make it your own.
*Note: The cooking of this dish is very rapid. The stir-frying usually take less than 5 minutes, so be sure you've got all of your ingredients prepped and ready to go before you turn on the stove.
Ingredients:
1 lb. fresh
lo mein
style Chinese wheat flour noodles
1-2 Tbs. sesame oil
1/4 cup soy sauce
2 Tbs. oyster sauce
1/2 tsp. ground white pepper
1 Tbs. peanut, canola or vegetable oil
1/2 beef such as sirloin, flank or ribeye, sliced very thin into pieces or strips
1/2 cup julienne/matchstick carrots
1 small white or yellow onion, halved and thinly sliced
3-4 scallions, white and green parts sliced (ends trimmed)
2 Tbs. minced garlic
2 tsp. grated or minced fresh ginger
Method:


Begin by cooking the noodles in boiling water according to package directions - usually only 2-3 minutes.
Drain the noodles in a colander and toss with 1 or 2 tablespoons of sesame oil and set aside.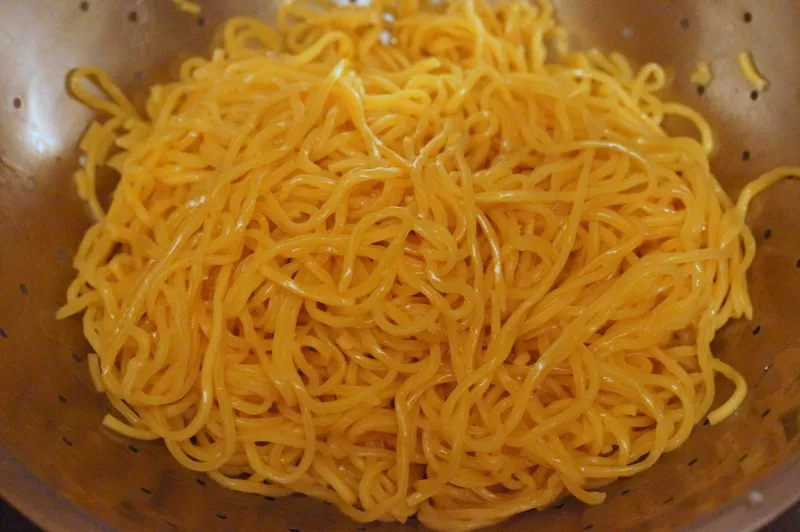 In a small bowl, combine the soy sauce, oyster sauce and white pepper.
In a wok or large, deep skillet, heat 1 tablespoon of cooking oil (peanut, canola, vegetable, etc.) over medium-high heat.
When the oil begins to smoke slightly, add the beef, stirring continuously until it's mostly browned.
Add the carrots, onions and scallions to the wok and continue stir-frying until the veggies soften a little.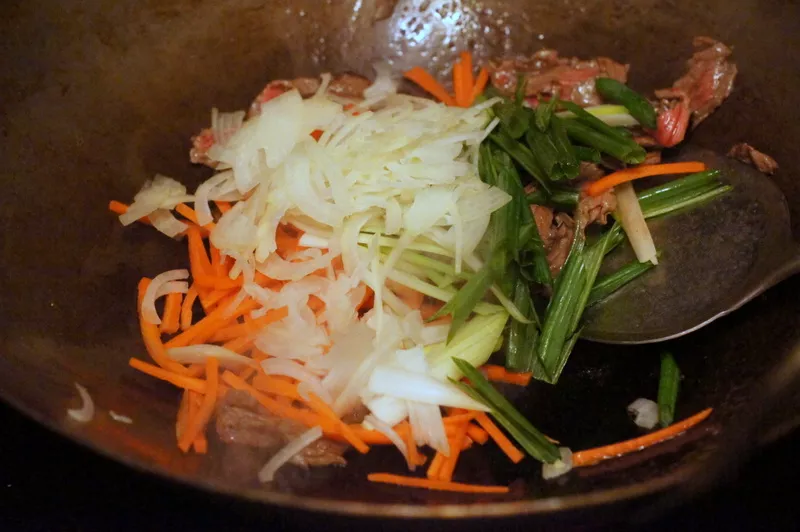 Next, add the garlic and ginger to the wok and stir-fry another minute or so, but don't burn the garlic!
Add the noodles and the bowl of sauce to the wok and stir-fry until well blended and warmed through, another 2-4 minutes.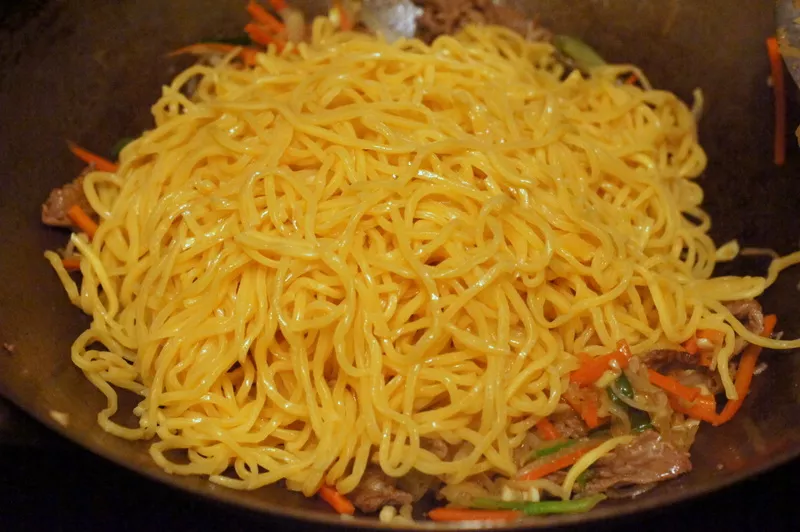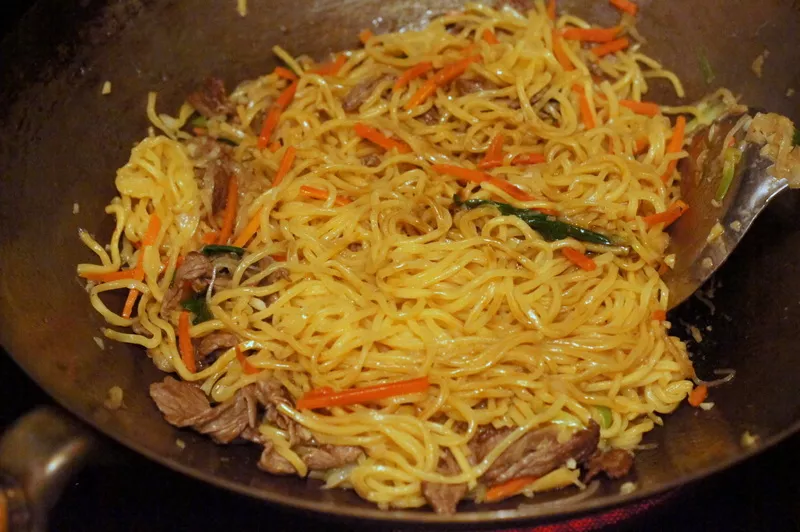 I hope you enjoy my Yaki-Mein!
Photos by Ted Scheffler