Goat
[U.S. Dramatic] ★ ★
In an early scene in
Goat
, an assault victim reports a campus crime to the police, a bit belatedly, which causes the investigating cop to doubt the details, question the victim's pre-assault actions as complicity, and suggest it was just another activity gone wrong. It's a teenage boy (Ben Schnetzer) beaten up for his ATM card by two hoods he had given a ride to, just to be a good guy, a cool bro. In a later scene, a recent graduate (James Franco) walks past his old fraternity house, where he had been a legendary "wild man," and he hangs around "just for one beer … I got a wife and a kid now," which causes his bros to call him "father." An evening montage later, he's passed out on the couch. Those two scenes manage to be insightful about fraternity culture and such broader matters as shame and Peter Pan-ism. The rest of
Goat
is a super-serial screed about killer weed/frats that's too well-wrapped in its cloak of righteousness to see that it's just a one-note
Reefer Madness
-level jeremiad. Schnetzer overcompensates by joining the fraternity of his big biological bro and well-known Jonas Bro, Nick. Sins are committed, someone sees the light and repents. Hallelujah! It preaches to the choir (as I overheard leaving), because the next tragedy may be that of your son ... or yours or yours … or
yours
! TELL YOUR CHILDREN. Just say no to frats. (Victor Morton)
Cameraperson
[New Frontier] ★ ★ ★ ★
On one level,
Cameraperon
sounds like an idea from a horribly pretentious stoner: Have some documentary cinematographer edit a bunch of b-roll and excess footage from different projects into one film. But as Dziga-Vertov managed to do with the equally nutty "film a single New Soviet Day" premise, Kirsten Johnson was able, thanks to thematic links, to turn around an always accessible and usually fascinating stream of consciousness, jumping from one topic to the next as easily as breathing, while circling around and around a handful of general themes—something a great monologist does. Also like Vertov, she foregrounds her presence, especially early on, and in some humorous ways (sneezing shakicam FTW!). There is some personal footage of her own family relations that touch on some of the same topics—self-recognition, birth, death, play, memory and forgetting—as her footage for others does. In other words, the film is about
everything
, juxtaposing the entire life span of one baby and the ashes of an old woman. "Stories" of a kind develop, and Johnson really sticks the landing with a return to Bosnia for one view of family history, back to her own life for another. Pauline Kael once was asked why she never wrote a memoir or autobiography and she replied "I think I have." Kirsten Johnson has filmed hers. (VM)
The Intervention
[U.S. Dramatic] ★ ★ ★
With an ensemble comedy-drama of this kind, one could focus on the difficulty in turning all the characters into fully fleshed-out people, or one could note that the jokes and the performances still carry it a surprisingly long way. Clea DuVall's writing/directing feature debut finds several friends gathering for a weekend that has a very difficult purpose: Annie (Melanie Lynskey), Jack (Ben Schwartz), Jessie (DuVall) and several others intend to tell married couple Ruby (Cobie Smulders) and Peter (Vincent Piazza) that their relationship has turned so ugly that they should separate. Naturally, there are plenty of "physician, heal thyself" relationship issues to go around among the others in the group, and DuVall does a fine job of conveying how Annie's issues in particular are shaping the way she approaches Ruby and Peter's issues. And the ensemble is pretty uniformly terrific, with Lynskey getting most of the prime punchlines as the high-strung, often inebriated Annie, and Smulders finding a genuinely affecting core of sadness in Ruby's realization that her marriage is collapsing. The other characters' dramas never achieve quite the same level of complexity, leading to something that feels a bit thin and sit-com-y when it might have been better served with either fewer characters or more time. What remains is still an engaging bit of
Big Chill
-ish reflection on being 30-something and still trying to figure out what you want out of love when you grow up. (Scott Renshaw)
First Girl I Loved
[NEXT] ★ ★ ★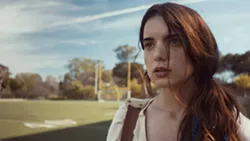 The twist in Kerem Sanga's simply satisfying coming-of-age romantic drama is that the title has a threefold meaning. High school junior Anne (the wonderful Dylan Geluda) has a crush on a softball player named Sasha (Brianna Hildebrand)—and the feeling might be mutual. But when Anne tells her best friend Cliff (Mateo Arias) about this budding relationship, she learns that Cliff has been harboring an unspoken attraction to her as well. Sanga deftly handles the way all three of the main characters occasionally act out their emotional pain by trying to hurt one of the others, still too immature to process their feelings in a more productive way. And there's a simply lovely sequence which captures the modern courtship of two people learning about one another almost entirely via text message. It's disappointing that Cliff's side of this triangle at times feels much more thinly developed than the other two, and that the narrative eventually steers its conflict into the Parents Who Just Don't Understand, which Sanga had so effectively sidestepped for most of the running time. But it's always satisfying when a movie allows teenage characters to behave like real teenagers, in all of their frequent insecurity, awkwardness and inability to articulate the way their emotions haven't quite caught up to their bodies. (SR)
Michael Jackson's Journey From Motown to Off the Wall
[Documentary Premieres] ★ ★ ★
Sorry, X Japan: At least
some
familiarity with an artist unavoidably helps a music documentary that isn't self-evidently great like
Mistaken for Strangers
. Is
Michael Jackson's Journey
significantly better than its copious archival footage of Michael Jackson singing and dancing? No. But c'mon: It's copious archival footage of Michael effin' Jackson, singing and dancing. Actually, that's a little unfair to Spike Lee's sprawling, rambling but never un-entertaining documentary about the first part of Michael Jackson's musical career, through 1979's
Off the Wall
. Lee does a wonderful job editing different footage of the Jackson 5 and Michael himself performing the same song, to show how meticulous was his dancing and choreography. The footage also shows that much of what we associate with
Thriller
was already present in
Off the Wall
and late-'70s material by the Jacksons. The music criticism, as he goes through
Off the Wall
cut by cut, is (understandably) gushing, but the gushes are also smart and on point. The Spike-isms do show though; being Spike Lee's bud is not a reason for Kobe Bryant to be in a Michael Jackson documentary. There's a silly effort at social significance that would have anyone who was not alive at the time think that 1979 American radio, prior to
Off the Wall
, was racially segregated in any significant sense that it wasn't in 1982. Jackson's success
did
fight the good fight re absence of black artists on early MTV, but that belongs in the
Thriller
documentary I'm already looking forward to Lee making. (VM)
Miles Ahead
[Spotlight] ★ ★
From the "be careful what you wish for" files: Here's a film biography of a musician that certainly doesn't hew to the tropes that were skewered so gloriously in
Walk Hard
, instead opting for a one-of-a-kind structure that doesn't actually make much sense. Don Cheadle directed, produced, co-scripted, co-composed the music and stars as trumpeter Miles Davis, in a narrative that slides between two specific time frames: 1979, as Davis begins working on new music after a long hiatus; and 20 years earlier, focused on Davis' relationship with his eventual wife, dancer Frances Taylor (Emayatzy Corinealdi). The 1979-set material is weirdly entertaining, becoming almost a buddy crime caper as a coked-up, gun-toting Davis and an eager journalist (Ewan McGregor) try to recover Davis' stolen session tapes from the unscrupulous agent of a young musician. And Cheadle definitely goes for the gusto visually, turning the transitions between eras into shifts in Davis's memory that involve things like an elevator wall becoming a doorway to the past. But it's hard to latch on to any thematic connection between the two segments, even as we see Davis' propensity for self-destructive behavior and his process for working through creating a song. What exactly should be our take away about Davis' life, his work, his legacy? Surprisingly, you can get a stronger sense from
Miles Ahead
of who Don Cheadle is as an artist than you can get of who Miles Davis is—and that's someone who might need to work with a better screenwriter than Don Cheadle. (SR)
Equity
[U.S. Dramatic] ★ ★ ½
Equity
has been getting much hype as a film about Wall Street finance centered on female protagonists, with women being the principal off-camera talent also. But the absolute fact of the sex switch doesn't have much effect beyond the details of the same incidental bits of business all films have. For example, the cliched "work getting in way of family" scene here happens when the character is having an ultrasound and takes a work-related call while her frustrated husband frets.
Equity
isn't bad; its skullduggery involves a technology IPO and the possibility of insider-trading on it, and it's clearer dramatically than
The Big Short
. There's a strong early scene involving a speech at a Professional Women's support group, which pays off handsomely at the end. But it also invites comparison with the similarly themed "Greed is Good" speech from
Wall Street
. This is not a good comparison to invite. And for a movie set in the present-day to make that point apparently innocent of Gordon Gekko is … also infelicitous.
Equity
has the overall feel and look and style and overused, portentous score and functional dialogue of an episode of
CSI: Wall Street
or some TNT Original Series. This is underlined by both the casting of actors you're pretty sure you've seen but can't quite place, and by the payoff coming in Yelling In The Office scenes. (VM)
Little Men
[Premieres] ★ ★ ★ ½
The "little men" of the title can refer either to the boys of the two families, or to their "small" adults. A white family (Greg Kinnear and Jennifer Ehle) inherits their father's Brooklyn property, which includes a business space he's rented to a Chilean dressmaker (Paulina Garcia) at rates now way way
way
below market value. The families get along—especially the young sons (Theo Taplitz and Michael Barbieri)—until business gets in the way. Kinnear isn't making much because he's pursuing an acting career that isn't bearing much fruit, but Garcia refuses to negotiate the rent on honor, and doesn't quite know where to stop making claims (saying "I was more his family than you" to a child is never wise, even if it's true. Especially if it's true.) Both Kinnear and Garcia are pursuing artist dreams over material advantage—it's explicit that she's a gifted dressmaker—but something's gotta give. The cut from Taplitz's tearful proposal to solve all this draws blood in its suddenness and directness.
Little Men
is among the wisest and least obnoxious depictions of how class self-perpetuates in an
American
context, outside the self-conscious and explicit notions of "class" that are meaningful in Europe but irrelevant to America. This is a movie where natural family ties, not title or honor, affect opportunity. The ending feels terribly rushed and unexplored in its implications, but there's no doubt which kid will win the all-important school slot. (VM)