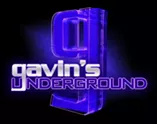 We're only a couple months out before it's good to break out the skateboards again and tear up the pavement they've been laying all across downtown SLC over the cold season. So for those looking to find themselves a brand new board to work over before hitting the streets, we might have a local option you need to check out. ShortBus Skateboards is a mobile skateboard maker and shop, housed in an old-school Type A school bus, making new boards from scratch and then traveling around to sell them to would-be skaters. Like a bookmobile for outdoor sports. Today we chat with owner and skater Bryce Parkinson about starting up the bus and the kind of products he's cranking out today. (
All pictures courtesy of Short Bus Skateboards.
)

Bryce Parkinson
ShortBus Skateboards on Facebook
Gavin: Hey Bryce, first off, tell us a little bit about yourself.

Bryce:
I was born and raised on a small farm in St. Anthony, Idaho. I'm the youngest of ten kids. I have an awesome wife, a 4-year-old girl, and a 2-year-old boy. Recently sold our home in Taylorsville and moving to Bluffdale. I am the founder of ShortBus Skateboards but to pay the bills I work at Grainger Industrial Supply as a Healthcare Account Manager and have been there for 12 years.
Gavin: How did you first get into skateboarding and how was it for you learning tricks and running around town?

Bryce:
The summer I turned 13 (1998) I made a friend that had older brothers that would skate a bit. There wasn't a skatepark close but they had a shed where they set up a few obstacles. I saved up cash from working during the potato harvest season and picking/selling corn from our farm. By
September
I had $100 to get my first board from Sled Shed in Rexburg. I got a Zorlac blank deck, Mack II trucks, blank wheels, and Lucky bearings. I started building ramps, boxes, and rails in my circle driveway and learned all the basics there. In '99 my friend, his dad, and the skateboarders worked to get a skatepark built in Rexburg so I started riding my bike there on Saturdays to skate. It took a while to ride the 11 miles with my board in one arm but it was worth it!! Getting my license at 15 presented more opportunity to explore the town and start skating street spots and other parks!
Gavin: You're originally from Idaho, what brought you to Utah and how has it been living here?

Bryce:
I graduated HS in 2003 and had five sisters that had moved to SLC so that just seemed like the natural thing to do. And being a skater in a small town where people know you and call your mom when they see you doing something they don't agree with really sucks! The kicker was a girl that moved here to go to
school
that I was dating at the time. She made me pull the trigger and I moved into one of my sister's basement and got a part-time warehouse job at Grainger Industrial. I quickly fell in love with SLC! The skate community is rad! Skateboarders get a bit cliquey but I've done my best to stay
nuetral
and get to know as many people as possible. I really enjoy all of the seasons here too! I used to snowboard quite a bit, but as I got busier with my life I have cut most other activities out and just try to skate whenever I get a chance.
Gavin: Prior to making your own brand, how were things going for you boarding professionally and shooting videos around town?

Bryce:
I've never been a professional skateboarder. I've always just focused on having fun without setting huge goals for my skateboarding. I got married when I turned 20 so my focus shifted quite early towards my family and my career. In
2007
I got into competitive table tennis and was training 5-6 days each week. Skateboarding took a back seat for about four years as I trained for and competed in table tennis events around the US. It was a blast but a few years ago I came to a crossroad after having children that made me decide between table tennis or skateboarding as my hobby. I chose skateboarding and haven't looked back.
Gavin: How did the idea come about to start up your own skateboard company?

Bryce:
Like most other skateboarders I've always wanted to be involved in the skateboard industry. When I bought my home in Taylorsville I found this rad group of young skateboarders right on my street! I loved making them boxes and rails to skate and going out skating and filming with them. Many of them are extremely talented but they weren't really getting noticed in the skate community. It made me want to start something to support the kids that weren't getting any. Then one day while skating with my friend Ben Dickerson we started talking about
skateshops
and the lack of a shop on the west side of the valley. He said that he had always wanted to open his own shop or brand and it got me fired up on creating something along those lines so we started brainstorming ideas that we might be able to manage with our limited time and funds. A mobile
skateshop
was the solution I came up with. Low overhead and limited time commitments sounded just right. Plus we could pull up to a skatepark and skate while having the shop open. It seemed flawless!
Gavin: How did you come across the short bus and make the decision to turn that into the business?

Bryce:
With my brain flooded with this mobile shop idea I was online looking for some type of truck for a low price. I came across an auction site and happened to see a couple short school buses up for auction at SLC School Dist. I went skating that day with Ben Dickerson and Matty Jones and pitched them the concept of ShortBus Skateshop. I was fired up on the idea, Matty gave me the green light and wanted to help, and Ben was hesitant at first but quickly came around. I had also reached out to Dustin Hill to cover Utah County and do some of the media and marketing. He was stoked to be a part of it too! I was funding and pushing the entire venture so I just went for it and purchased one of the buses.
Gavin: What was it like refitting the bus into a skate shop and getting everything you needed?

Bryce:
Transforming the bus into a shop was definitely real work and we were attempting to complete it through the 2014-2015 winter. And not necessarily fun or rewarding work especially because it took away our free (skate) time. It was a long and drawn out process. We were coming up with ideas as we went along which made things slow. But we had it mostly ready for a grand opening competition in the spring of 2015. And with the four of us partners involved, we thought we had enough man power to have the bus shop out almost every day of the week! But once we actually went into business we quickly found that it took an enormous amount of time and effort to get the bus out each day. We also had trouble opening accounts with skate product distributors due to our business model. Who knew it would be so hard to buy products at wholesale for a mobile shop?! So within a few days of our grand opening we decided to only focus on being a board brand instead of a shop. Now the bus was more of an expensive promotional/marketing vehicle and we started working with local shops to carry our boards.
Gavin: What's the process like for you in creating a new board, from design to final product?

Bryce:
Really a large portion of the work is the graphic ideas and design. Unfortunately, none of us are graphic designers or artists so we struggled right off the bat. One of our good friends, Tom Blosch, volunteered to help with designs and created a few bus-related graphics to get things kicked off. Of course with four people
havin
g different ideas and with different taste in style we picked apart many of the graphic ideas and really had a hard time deciding what graphics and logos to go with. Most skateboard companies use one of the few deck manufacturers that simply adds your graphic to the boards. So we just had to navigate to a manufacturer which took quite a bit of trying to find them and get them to respond. In general that part is relatively easy and is the main reason there are so many small skateboard companies.
Gavin: What would you say are the major factors that distinguish your boards from those you'd get from a brand name at a skate shop?

Bryce:
The simple fact that we are in the community and doing our best to support not only our team members but the events that are going on, is what distinguishes us from other companies. I personally feel that kids see what we are trying to do and they want to support us right back. The actual boards are not really different. Almost any board you find at a shop are all high quality and likely made from many of the same manufacturers.
Gavin: How do you decide on the designs you're going to make for each one and do you ever have guest artists pop in and create something?

Bryce:
With the name "ShortBus" we felt somewhat pigeon-holed into using bus-related graphics that pertained to what we were doing. We would each randomly bring graphic ideas to the group and see what stuck. Only a few really have so far due to the drastic difference in our four opinions. We only had three graphics through the year and would have liked to do more and with more local artists. We just didn't have much time to make it all happen!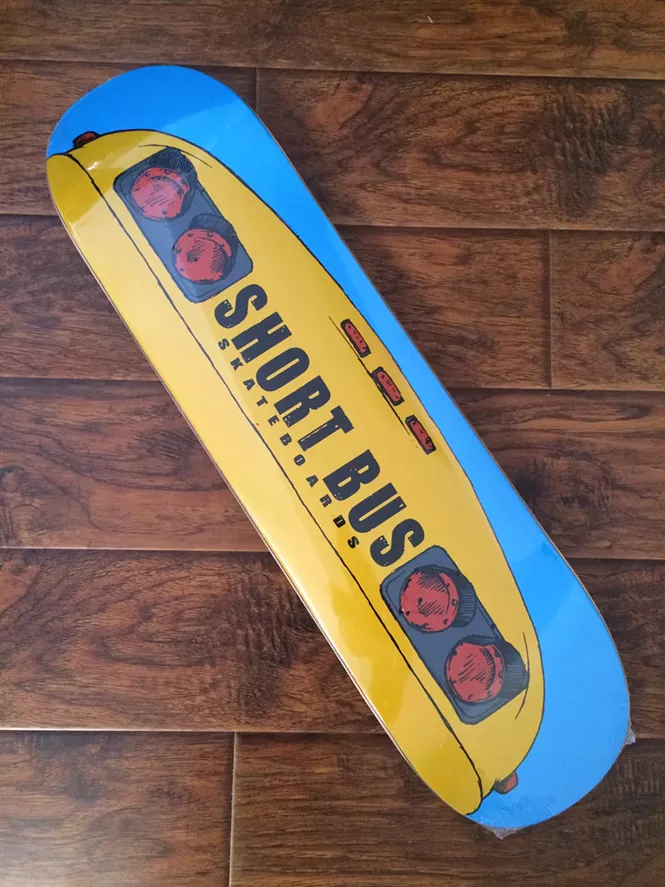 Gavin: What's the response been like from the community to your work?

Bryce:
The response from the skate community has been great. We threw some fun contests and sponsored a group of kids. Traveled from Davis county to Utah county to run or sponsor events. Took a trip to Las Vegas with a bunch of kids so they could compete in a large amateur contest. Got to know a bunch of new people! And it's always a great feeling when you find that people are stoked on what we are doing!
Gavin: Right now with winter in effect, there's not a lot of skating happening, what are you doing in the downtime?

Bryce:
There is still quite a bit of skateboarding going on through the winter but we haven't done any events. All four of us have families that we had to sacrifice time away from during the summer. So winter has provided a chance to focus on family, full-time jobs, and think about what's next. It's crazy how family and work actually takes up almost all of the time each day. Now that I think about it I find it crazy that we actually had time to make all of this happen. Downtime simply doesn't exist!
Gavin: For those looking to buy a board, where can they find you and your work?

Bryce:
Right now we are in the following skate shops: Board of Provo, Milo Orem, Banzai, BC Surf & Sport, Milo SLC, and Good Looks. If they don't have the board you want then ask for it!! Some stuff is also available on
Flatspotter
.
Gavin: What can we expect from you and Short Bus Skateboards over the rest of the year?

Bryce:
Something new is definitely coming! We are currently deciding how to move forward and make a bigger impact. The actual bus takes a lot of money to store and insure, so that has to go, which is tough. Then without an actual bus, we are considering a name change or a merge with another company. Either way, we are going to continue to promote Utah skateboarders and do our best to keep the skate scene connected and stoked on skateboarding!