A political fever, spiked by the off-brand politics of presidential candidates Bernie Sanders and Donald Trump—both of whom made stops in Salt Lake City on Friday—drew tens of thousands of Utahns to candidate events and protests.
In Sanders' case, an estimated 14,000 people flooded onto the grounds of This Is the Place Heritage Park to hear the Vermont senator pledge his dedication to taxing corporate behemoths, while providing higher education and health care at no charge and raising the minimum wage to $15 an hour.
By appearances, the gray-haired, hunched over Sanders who gesticulates and emphasizes with his hands from the podium, is an unlikely rockstar. But for the punk rockers, retired seniors, parents and young college students in the crowd, Sanders is much more akin to a political savior than a rockstar.
"I never thought that I would see a candidate that spoke for me," said Ashley Strassburger, 32, who attended the event with her 22-month-old son, Ezra. The child reused his Halloween costume—a suit and tie akin to one worn my Sanders—for the event. "I can't afford to put my child in day care and work. I'm fighting uphill always," she said. "I'm really excited about what Mr. Sanders has to say—the things I have been saying for years."
Sanders railed against big-money politics, saying America's system that encourages the wealthy to contribute vast sums of money to political campaigns is "broken." But part of what permits this activity, Sanders said, and further breaks the democratic process, is lackluster voter turnout.
To this end, Sanders blasted governors and state legislatures that have passed measures making it more difficult for residents to vote. When voter turnout at state caucuses has been high, Sanders says he has beaten his opponent, Hillary Clinton. So far, Sanders has won nine states, collecting 849 delegates. He said his chances at winning are directly hitched to high voter turnout.
Democratic campaign appearances in Utah are not extremely common, but based on Sanders' flesh and blood presence and his campaign mailers that have filled the mailboxes of Zion in recent days, the self-described socialist is making an earnest pitch for Utah and its delegates. Sanders' campaign announced that another rally will be held Monday at West High School.
Doors were to open for the Friday event at 12:30 p.m. A line zigzagged among rows of cars in a sprawling parking lot, then cut east toward the mouth of Emigration Canyon. Six security stations were erected, where secret service agents searched bags and ushered the throngs through metal detectors.
More than two hours after the first Sanders supporters were let in, the line still inched through the parking lot and eastward past a memorial statue of Brigham Young and his lieutenants, who the park commemorates for leading Mormon pioneers into the Salt Lake Valley. The afternoon sun beat down, and the shadows began to grow long by the time Sanders took the stage. A Sanders campaign worker apologized at one point, saying the wait would continue in order to afford more people in line a chance to see the senator speak.
For Bill Dooley, 69, Sanders did not disappoint. "I think he's great," Dooley said. "It was a great show. I hope he does well here."
Reminiscent of a mild-mannered Grateful Dead concert, a merchandizing wing of entrepreneurs followed Sanders to Salt Lake. Hockers with T-shirts, beanies, trucker hats and buttons canvassed the lines. Juan Valdez, a Denver resident, has attended 12 Sanders rallies. Just last week, he was in Florida, and passed through Illinois and Missouri on the way to Utah.
"We just follow all the schedules," Valdez said.
As to Sanders' chances at claiming the Democratic nomination, Valdez said he still believes it's strong. "I can almost guarantee he's going all the way to Philadelphia in July," Valdez said of the Democratic Party's national convention, where it will pick its candidate.
Importantly, Valdez said he believes that Sanders stands a much better chance at beating Republican front-runner Donald Trump than does Clinton. And he pointed to the diverse, and youngish crowd, as evidence that Sanders is an energizing force much like President Obama in 2008. "I think Bernie Sanders, he can draw out those young crowds and bring out the political nature in people," Valdez said.
Sanders has often talked about the scourge of police violence that has gripped the nation, and he came to Salt Lake City prepared.
"You are tired and I am tired of seeing videos of unarmed people being shot," Sanders said, following this statement by mentioning the name of
Abdullah Omar Mohamed
, a 17-year-old Somali refugee who was shot by police in Salt Lake City near a homeless shelter. Police say Mohamed and another person were beating a man with "metal objects." When police commanded the men to halt, they say Mohamed continued with the beating and was shot.
At the tail end of his speech, in which he also promised improved treatment to Native Americans, a reformed criminal justice system, the demilitarization of police forces, the end of the controversial practice of fracking and wage equality for women, Sanders told the crowd that Trump would not be elected president.
"The American people will not elect a president that insults Mexicans, who insults Muslims, who insults women, who insults veterans like John McCain, who insults the African American community," Sanders said.
As Sanders completed his roughly half-hour-long remarks, crowds were already forming downtown near the Infinity Event Center on 26 E 600 South for a visit from Trump.
The difference in venues for the Sanders and Trump rallies couldn't have been more stark. While Sanders apparently put off his speech to allow swarms of people a chance to hear him speak, Trump's venue was an enclosed building with a capacity of around 1,500.
Very few of those hoping to see the reality TV star and businessman speak got their wish. Those who did not though, got a show of their own outside the venue.
At 6:30 p.m., as the line to see Trump stretched east on 600 South, south on State Street and then West on 700 South, a small group of protesters gathered on the north end of State Street across from the venue, wielding anti-Trump signs. As the protesters grew in number, people from both sides began to broach the street, forcing officers to shut the area to traffic. Shortly after 7 p.m., a small line of police officers were all that separated the two groups from clashing. At this same time, hundreds more protests stormed down the center of State Street, eventually making their way to the venue.
The "Make America Great Again" trucker cap-wearing Trump fans merged with protesters wielding "Fuck Trump" signs, and words flew.
In the same way that Sanders's message appeals to a class of citizens who feel underwater despite insistences from economists that the nation is awash in prosperity, so too does Trump, whose crowd was equally flush with ordinary Utahns who are fed up with politics-as-usual and hungry for a change.
Steve Hadnagy, 47, said he likes Trump because "he's not a politician."
"He says things the way it is," Hadnagy continued. "He's not worried about being politically correct—sticking his finger up in the air and seeing which way the wind's blowing."
A pair of women from Ogden, Kathy and Pam, who did not want to give their full names, said they like Trump's straight-talking sensibilities. "I just think he's going to make our country better," Kathy said.
Shadow Whitear, 26, said he feels like Trump admits when he's wrong, and appreciates his honesty. "I like that he tells the truth," Whitear said. "He just has wise words."
Inside the Infinity Event Center, Utah House Speaker Greg Hughes addressed the crowd and told them he was supporting Trump for president.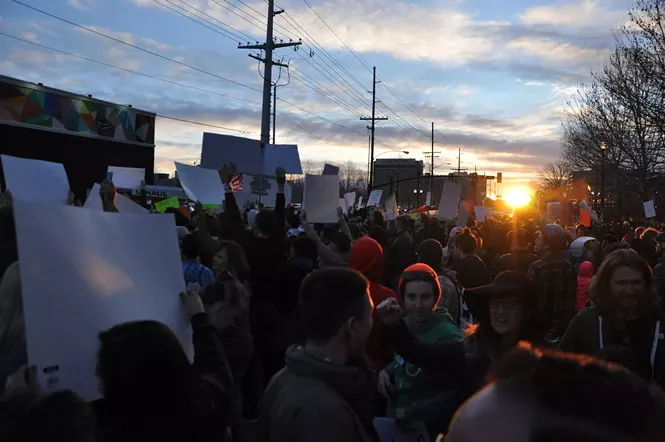 This reporter couldn't get in, but outside, the animosity and flammable opinions that follow Trump were on full display. As the two crowds mixed and boiled, cameramen climbed trees to get a better view. American flags were waved, and anti-Trump activists yelled "Mr. Hate, Leave Our State," into a megaphone.
When the Trump protesters yelled "Black Lives Matter," Trump supporters retired with their own "All Lives Matter" chant.
Whitear, who travelled from Morgan to support Trump, said he didn't mind the protesters one bit. "This is what America's all about," he said. "Different opinions and working them out."
Editor's note: An earlier version of this story misstated the location of the Sanders rally. It was at This Is the Place Heritage Park, not This Is the Place State Park.