If you love spicy dishes like I do, this one is for you. The Italian recipe, originally called shrimp fra diavolo, translates as "the Devil's shrimp." And it's devilish due to a large amount of red chili flakes: most recipes call for 1 to 3 teaspoons worth. I like to split the difference and use 2 tsp., which is plenty spicy. If you like your food a little less lethal, I suggest starting out with 1 tsp. of chilies.
This pasta dish is a little unusual insofar as the pasta is only cooked about half way in boiling water. It will finish cooking right in the fra diavolo sauce, so be careful not to overcook it!
1/4 cup might seem like a lot of garlic, but it's not. It blends in very nicely with the sauce.
Linguine is pretty standard for Fra Diavolo dishes, but you could use any type of pasta you'd like.
Ingredients:
12 oz. dry linguine pasta (or your favorite)
1/3 cup olive oil
1 cup minced onion
1/4 cup minced garlic
1 to 3 tsp. chili pepper flakes
2 cups canned tomato sauce
2 Tbs. tomato paste
1 1/2 lbs. medium shrimp, peeled and deveined
1 tsp. salt
2 Tbs. minced Italian parsley leaves
Grated Parmigiano-Reggiano (optional)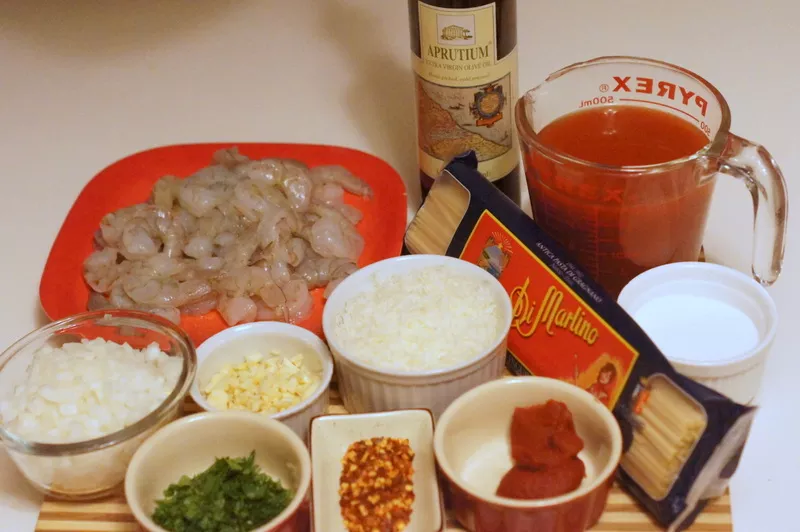 Method:


I a large pot of salted water (a couple tablespoons of salt) cook the pasta about 4 minutes short of its normal cooking time and drain. The pasta will still be firm and a little crunchy. You'll finish cooking it in the Fra Diavolo sauce. Reserve 1 cup of the pasta cooking water for later use.
In a separate deep skillet or pot large enough to hold the pasta, heat the olive oil over medium-high heat.
Add the onions to the pan and saute until softened and golden, about 3 to 4 minutes.
Add the minced garlic to the pan and cook for a minute.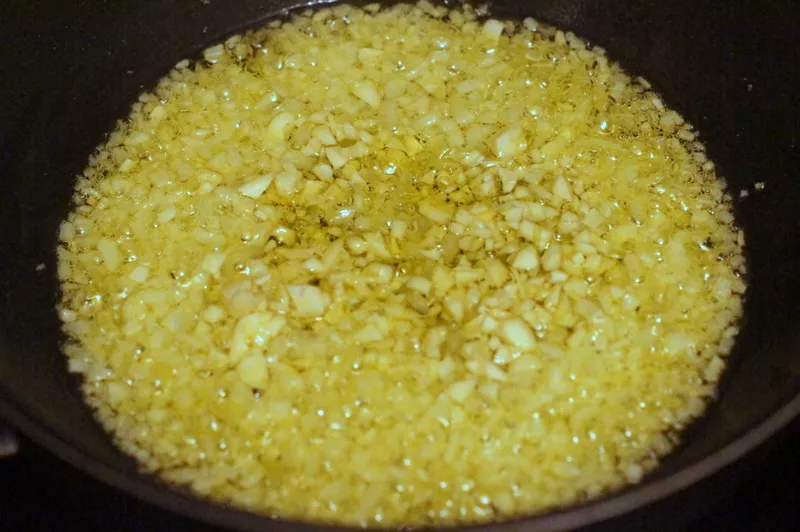 Toss the chili flakes into the pan and cook, stirring, for another minute.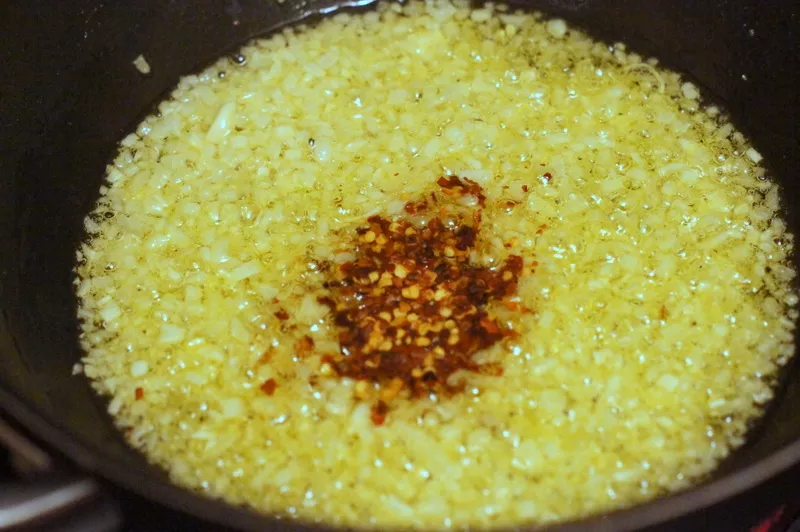 Add the tomato sauce and tomato paste to the pan and stir well. Cook the sauce for about 5 minutes, until it's reduced by about half.
Toss the shrimp into the sauce and cook just until barely pink, about 2 minutes.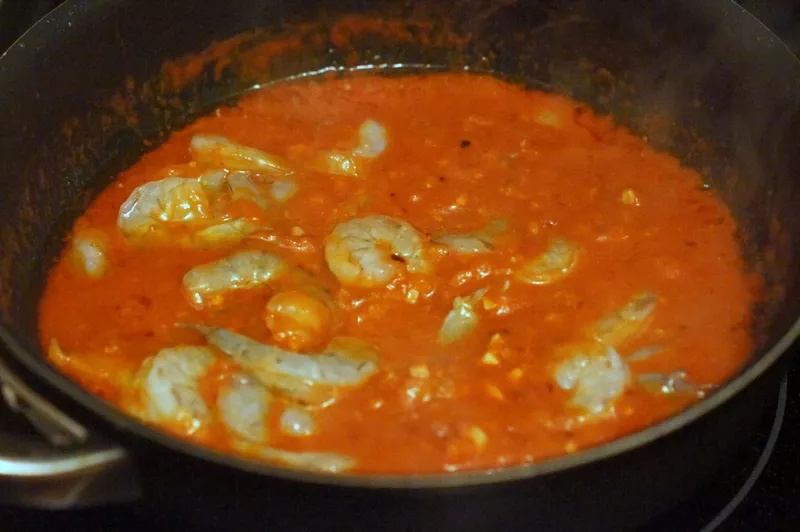 Add the drained pasta, 1 tsp. salt, and the cup of reserved pasta cooking water to the pan and toss well.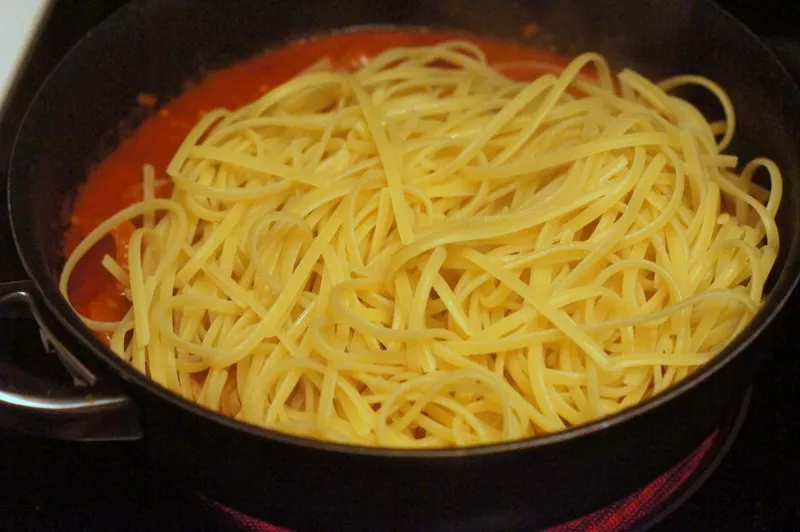 Continue to cook the pasta in the sauce, stirring/tossing frequently, until
al dente
.
Stir in the parsley.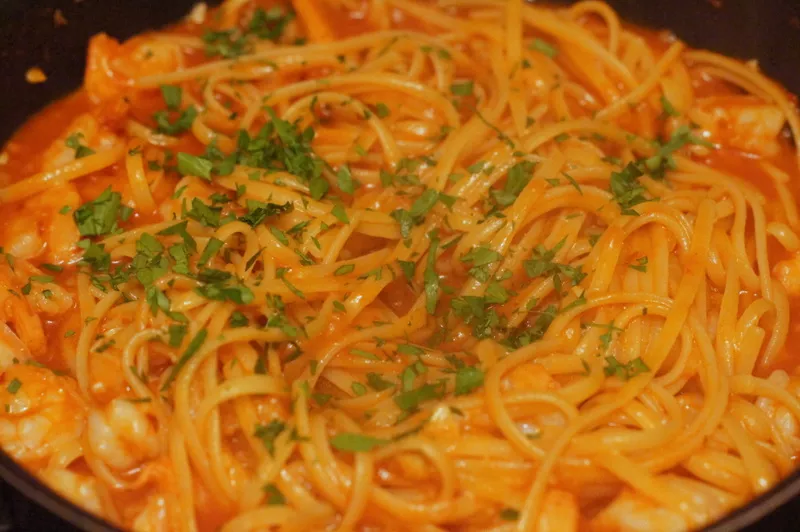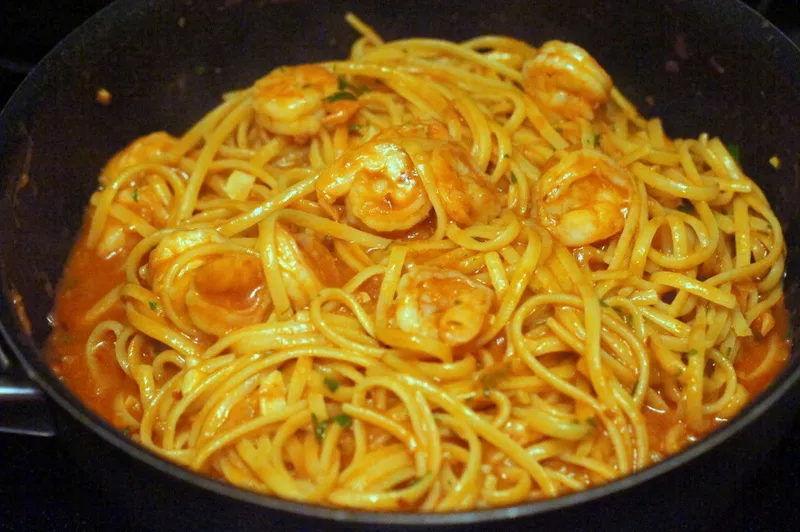 Serve with (optional) Parmigiano-Reggiano.
Photos by Ted Scheffler