Wiseguys recently put on the Golden Spike Comedy Festival, and with it, we saw a ton of local names who don't typically headline bigger shows get great exposure. That's not a knock against anyone; it's actually a crowning glory that many local comedians got to take charge of a room. One rising name among Utah comedians is Jeff Watson, who chats with us about his career and his thoughts on the comedy scene. (
All pictures provided courtesy of Watson.
)
Jeff Watson
StephenJeffreyWatson.com
Gavin: First thing, tell us a bit about yourself.
Jeff:
My name is Stephen Jeffrey Watson; I have long been called "Jeff," but I also respond to "Stephen." However, I will not respond to "Steve." I was born into a white trash dynasty and reared in Louisville, Kentucky. I participated in professional theater as a kid. I started coming out when I was about 15, when it was it still quite uncool. Several jackass types in my graduating class had seen me hanging with an alternative crowd for a midnight showing of
The Rocky Horror Picture Show
. They gave me a difficult time. My early adult years were spent working my way through my undergrad as a bartender in a gay dance club and drag bar. I miss many of the people with whom I worked. I moved to Utah [in 2004] from the extreme north side of Houston, Texas after I was there for three years. I feel like that city chewed me up and spit me out. It wasn't the city necessarily; a series of challenges reared their ugly heads, and moving to SLC was the remedy at the time. I spend my weekdays chin-deep in SQL, Alteryx and Tableau. My undergrad is in data processing and programming. I like my employer, I have a great boss and I enjoy what I do. I am enrolled in the Professional MBA program at the U and scheduled to graduate in summer 2018. The campus is a sausage-fest. My partner (i.e. gay lover) of six years, Harry, has been very supportive of my comedy pursuit. I am a recovering Southern Baptist, and I have the snakebites to show for it. ... My signature beverage is TaB, [and] I always write the date in
CCYY-MM-DD
format.
When you were growing up, what comedians interested you the most?
As a tyke,
Hee-Haw
was a staple in my home; I enjoyed the slight slapstick and the cornfield joke segments. At the end of my high school freshman year, I purchased my first comedy album, Joan Rivers'
What Becomes a Semi-Legend Most.
The following year I was exposed to Better Midler's
Mud Will Be Flung Tonight
. The following decade, my exposure to comedy was limited to drag performers. Professional grade, talented veterans, quick with a quip, borderline burlesque. I enjoy a good drag show. Gary Owens and Montana Taylor on BET's
Comic View
caught my attention. I recall Taylor discussing "coochie coupons." Phyllis Diller and Paul Lynde are my heroes, Wendy Liebman has great timing, Scott Thompson of
Kids in the Hall
had a character named Buddy Cole whom I would enjoy reviving in a one-man show; I love his campy persona. I listen to comedy on Pandora One. Several performers I enjoy are Chonda Pierce, Jeanne Robertson and Tommy Johnagin.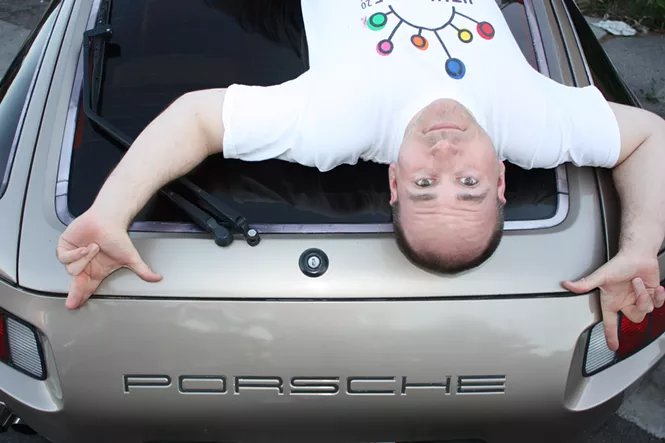 How did the idea come about for you to start doing standup comedy locally?
I saw comedy classes mentioned on the front of a community education style catalog. I enrolled thinking I would learn about writing comedy. However, his class was geared towards logistics and stage presence. It was not what I had expected; however, it is something I needed to learn. As a recovering introvert, it was an opportunity to force myself to do something public. Five years ago, I would have never thought comedy would be an activity for me. I experience cycles of addictive behavior. I will begin a new phase and obsess, participating until I exhaust myself. My garage is a museum of hobbies past: backpacking, camping, fishing, baking, backyard chickens, photography. I was in a comedy-material-writing frenzy for a while. I gradually amassed 1,000+ pages of topics. I would read a news article, print it to a PDF, and write about it later. Many current event-related jokes have a lifespan of only a week; if the issue is not fresh in the minds of the audience, the joke may fail. However, if a similar event occurs, such material could be reapplied. Some "current" events are not restricted by time. I have a bit about a 78-year-old woman getting rescued from quicksand in southern Utah; when it happened is immaterial. Getting on-stage provides a rush, feeding my latent narcissism. Hearing laughter means I am effective, as does loud applause. I am very appreciative and respectful to people to say hello to me after the show. That is a huge variance between viewing a film at the cinema vs. watching a live stage performance. I like the off-grid feature.
How was it for you breaking into the scene and performing at open mics?
Arriving early to open mic events should get you in the lineup. However, to receive two to five minutes of stage time may require an investment of three hours on a weeknight, plus drinks and dinner. For me, devoting time to performing became my entertainment, because I enjoyed it. Some people find entertainment in playing sports or scrapbooking. My time went to writing and performing. Attending a few open mic events each week consumes resources quickly. I had to become selective about which I frequented based on multiple criteria. I find dim lighting and a poor sound system irritating. Sandy Station was a favorite because it had a stage, light and sound. Some local comics tout the only way to learn to perform stand-up comedy is to do it repeatedly. That has some merit. However, that approach does not teach you the science and mechanics of humor. Several books I recommend are
Ha!: The Science of When We Laugh and Why
by Scott Weems,
The Comedy Bible: From Stand-up to Sitcom
and
The Comedy Writer's Ultimate "How To" Guide
by Judy Carter.
What were some of the lessons you learned about performing early on?
People who say they hate public speaking have not seized the opportunity to speak while well-prepared and well-educated about their topic. Comedy is similar to storytelling or singing. It is one of the performing arts, and a language art. Performing standup comedy is about performing. To speak at length, breath control is key, like with singing. Delivery requires timing and emotion vs. deadpan recitation. As a performer, I need to focus throughout my entire set and strive to make that performance better than all those previous. The cliché "practice makes perfect" took on new meaning when a piano teacher taught me "perfect practice makes perfect." I now understand the importance of the "green room." When I am performing in a scheduled show, my preference upon arrival is to exchange pleasantries with the producer or host, then retreat to the green room, decompress and get into the character of sorts. If no such room exists, I will stand at a distance and observe the guests. This is great for crowd work. These are productive uses of time. I have been hired to perform; I need to deliver on that.
How do you go about writing material and seeing what works best for you?
In Oscar Wilde's
The Importance of Being Earnest
, Miss Prism says, "Memory, my Dear Cecily, is the diary that we all carry about with us." I believe our not-yet-written memoir is the comedy we all carry about with us. Anything I have read, seen, heard, experienced or observed is in scope. However, never let the truth get in the way of a good story. That is the difference between a memoir and an autobiography. I retell stories as I remember them, or as I want them to be understood, only slightly embellished. I keep my material in a Microsoft Word document on Google Drive. I use the index feature to flag keywords and create cross-references for quick searches; it has been an investment in time to design. Paper is great for capturing thoughts as they surface, much more quickly than recording it on my telephone. Word allows me to search a single document vs. flip through multiple paper notebooks.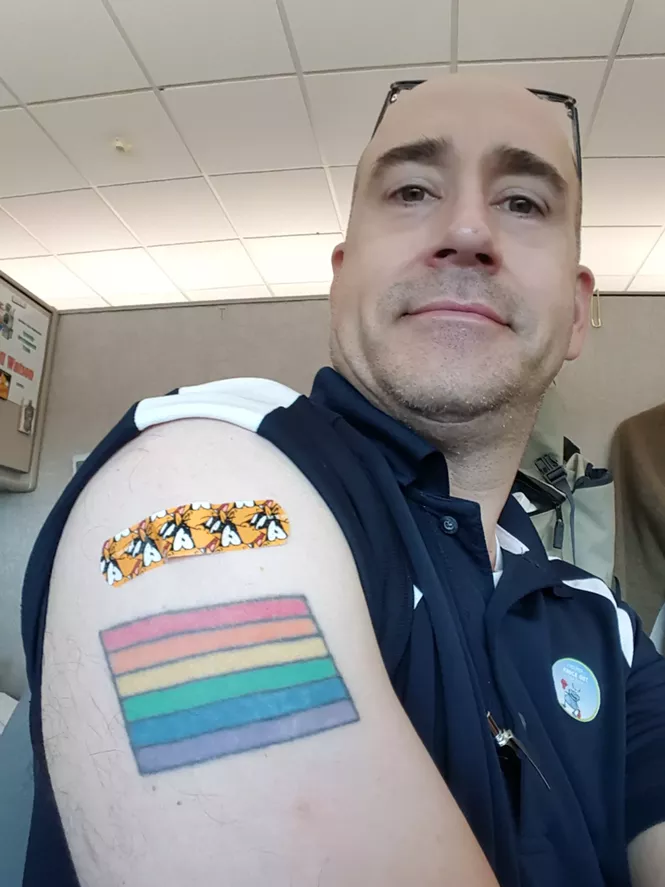 How has it been for you getting to know other comedians and working in the local scene?
I seem to run with a consistent crowd within the comedy scene. I find them friendly and supportive. I learn about them by listening to their material. Most are junior to me, which causes me to wonder, "why wasn't I doing this at 21?" The answer being, "I was involved in something else at the time, it doesn't mean I squandered my misspent youth." Now that I am performing comedy in my early 30s, I have a larger material base. I have been invited to perform by local comics who may be considered controversial based on fringe conversations on social media. I appreciate the opportunity to perform, enjoyed it and I have been treated professionally. That is the measure of success. I try to stay until the end of each show at which I perform. It is respectful. I usually do not "hang out" after the show. I need my beauty rest.
What's been your take performing both the smaller indie shows and performing on bigger lineups?
Larger
lineups
are tightly orchestrated. The producer wants to know where the talent is at all times: in the green room, on the mark ready to run on-stage, or in position for curtain call and photographs. Producers are akin to a stage manager in a stage/theatrical production of a play. The goal is to provide the paying audience members a professional experience. Their experience is more than just watching a series of comics; the show needs continuity to maintain the audience's attention. A newbie comic may need to interface with a DJ, the sound guy or the lighting technician. Be respectful, be courteous. If they seem to have an idle moment, ask them what advice they would provide a comic based on their technical perspective.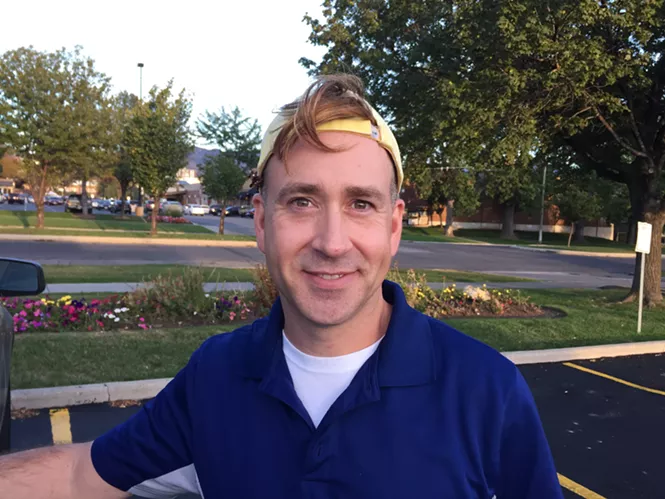 Where would you like to see yourself in a couple years' time with your standup career?
I would like to be booked one weekend per month to perform a professional-grade, 60-minute show. Multiple shows per day. On a real stage, with sound and lights. Stay in 3.5-star motels. A Hickory Farms gift basket in my room. It is included in my rider. I want an entourage of ginger-head men, possibly from the university swim team, or the gymnastics team.

Aside from yourself, who are some of your favorites you like to check out around town?
Greg Kyte, Rachel Beulah Jensen, Tasha Mower and Sam Poulter. I have witnessed them apply intensity within their performances.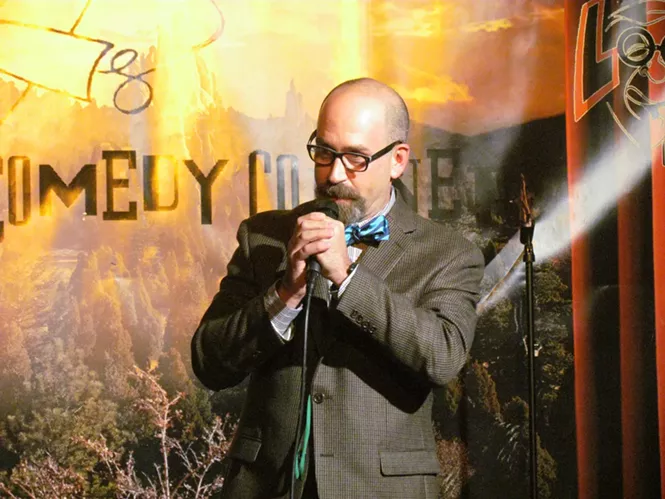 For people who wish to check you out, what shows do you have coming up in the next month or so?
I have segued my comedy and writing skills into officiating weddings. Providing a fun, contemporary experience during a ceremony is my differential advantage. For me, this is performing and public speaking. I consider myself a "ceremony consultant." Each wedding is a private performance. And it pays! Comedians and officiants stand before guests who not only have put forth the effort to attend, but also want to enjoy what awaits them. We want every seat occupied and undivided attention towards center stage. Our goal is to elicit an audience response generated by shared experiences. We hope everyone leaves feeling better than when they arrived. Find me at
DoYouTakeThisMan.com
, and for my comedy schedule find me at
my website
.
What can we expect from you over the rest of the year?
My time is at a premium. I do my best to allocate my comedy where the experience will be best. With luck, I'll be invited to perform a scheduled show. I need to show my mug more frequently, reconnect with old acquaintances and express an interest. My upcoming shows will appear on
my Facebook page
. Also, see the links above.