At the just-completed Fan X, many SLC artists were able to get their names out to a massive audience. Many of them only see that kind of exposure at art markets or seasonal events, if they're lucky to get in. The hope, of course, for many is to make a career being an artist. One of the rising SLC artists in recent years is Heather Mahler, who today will be chatting with us about her education and career, the kind of illustrations and printworks she creates, and what she's got coming this year. (
All pictures provided courtesy of Mahler.
)
Heather Mahler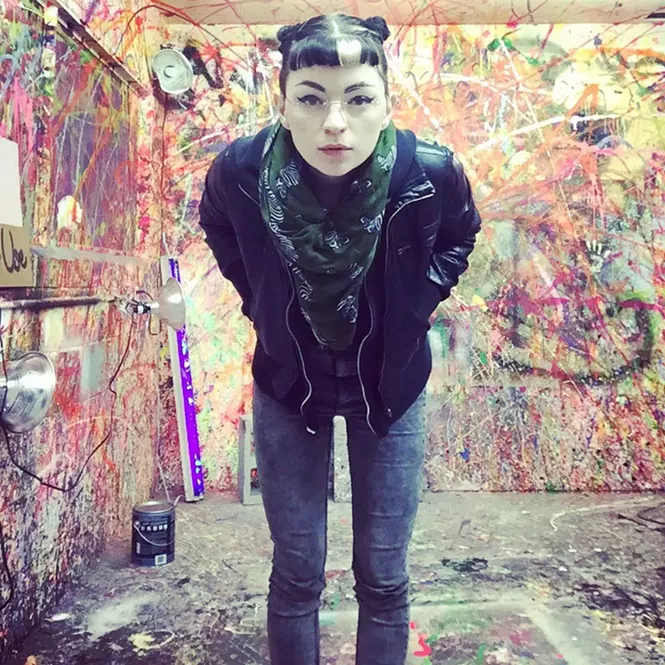 HeatherMahlerArt.Weebly.com
Gavin: Hey Heather, first things, tell us a little bit about yourself.

Heather:
I am a freelance artist just trying to make my way in this life drawing odd things. I can't help but make drawings; it's been a habit I've had my entire life. I was a bit of a late talker, and am told I would draw little figures to communicate my frustrations. I use brush work with both inking and
watercoloring
my illustrations.
What first got you interested in illustration, and what were your early influences?
Well, growing up in the early '90s, my media intake was a lot of traditional two-dimensional animation. From Disney to Hayao Miyazaki, drawn entertainment always interested me over live action. I
love
stop-motion or a
well-made
computer-animated film, but there's something about hand-drawn animations that still is magical to me. So naturally I would sit and draw with most of my time. Drawing creatures and people
is
something I've always done.
You originally received your Associates in Fine Art from Snow College. What made you choose Snow, and what was your time like there?
School
has always been tricky for me, therefore, going to college, I wanted to start someplace small. I knew I wanted to do art in my life, but I had no direction other than that. The art department there helped me start to figure out where I wanted to take my life with art.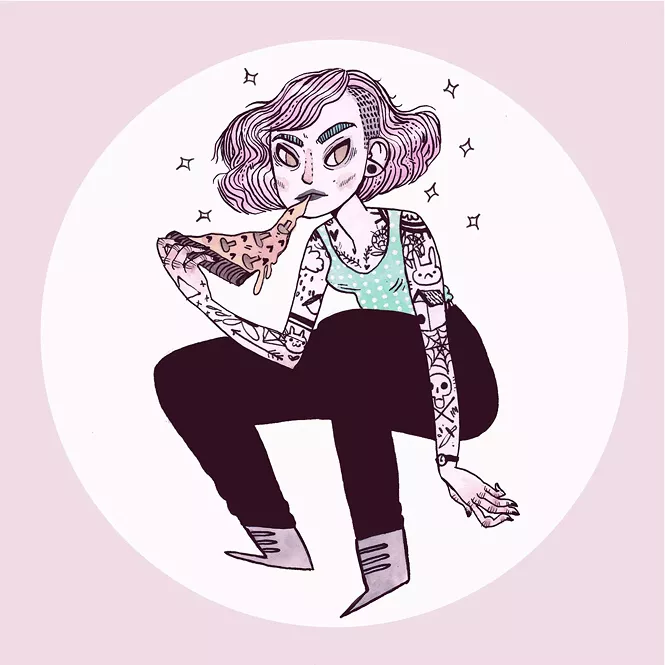 You then received your BFA in Printmaking at Utah State. What made you switch genres for your degree and how was USU at that time?
I wanted a Bachelors of Fine Art, however, as much I was learning, no one really knew what to do with me. I was in this gray zone of a love of illustration and fine art. The painting department wanted me to use more oils and be more of a traditional painter, when all I wanted to do was draw cats. I found I enjoyed the printmaking studios over painting because the environment was so different. The studio environment had more of a bite to it, less of an "elegant housewife" feel I got from the painting studios. Mind you, this was in Logan, and sadly a lot of the young artists enrolled were just looking to get married over working on their craft. It wasn't the creative energy I craved, so I naturally fell into the printmakers world. I found that relief woodcut prints played off well with my illustrations, and gave me some new options to work with. I still love printmaking, and plan on getting a press for my studio one day.
Over these years, how did you end up developing your specific kind of style with your drawings?
I get asked this a lot, and I hope people understand that a "style" isn't something you can just get. It's something from inside yourself that takes years of messing around with to fully grasp how to conjure it. We as artists all find influences from different aspects. Growing up, I drew constantly, and at one point during my early teens my work started to reflect Japanese
manga
. My family is quite creative in many forms, and one day my mother talked to me about my drawings. She congratulated me for the work I put into them; however, [she] pointed out that the style was starting to not be my own. She said a few simple words to me that struck me right in my heart. "An artist's name should come before a style." She continued explaining that I should work on developing my drawings to my own unique style. Something that reflects me as the artist, and would be recognizable as to be in fact my own. I remember sitting at my desk in my room later that day in horror that I may never find my own look. The anxiety that art was the only thing I felt somewhat good at, and that I might never master it. I've spent 10 years working on my illustrations and their anatomy. Expressing through their body language and awkwardness. I remember the first time someone online recognized my work. Someone had taken this drawing without permission and posted it as their own. A comment left on the post had said, "That's a Heather Mahler."
How was it for you getting involved with group shows and exhibitions?
Putting myself out there on social media has done so much for me, as not only an artist but a person. I have made relationships with so many amazing people. Not only has it gained me friends from around the world, but also has opened up connections for my art career. From talking to other artists on websites like Twitter, I fell into selling my work at conventions. It all about being a part of the artist community online as well as local these days.
What eventually made you decide to venture out as a freelance artist as your career?
I've never had a fool-proof plan for my life besides the fact that I had to make art. Realistically, freelance can change from feast to famine so fast it can be overwhelming. Sadly, a
lot
artists have a day job just to cover the bills. I work for a local artist here and there, for example, doing pop art. I won't get into that much besides how much fun it's been messing with a different style of art making. As an illustrator, I have to be able to work on jobs that could be nearly anything. To be able to do character design, album graphic design, tee shirts, or portraits, all drawn in my own little weird way. Truly being a freelance artist is a high-pressure gig, but it is very rewarding.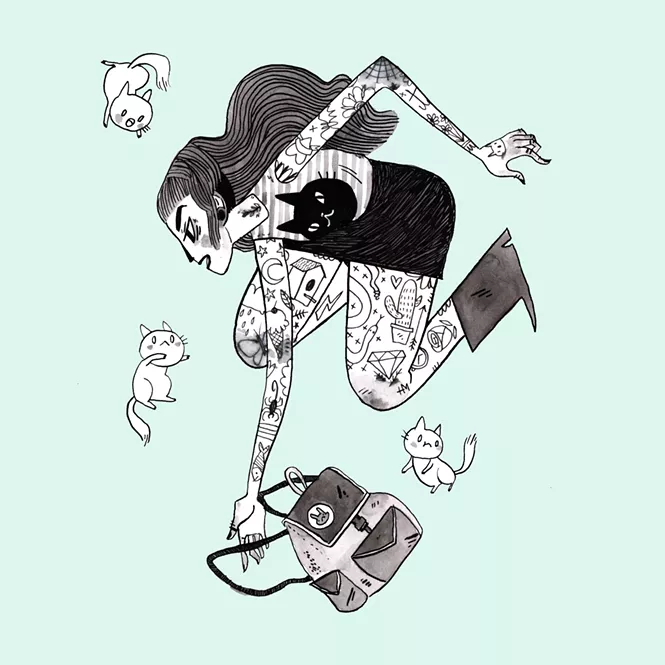 What's the process like for you in creating a new piece and fleshing it out?
When I draw, I tend to break down the image in my head into basic shapes. I sketch those shapes out until I get the drawings center of gravity just where I want it. After which I can start making decisions on facial features, clothing, and expression. Again this is all quite loose for I use my brush to ink the final line work and erase any messy lines. I don't feel like I draw my basic sketches much differently than others but I do tend to start with the head or shoulders. The shoulders generally reflect how the drawings posture will be.
Do you find yourself playing with your art a lot, or do you stick to an idea when it comes?
That depends on the idea and piece itself. I feel I've run to the closest piece of paper to get the idea down so I won't forget it a lot of the time. At times, I like what I've drawn and ill share it online and redraw it months later. Sometimes the one time I drew it is enough for me.

When did you start branching into comics and coming up with stories for strips?
I've been fumbling with it for a few years now, and only recently have something solid in the works. I've always felt my works have a soul to them. So to plant them into a story is very natural.
Have you given any thought to publishing a weekly strip or putting out a book yet?
Yes, I'm working with a local writer, and all I can say at this point is that I'm very excited.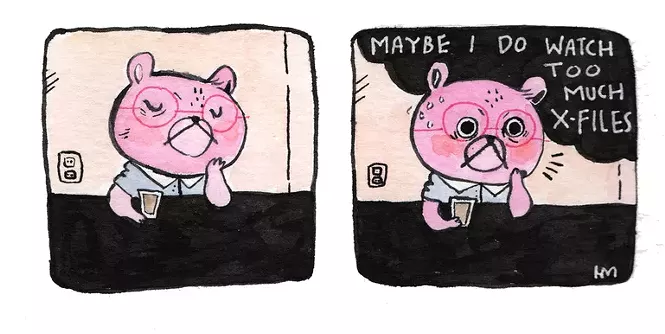 How did you eventually break into the geek community and start doing more pop-culture designs?
I myself am a geek. I have always enjoyed video games, fantasy and sci-fi. If I like it I draw it, which has made my portfolio quite random in the past, but humorous to me at least.
You've been branching out into the convention circuit as well. How has it been for you holding art booths?
I'm still fairly new to it, but find it fun and rewarding. It is a lot of work, but nothing beats when I get to meet fans of my work. It's unreal every single time.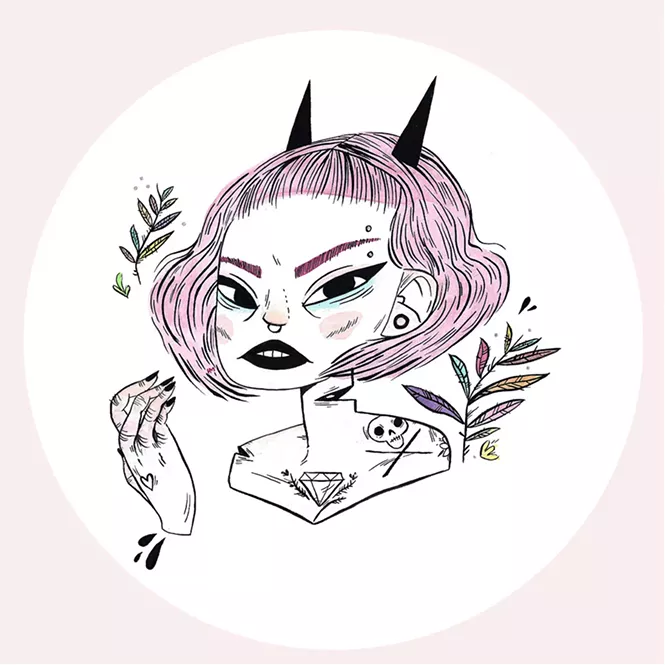 Do you do custom work for people?
Yes, I have
an Etsy page
for most of my custom work. I do fanart, portraits, and cards, along with selling prints of my illustrations. Which I print from my little studio on watercolor paper. Any other client work people can reach me at my email
heathermahlerart@gmail.com
.
What advice do you have for illustrators who wish to go freelance and make this a career?
Get your artwork out there! It takes a lot of work, but social media goes farther than Facebook! You have got tap into the internet and show everyone you're a bad-ass artist and that they should hire you!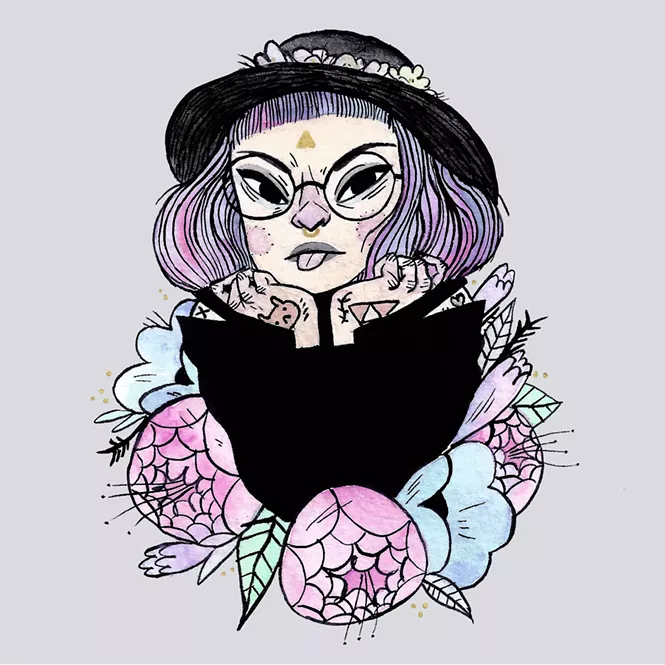 What can we expect from you over the rest of 2016?
My webcomic should come out soon, and some other fun projects I can't talk about. Oh and cats, always cats.