Across the country, there are fantastic showcases being put together called Drag Brunches, where you're essentially getting brunch and a show from some of the area's best and brightest drag queens. In Utah, we've had them occasionally, but not a dedicated monthly show until recently, when Drag Brunch SLC started putting together meals at Club X. The next one is scheduled for Sunday, April 24. But before we get to the show, we chat with the show producer or the SLC version, Mae Daye, to talk about what you can expect to see! (
All pictures provided courtesy of Drag Brunch SLC.
)
Mae Daye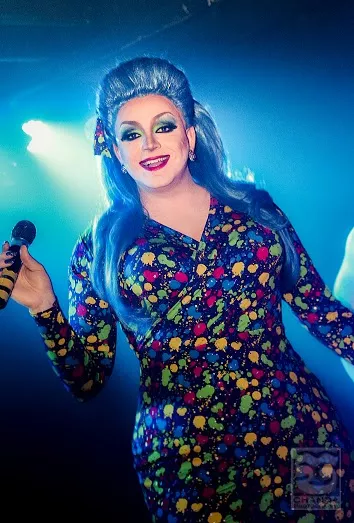 Drag Brunch SLC on Facebook
Gavin: Hey Mae! First off, how have you been over the past year?

Mae:
Amazing, but exceedingly busy. The good kind of busy. Lots of exciting things and new opportunities have come my way and I am very grateful.
What have you been doing recently?
Well, so much has been coming my way lately it's been hard to keep track. I've been keeping busy with lots of night club bookings. My new "home bar" is Club JAM, where I host my own night called Sudden Death Drag. Which is competitive lip-sync competition open to both queens and audience members, as well as continuing to be the go to queen of choice for legendary DJ Robbie Rob who now calls JAM home. Outside of the nightlife arena, I've done countless private events and promotional appearances, everything from corporate parties to private birthday celebrations. It's not a party unless there is a drag queen.
How did the idea to start up an SLC version of the Drag Brunch come about?
Brunch shows are a staple in the drag scene. With the current popularity of drag, there is a bigger audience than ever. And most of them are not what you would call the typical nightlife regulars you'll catch at a late night show. So a brunch show, where they can relax, eat, drink and enjoy a show is a perfect fit. It was just a huge opportunity, that wasn't being taken advantage of.
Did you find it difficult to organize at first with all the talent involved?
The talent was the easy part. I have been really lucky in my short three years of doing drag to work all
over,
and even work with a lot of national talent. We have some incredible talent locally, so it has been a super easy to gather together an incredible cast.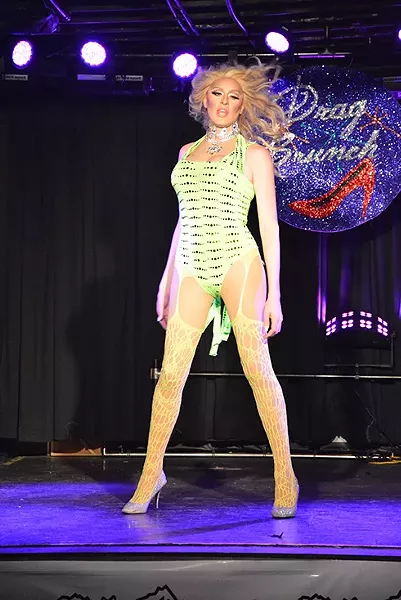 What made you choose Club X as the location, and how has it been working with them?
Club X is an amazing space, with a great staff. It has everything we need—a full commercial kitchen, a nice big stage, great dressing room, lots of parking and plenty of space inside. We started working with them while DJ Robbie Rob was hosting events there. They have been willing to bend over backward to help us out with everything.
How was it for you running the first show, both good and bad?
Our first show was great! Just a few little hiccups, but nothing major. Luckily I have run a lot of drag shows, so I know what I'm doing.
How do you go about programming what you'll feature at every brunch?
Well, we have set cast that I have hand-picked, which consists of the best queens in Salt Lake City and the surrounding areas. They are they most reliable and solid performers on the scene. But I keep one spot open for a guest performer each month, which I use to keep some variety in the show.
What's the reception been like from the community?
The response has been amazing. Our goal for the first brunch was to have 50 people, but 140 came. And it has been increasing exponentially each brunch since. We had to add a second show in the afternoon because we run out of seats in the morning show.
Tell us about what we can expect for the April 24 event.
In addition to our amazing cast of Gia Bianca Stephens, Indi Skies, Feral Ann Wild,
Linnox
Green and Harry-it Winston, we also have one of my favorite performers,
Janice Janice
Janice, who is a high-energy dancing diva. It's going to be a great show, for sure.
For those curious, what will you have on hand for the buffet?
The buffet has all of the brunch standards; fruit, egg dishes, waffles, pastries, hash browns, biscuits and gravy. And for those that want to sleep in, there is the Afternoon Tea Buffet for the afternoon show.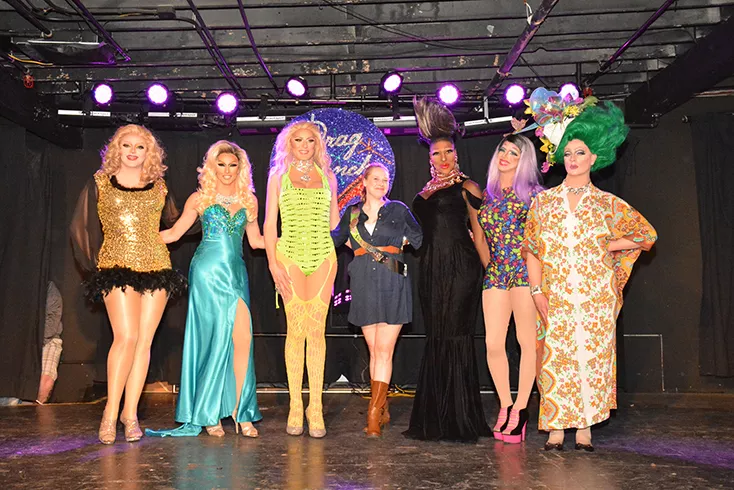 Do you have any plans to expand the brunch beyond what it is now?
We want Drag Brunch to become a local institution. We realize there is a limited audience for the event, considering the ultra-conservative culture we have in this state. So we are focusing on quality and making sure that everyone that comes feels welcome and has a good time. And, most importantly, comes back.
What can we expect from you and the SLC Drag Brunch over the rest of the year?
Well, I am taking the next large step in my drag career, and in
June
I will competing in my first national drag pageant. Which will not only be good exposure for me, but for the whole drag scene locally, since we are commonly overlooked on the national level. Drag Brunch will continue to grow and evolve based on the feedback we get from our audience. My goal is to not only feature traditional drag queens but also drag kings, performance artists, burlesque performers, anything our audience finds entertaining.