Ever since I encountered it years ago in New York's Chinatown, ma po tofu (or "homestyle" tofu) has been one of my favorite Szechuan dishes. This version, if I do say so myself, is better than you'll find in most local Chinese restaurants. It's also fairly simple to make. It's really just a matter of getting all your ingredients lined up — what professional chefs call
mise en place
. Organization is always important in the kitchen.
Ingredients:


1 package (1 lb.) firm or extra-firm tofu
1/4 lb. ground pork (you could also use beef or even ground turkey)
2 tbsp. hot bean sauce (available at Asian markets)
1 tsp. minced ginger
1 14-oz. can chicken broth
2 tbsp. cooking oil (peanut, vegetable or canola)
1/2 tbsp. soy sauce
1 tsp. rice wine
1/2 tsp. sesame oil
1 tsp. ground black pepper
1 tbsp. cornstarch
2-3 minced scallions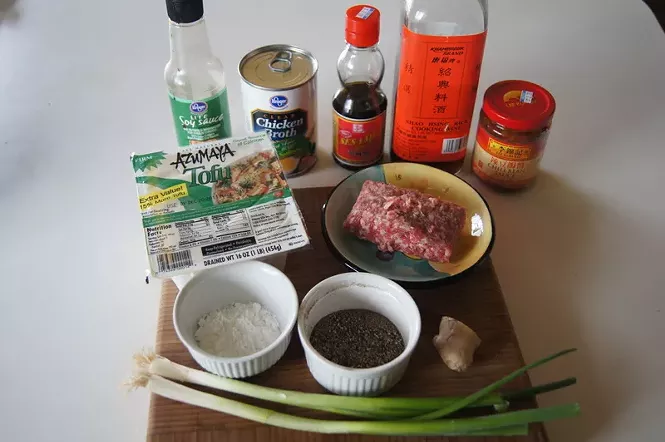 Method:


Drain and pat dry the tofu to get rid of excess water. I let the tofu sit on paper towels for a half-hour or so before using.
Dice the tofu into approximately 1/2-inch cubes and set aside.
Place the hot bean paste and minced ginger in a small bowl or ramekin.
In another small bowl or ramekin, mix together the soy sauce, rice wine, sesame oil and pepper.
In a third bowl or ramekin, make cornstarch paste using equal parts cornstarch and water (1 tbsp. each)
Heat the cooking oil in a wok or deep skillet over medium-high heat.
When the oil is hot, add the pork, bean paste and ginger. Quickly stir-fry until the pork until just browned.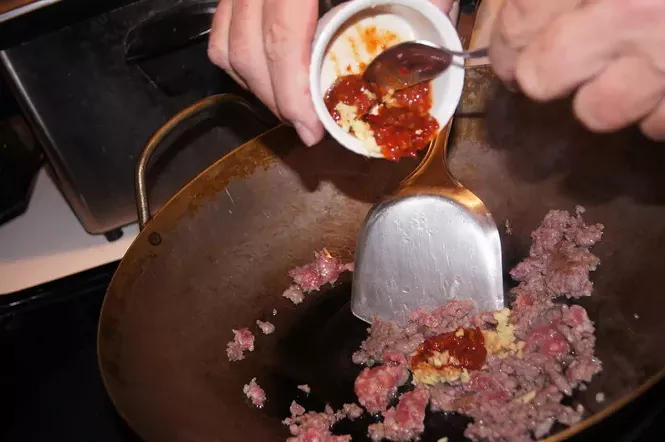 Add the chicken stock and tofu and stir well.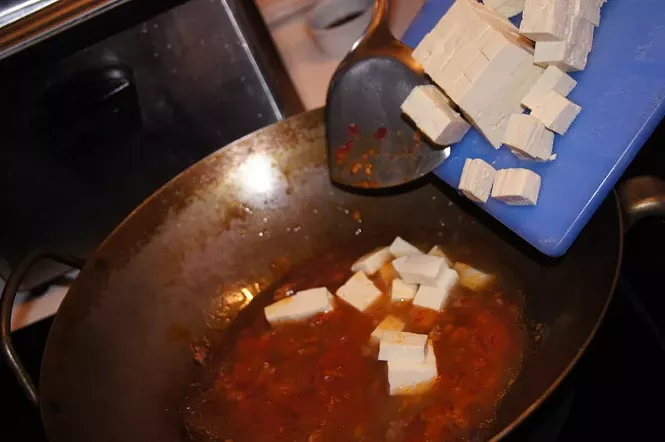 Add the soy sauce/sesame oil, rice wine, pepper mixture to the wok and stir.
Simmer the mixture over medium heat until most of the liquid has evaporated - about 15-20 minutes.
Add the cornstarch paste to the wok and stir thoroughly to incorporate. If the sauce is too thin, add more cornstarch paste. The sauce should be gravy-like, not soupy.
Remove from the heat and toss in the minced scallions.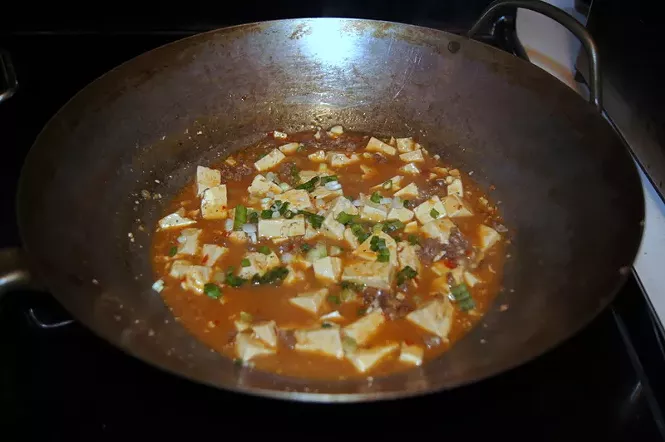 Serve with steamed rice.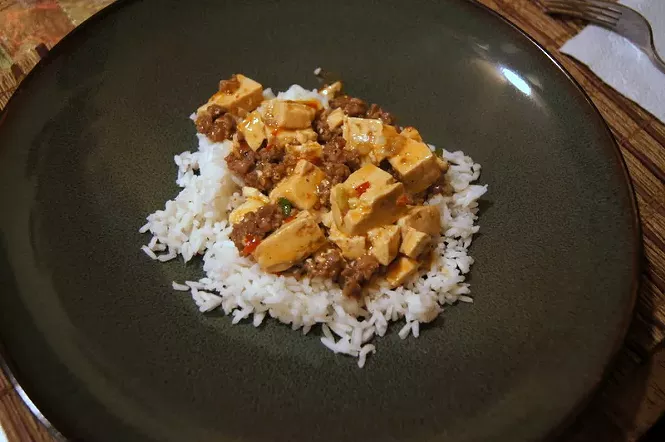 Photos by Ted Scheffler