When you're a gamer, being cruel to your friends can often be rewarding for personal gain, and occasionally fun as you feed the sadistic side of your personality. The success of Adult Swim's 2015 action shooter
Duck Game
, where players commence to killing each other as 32-bit ducks with an array of weaponry, shows that 4-player mayhem is alive and well. And while the idea of being a jerk to your comrades may not be anything new,
Clever Endeavour Games
are adding new levels of fun with their latest game,
Ultimate Chicken Horse
.
The gameplay is simple: You and three players each picks an animal and race to the goal. But not everyone can be a winner at once, with the game awarding zero points if everyone makes it. So to add difficulty to the mix, players are given a mixed bag of props to which they can place anywhere on the board between them and the goal to help kill off other players, or at least stop them from reaching the goal before you. Buzz saws, arrows, slick ice, barbed wire, teleporters, black holes and hockey puck machines are some of the traps and obstacles that will stand in your way from making it to the end.
After a few rounds of play, the challenge to even make it halfway across the level becomes a journey unto itself, are you are put against multiple perils that sometimes are impossible to even attempt. Players can blow up portions that no longer work, or clear a path to create room for new traps to be played. As suggested in the title, you're both playing a game of Chicken and a game of Horse, with the first to five points being declared the winner. The added bonus to the game is that you'll never play the same level twice. Oh sure, when you start out you may have to put together rudimentary pieces to get to the goal at first, but as time progresses you'll end up with an obstacle course worse than any kid ever attempted to win on
Double Dare
.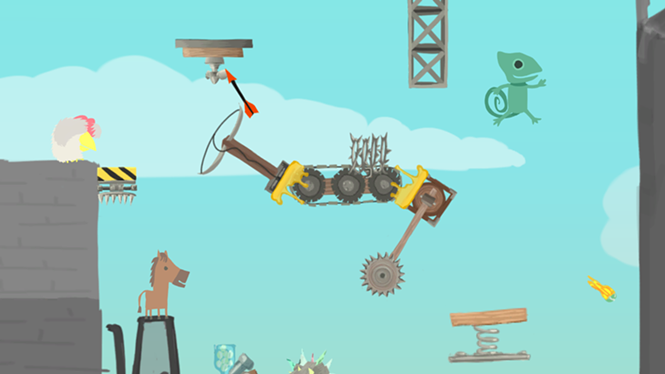 The game does come with flaws, the first being that the online server is currently in Beta testing for online gameplay and is prone to disconnections. Not just for random players either, those directly connecting with friends who have the game suffer the same issue. The second is that the graphics will sometimes go askew, with players disappearing from other's screens at home or placing items that don't show up and become invisible hazards. The final issue is the controls which are responsive 99% of the time—until you need that one specific jump or are just a pixel or two away from a trap. Many of the games I played in my review went off without a hitch until I truly needed them to work, which can be frustrating as hell.
The game has big promise as an indie multiplayer race that contains moments of true vengeance and vindictiveness as a gamer. If you're going to play, keep two things in mind: You will deal with bugs and losing is a major part of the game. But if you do a quick YouTube search for the game you'll find many who are recording their sessions are enjoying the absurdity and challenge the beta has to offer, even with the issues mentioned above. This is a good recommend if you need something to take your mind off games like
Rocket League
or
Rainbow Six Siege
, but if bugs are your biggest peeve, wait for the final version.