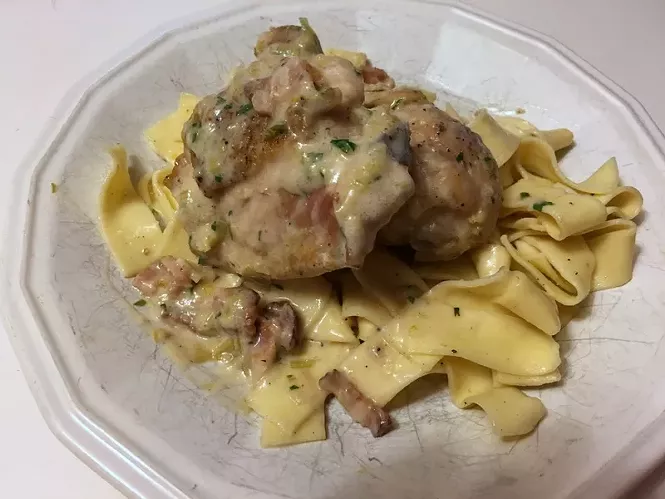 I don't know anyone who enjoys paying taxes. Donald Trump? Apparently not, but who knows? Maybe he OVERPAYS his taxes out of generosity and a love for this country and wants to keep a humble, low profile.
Anyway.... Here's a CHEAP meal to make for those of us who do pay taxes and are living frugally during tax week.
I was surprised when I went out to our garden this spring and had a bunch of "volunteer" leeks ready to harvest - ones that I had planted last year and given up on.
So with this nice surprise, the question was: what to do with them? And answer: chicken with leeks. This dish is a little time-consuming, but very delicious and well worth the time spent making it. Give it a try!
Ingredients:


3 bacon slices, cut into small pieces
8 skin-on chicken thighs or drumsticks, or a combination of both
Kosher salt
Freshly ground black pepper
3 medium-size leeks, white and light green parts only, cleaned and thinly sliced
2 sprigs fresh rosemary or 2 sprigs fresh thyme
3 garlic cloves, peeled and lightly mashed
2 Tbs all-purpose flour
1/2 cup half-and-half
1 cup chicken broth (preferably lower-sodium)
2 Tbs minced fresh Italian parsley
Lemon wedges for garnish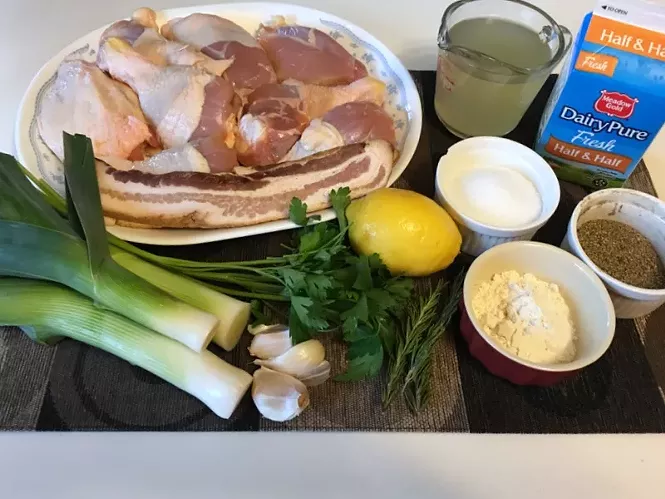 Method:


Preheat your oven to 425 degrees F.
In a large braising pan or ovenproof skillet, cook the bacon over medium heat about 4-5 minutes.
Season the chicken pieces with salt and pepper.
Push the bacon to the side of the cooking pan and add the chicken in one layer.
Cook the pieces of chicken, turning occasionally, until lightly browned.
Using kitchen tongs, move the chicken pieces to a large plate.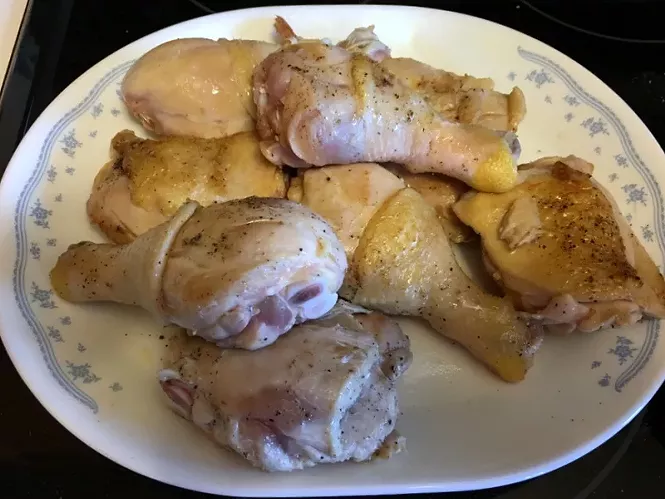 Add the leeks, rosemary and garlic to the pan with the bacon and stir to mix well.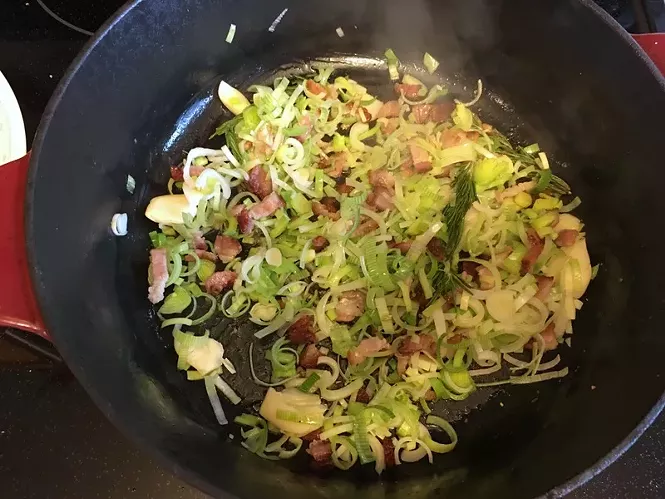 Place the chicken on top of the leek mixture.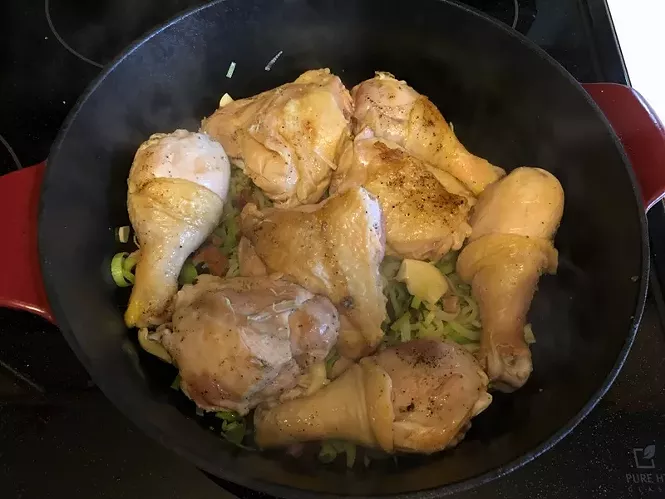 Transfer the pan with the chicken to the oven and pan roast for 20 to 30 minutes, until an instant-read thermometer registers 160 degrees F. when inserted into the thickest part of a thigh or leg.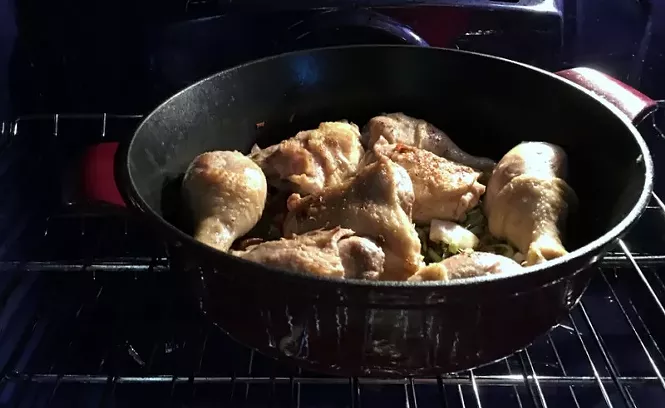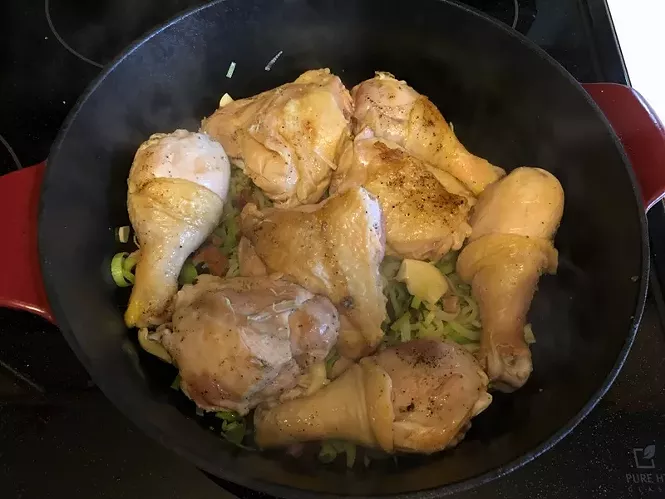 Transfer the roasted chicken to a clean plate again.
Add the flour to the pan and cook, stirring, for 1-2 minutes.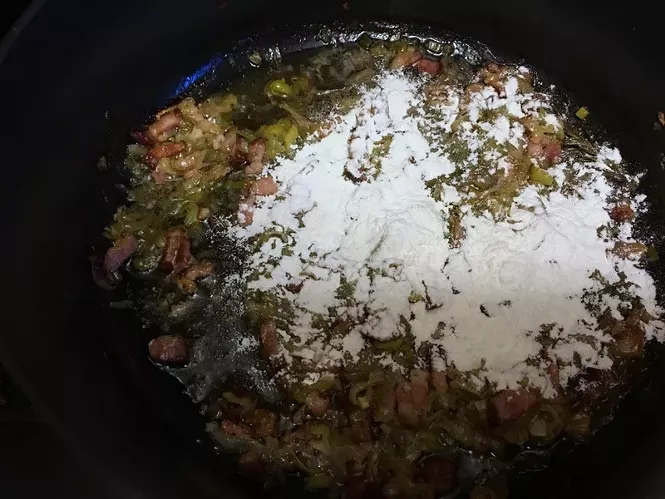 Pour the half-and-half and the chicken broth into the pan and bring to a boil. Cook until the sauce is reduced by about half and thickened. Stir in the parsley with a squeeze of lemon.
Discard the garlic cloves and rosemary sprigs.
Pour the sauce over the chicken and serve with lemon wedges on the side.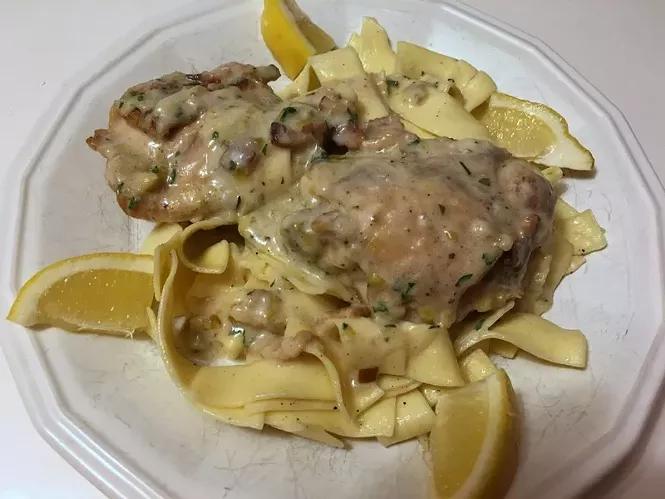 Photos by Ted Scheffler