Far too often have I looked at an indie video game and thought to myself, "That looks pretty damn cool, but I don't know if I want to put money down on it yet." Like any piece of media, there's always hesitation as to whether or not you should spend your hard-earned cash on it. But it seems we treat indie video gaming a little stricter. Maybe it's because we've been burned one too many times before from developers who promised big and failed to deliver, or just the idea that we become so used to buying material from bigger companies that it's hard for us to trust something untested. And that's the unfortunate position that
The Technomancer
finds itself in. Developed by France-based company Spiders, and produced by Focus Home Interactive, this sci-fi RPG dropped on every console last week to a mix of giddy anticipation and criticism.
Focus Home Entertainment
Yep, this is home for humanity. Like Phoenix, but less mutants.
Do you remember the film
Ultraviolet
, with the lead character who goes into a ridiculously quick description of the terrible future we now find ourselves in? That very same thing happens in
The Technomancer
in the first two minutes, before you're even allowed to choose what your character looks like. Without giving away too much, here's the short version of the storyline: You currently live on Mars, life is bleak, there's an entire political power structure keeping everyone down, you somehow have special abilities that include throwing lightning and being really awesome at fighting, and you are off on a journey that involves monsters and self-discovery. There's also a subplot that has something to do with clean water, but really serves no purpose to much of the game.
Focus Home Entertainment
"Excuse me, do you know which way to the battle are- oh!"
Everything about this game feels like it was borrowed from something else and transformed into a different version of what it once was. The character creation menu feels like
Fallout 4;
the combat style feels like it was ripped from the recent
Batman Arkham
games; the ability to upgrade my weaponry takes pieces from different
Final Fantasy
games; the maps resemble
Doom
, and the companion system echoes
Knights of the Old Republic
. That isn't to say this is automatically a bad thing, but when I recognize a game inside of another game, there's a part of me that really wants to play the other game.
That being said, they actually utilize these different elements to their advantage by marrying them together, rather than trying to give you a former game and all of its glory. You're given various forms of combat, weapons and skills that allow you to take on whatever may be in front of you, whether it be an alien presence or formidable foe.
It's
up to you to utilize the combat and weapons you pick up and create to get to your objectives.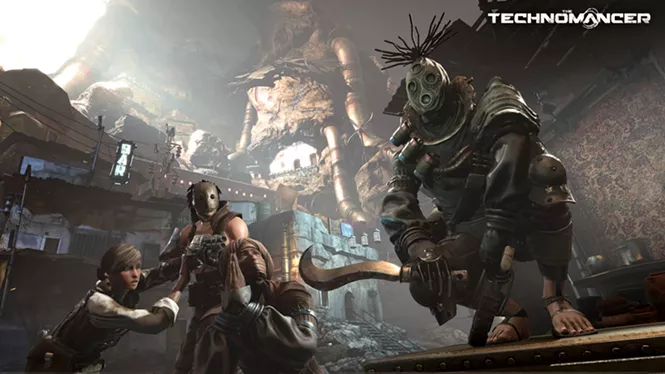 Focus Home Entertainment
"All the better to see you with my dear!"
Down the line, you're also given companions to help you make your way through the cities and terrain around you. Every companion comes with their own special skills and knowledge base, so you have to change people up every so often to get through places, rather than just power through with three hard-fought characters. Every companion comes with problems; it's up to you to either stand in defiance and turn them into an enemy, or get them to like you more and become an ally. And if you're lucky, you can actually "get lucky." (For real, I'm a sucker for redheads.) This style completely compliments the gameplay, and gives you an opportunity to do amazing work to order cards. But if you fuck things up, you can set yourself back real quick
Focus Home Entertainment
I've had better enemies than friends in this game. At least the enemies will tell me they hate me.
The look and feel of both the environment and the gameplay are pretty damn good, but not without their own drawbacks. The world that you are presented here is immersed in color, decoration and all sorts of minor details that most developers wouldn't have even bothered with. And yet there are moments when you're watching the characters interact and seeing their lips move when there are no words following. The cities are designed amazingly, yet the characters will clip frequently and act as if they're completely out of place and out of touch with what's happening around them. If a man just got electrocuted, I would expect the woman trying to warm herself by the bonfire to be somewhat concerned, instead of continually prancing around the bonfire. The flaws can be overlooked as a developer's first time around the block, but they occasionally take you out of the story, and that's an issue that this game does not need.
Focus Home Entertainment
"I'm gonna need a bigger electro-staff thingy to lance that boil."
Overall,
The Technomancer
is a pretty good game with a storyline that is sure to make a lot of sci-fi fans giddy, but it isn't quite the grand adventure you may be hoping for. If this game were a book, it would be a paperback novel: a quick read to get you thinking and incite some imagination, but not quite the long journey you were hoping for. If you're down for this kind of RPG then it is a must-have. But if you're feeling on the fence about it right now, give it a few months until the game is put on sale.