Early Saturday morning some 100 hopeful women embarked on their journey toward Utah's biggest stage for dancing: becoming a Utah Jazz Dancer. All the while, the Jazz Dancers' coaches and organizational staff embarked on their own journey—a hip-hop one.
The auditions took place at the Zions Basketball Center in Salt Lake City. Normally home to practices for the Utah Jazz basketball team, the center saw the usual amount of stretching and Nike footwear, but a whole hell of a lot more sparkles, make-up and Lululemon.
A single, long plastic table separated dancers from audition judges. On either side, the desire to remake the troupe's image was the same.
"If you have ever been to a Jazz game before, you've noticed the Jazz dancers are pretty comparable to other teams," Utah Jazz Director of Game Operations Carly Robbins, said. "They all have the same format, the same look and the same dance. We just want to be different."
To that end, Robbins and the rest of the organizational staff are attempting to make this year's Jazz Dancers an unmistakably hip-hop team. Fans, however, will have to wait for the coming season to see if this translates to the team performing numbers to the likes of Drake, Future or Kendrick Lamar. Maybe they'll even delve into a few trap tracks by the trap-lord himself, A$AP Ferg, or match indiscernible dance moves with Young Thug's lyrics.
Still, one thing is certain, Robbins said, the new direction will ratchet up excitement at games.
"We want the girls to be known for a 'holy-crap-that-was-cool' sort of thing," Robbins said. "I think a lot of times when you have a team that might struggle with winning games, you need to be able to entertain people in other ways. We want people to be wowed by our entertainment."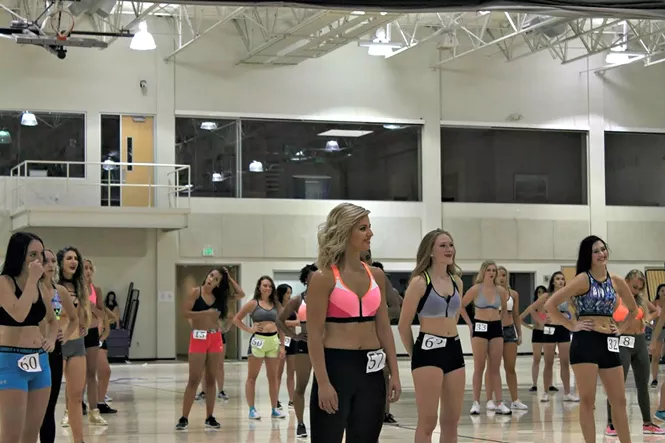 A new image for the Jazz Dancers requires new choreography and a batch of new girls who fit the dance style. Each was present Saturday.

Staff brought in Los Angeles-based choreographer Kristi Crader to both teach the audition routine and help judge the dancer hopefuls. Having danced in and choreographed dances for movies like You Got Served and the most recent rendition of Ghostbusters, Crader has the experience to help the team transform.

I think they're just ready," Crader said. "The transformation is going to be awesome. The state has an incredible [NBA basketball] team—let's make the dancers incredible as well."

Despite the new direction, the path for the women auditioning is the same. The first day featured a brutal first cut that reduced the auditioning pool by about half. Following the initial cut, hopefuls will endure a week of new choreography, interviews and multiple other cuts.

It's not enough to simply be a pretty face and a good dancer to make the team; you've got to be the whole package.

"It's more than just dance," Jazz Dancer Lexie Larsen, said. "You've got to be able to present yourself well and be able to speak to people and go out in a crowd and not come off as what people think NBA dancers are like."

Making the team is a long-held dream for many. Larsen noted that from a young age she knew being a Jazz Dancer was her goal. She went to Jazz games as a child and watched her cousins who were dancers. It's fulfilling now, she said, to be on the same big stage years later.

"[Being a Jazz Dancer] was just a goal," Larsen said. "It's the number-one thing you can do in Utah as a dancer."



In the coming week, nearly 20 women will realize their dream. As for the rest of us, we'll be watching from the seats at Vivint Smart Home Arena to see what these women do when their ambition and the organization's new hip-hop direction unite.