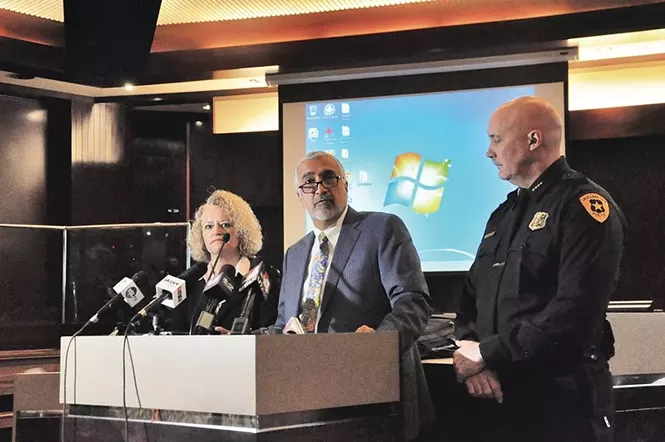 Colby Frazier
Biskupski and Brown flanking District Attorney Sim Gill at a January 2016 press conference.
Salt Lake City Mayor Jackie Biskupski and Chief of Police Mike Brown are hosting a public workshop to address the relationship between the police and the community on Thursday.
The workshop, which is open to the public, comes amid a rash of police shootings of civilians, as well as shootings of police, that have scourged the country this summer.
The Salt Lake City Police Department has had its share of incidents where police are caught on camera using
what citizens deem excessive force
. The most recent incident involved an arrest in 2014 when a since-retired officer struck and verbally abused a woman after she spit on him. After video of the arrest became public earlier this month, Brown said the circumstances surrounding the arrest were being investigated.
Protesters
took to the streets
in February 2016, after Salt Lake City police officers shot
Abdi Mohamed
. Police say the teen was beating a man with a pole near the downtown homeless shelter. When police asked him to stop, he continued the beating and was shot five times.
At Thursday's meeting, which is being billed as a "structured and guided process," the public is encouraged to provide feedback to bolster police and civilian relationships in Salt Lake City on topics like de-escalation training, use-of-force policy, the role of the Civilian Review Board and training and hiring of police officers.

The meeting begins at 5 p.m. at the Sorenson Unity Center, 1383 S. 900 West.