Nothing says "dystopia" quite like watching the world around you turn into some kind of ugly conformity that you simply cannot stomach. Its the classic setup for any video game where everything seems to be "you vs. the world." But that kind of futuristic storytelling has been done to death, predicting hundreds of possible futures that most likely will never happen. So how do you shake things up and capture that intrigue again?
Make that dystopia in the past.
Compulsion Games
No, it's cool, the children will be looking happy! No one will be frightened by the eyes.
That's the subtle yet not-overly-explained synopsis that fuels
We Happy Few
. This new single-player survival game comes from
Compulsion Games
, a Montréal-based company that
are
the brains behind the awesome, innovative action game
Contrast
in 2013. Using the Unreal Engine 4 to construct the game, the studio started work on this title shortly after
Contrast
's release. As reported in
Rolling Stone
, the inspiration came from when studio founder Guillaume Provost had lost his father just before their first game came out, and he found himself in a place or great struggle and personal reflection. During this emotional time, he thought about a society fixated around drugs, and pitched several plans for the game to his team. The game made its debut at PAX East in 2015, and after a ton of hype and expectation from fans, we finally received a Steam Early Release on July 26.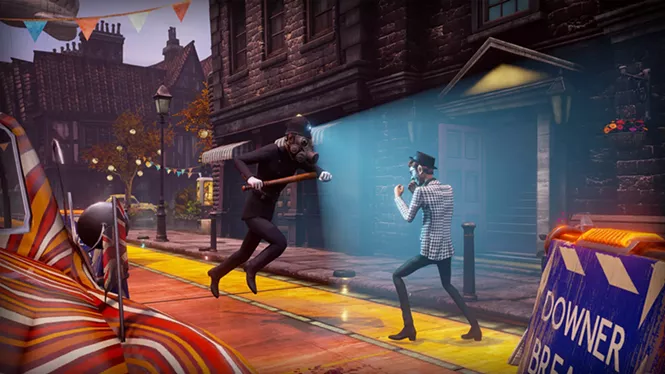 Compulsion Games
No fair, you have a flashlight on your helmet!
The game starts out in 1964 Britain, in the fictional town of Wellington Wells. In this world, history took a bit of a side-step into an alternative timeline, when the Soviet Union invaded the U.K. sometime during or after World War II. The British apparently won, but at some kind of cost where the government went to extreme measures to get itself on track. The culture, in general, involves taking pills called "Joy" that perk you up and make you happy to be doing what you're doing and where you live, which looks frightfully polished and cleaned up for a country that just got out of the war. Without getting into spoilers, you're given a choice to take your happy pills and go one with life, or tell the man to go fuck himself and refuse. I chose not to take it, because I was already uncomfortable with the idea of working a desk job in the game, so I decided to take the blinders off. After that, my character started seeing things for what they really are. I was chased out of town and found myself in the unkempt part of town, where all the unwanted seem to go (or are forcibly removed to). Now my character has to survive in a cruel world where anything less than happy is like having leprosy, with the same time-frame of survival.
Compulsion Games
This is not looking good for me at all.
This version of the game does not have any of the main characters or story arcs, so you're essentially playing half a game. What the early release is designed to do is test out the bugs, get feedback from players, and give those who have been waiting to play a chance to immerse themselves in this universe. In this version, you're given one week to escape before everything goes to hell. You have the ability to create various tools and weapons to survive and free up achievements, not to mention either helping or hurting the town as you make your way around. At night, the cops are the only people allowed to walk the good parts of the city, so you need to pop your way into the good sections of the city during the day. Much like real life, you need to eat, drink and sleep in order to stay functional as you work your way around the lesser parts of the city, surrounded by people referred to as "Downers." Gloom isn't just on the streets; it's in the rotting homes as well, as you're given a very bleak future if you continue living here.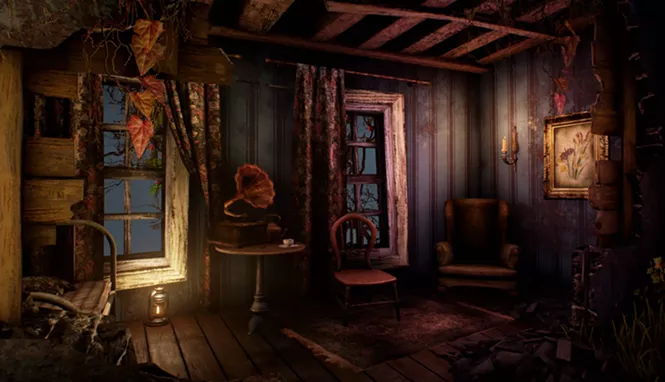 Compulsion Games
This house is now available in the San Francisco market for just $400,000.
For this alpha version of
We Happy Few
, the gameplay is pretty solid. There are glitches in some instances, like in one section where I had to help dispose of a body, but couldn't pick it up after I dropped it to snag something else. Fighting can also get clunky, as your enemies can get the drop on you rather easily, but landing a blow on them takes some precision. The ability to build new weapons is fantastic and can actually get you out of a battle in times of need, but these weapons do have a shelf life, so you can't run around and beat up the entire game's worth of characters while you loot every home in sight. The interactions with people can be fun but annoying. One character chatted with me and tried convincing me I knew him; I had the option to ignore him or give him a Joy pill, but it wouldn't let me give him the medicine. After that, he followed me around for blocks saying the same shtick. These are all minor bugs with easy fixes, and not too hampering on the gameplay.
Compulsion Games
Look, all I said was Beyoncé wasn't the end-all-be-all of music! She's still great!
The graphics are amazing coming from the engine used to make it. The mouths on people's faces actually look like they're speaking instead of just mouthing random positions for the lips. The homes and the lighting can give you warm and cold feelings everywhere you go. The lighting actually has a blinding effect as you move around it, which will darken some areas after you stare at something bright for a moment and then return your normal vision a few seconds later. Great care was taken to give players a realistic experience with movement. Sections of the town
itself
even give off the vibe of being somewhere important while being in the middle of nowhere, all at the same time.
Compulsion Games
Really? Spankers?! There's a fetish joke boiling here, I can feel it...
As far as the story goes, I'll admit it, it depressed me (but in a good way). This version of history shows what happens when the powers that be decide what's best for everyone with no oversight. Rather than giving society the option of taking the drugs or not taking the drugs and still living happily, you're immediately washed to the gutter as you avoid getting killed or taking your own life. There's a very moving effect on players, as they see the world they thought they knew collapse around them. It makes you think about your own life to a degree, the lives of those around you and the people who find themselves in unfortunate circumstances from one single decision. But you're also filled with a sense of duty to get things back to where they should be and live your life on your own terms. Now all that's left is to save yourself before there's nothing left to save. That's
something
you can't easily bottle into a survival game, and Compulsion Games have done a
splendid
job with it.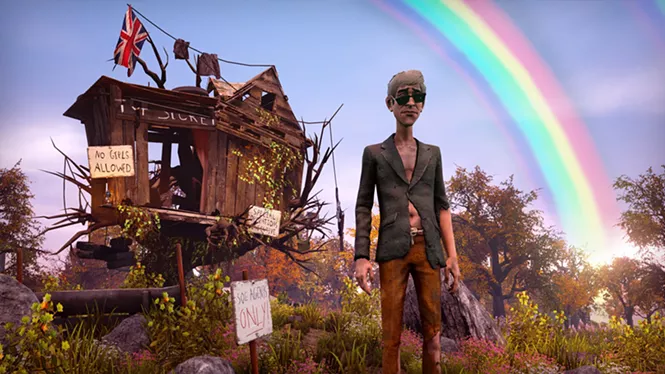 Compulsion Games
See, a nine-year-old's dream can come true. I got my own clubhouse.
We Happy Few
is a must-try for people who are into the survival genre, but also like a bit of alternate history on the side. And because there's a British feel, you're getting a good taste of classic U.K. television to your paranoia. Shades of
The Prisoner
,
Doctor Who,
and
A Clockwork Orange
can be felt through the gameplay and storytelling. The bonus to gamers is that once the primary game is finished, it will update your copy so you won't have to buy the full version later; you're getting a chance to familiarize yourself with the mechanics before the real story comes your way. That makes it w
ell
worth the purchase price of $30 for early access, with enough multiple ending scenarios to keep you coming back until the full game comes your way. But when you do run into the inevitable bugs and problems that come with an alpha version, don't get mad. Just contact the company so it can be fixed and they can improve the final version.