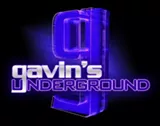 Ever since The Shred Shed was forced to vacate its comfy, awesome home on Exchange Place, the former music venue was looking like an empty hole on what was becoming a revitalized side street in downtown SLC. Earlier this year, the long vacancy was filled with one of the best possible additions to the area we've seen in a while: a skate shop. Half & Half Skate and Snow has been doing some awesome work being one of the few pro shops in town with their own ramps in the shop, turning the business into a hangout and bringing life to the area on the weekends. Today we chat with founder Milhouse Williamson about starting the place up and what they have to offer.
Milhouse Williamson
Half & Half on Instagram
Gavin: Hey Milhouse! First thing, tell us a little bit about yourself.

Milhouse:
I am a random dude raised in Idaho who fell in love with skateboarding 20-some-odd years ago. I grew up in Idaho, where it's somewhat easy to skate and snowboard with the season change. It gave me a great experience in the outdoors community, not just skate and snow. I've lived in SLC for 10
years,
and have had nothing but great times being involved in the skate and snow culture here.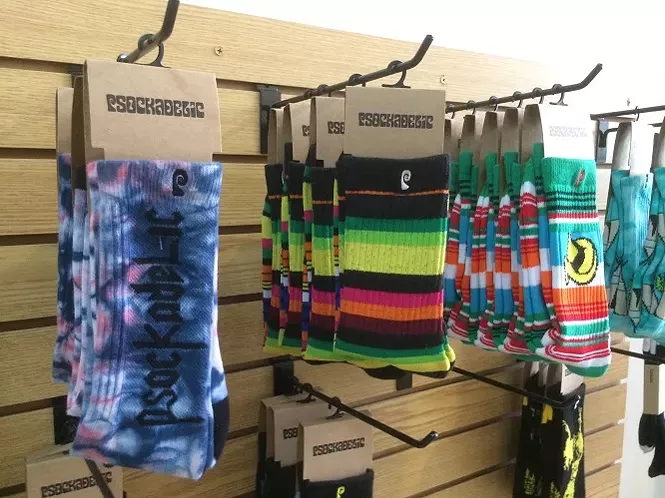 What first got you into skating and other outdoor sports?
I got into skating when one of my neighborhood friends had a relative who opened the Sled Shed in Idaho. It always seemed so cool to me, and different from what most kids in my town were doing. I had a skateboard and was messing around for a month or so, and I watched
Second Hand Smoke
. When Johnny Rodney Mullen started skating to "Dream On," I fell in love unconditionally with skateboarding.
Did you ever try to take it to a professional level, or was it just a pastime for you?
I never tried to take it to a pro level. I've only filmed enough footage for one part in my entire skate "career." To me, skating was all that I needed, and I was willing to work random jobs that allowed me time to skate as much as possible, as well as ride mountains. It definitely passed the time for a couple decades.
What eventually brought you from Idaho to Utah? What made you decide to stay?
When I was 19, I lost a brother to drinking and driving. My parents had lived in Tooele for a few months, and my mom really wasn't taking it well and I was getting into trouble myself. To kill some of her stress, I moved back home for six
months,
and eventually moved to West Valley with Ben Page. Once I figured out all the parks and Brighton Resort, it was set in stone that SLC was where I belonged.

What was it like getting involved with the local skate culture here?
It definitely took me some time to get as involved as I am now. But when I would go to Ninth & Ninth in 2004, I was always welcome, and felt like that was the first park that really took me in. Most of the same homies skate there, and that means it is always a good time going to that park. The community is so welcoming here; as long as you are nice and somewhat know park etiquette, it's the best.
How did the decision come about to start up your own shop?
The decision to start my own thing came from being a felon and feeling under-utilized in every work situation because of it. I also met the greatest person in my life that had complete confidence in my abilities—my beautiful partner in life, Kristin Woodard. I had worked for local shops and Zumiez in the past, which gave me plenty of time
with
the customers, ordering
new
product and contacting different suppliers. I wanted to be involved in skate and snow for the rest of my life, and since I didn't have the talent to become a pro, I used other talents I did have to make this dream come true.
What made you go with the old Shred Shed location on Exchange Place?
Exchange Place fell in my lap. I love the block already; I worked at Jackalope, and I [would eat] all the pizza I can at The Pie Hole since day one. So when the spot became "available," I was already in the process of making the store happen. I had to jump through some hoops to find out who owned the spot then, even more, to get him to get me a lease agreement that worked for both of us. I wouldn't want it anywhere else. Everyone has been saying for years we need a shop downtown. I am facilitating that with all I have got.
How was it converting the space into what you needed for the shop?


Luckily, my friend Ben is the handiest of men as a business. I was always able to get pointers from him. He built the skate case, laid the cement, everything. I am also lucky enough to know how to swing a hammer and spray some paint. It took three solid months of painting,
remodeling
and flooring. Lots of ups and downs. We barely had things tagged, priced and displayed at 3 a.m. the night before I opened.
What made you decide to turn part of the shop into a space for ramps and tricks?
That was kind of Ben's thing—we were going over plans for the skate case, and he brought it up as kind of a joke. But we are both real skaters, so, of course, I wanted something to play around with in the shop. After that, it was just curbing our imaginations on what we could do.
How did you go about deciding what to keep in stock? What's the local/national product balance?
The stock has been mainly decided by this thought: "Who do I want my and my customer's money going towards?" That's a huge driving factor for the brands that I bring into the store. I want the people who are rad and nice and genuine people to benefit from my shop being open. That's why half of my stock is from local suppliers. These guys are my homies, and they are just trying to be involved in skating in another way just like myself. I will also only bring in skate hardgoods that I myself would skate as well. Quality is a huge factor to me; I want my gear to last, and be the best you have had.
What was it like opening the shop up this past March? What's the reaction been like from patrons?


It was totally surreal the day of the opening. Everyone had a great time skating the street, then came in and sold me out. The patrons that I have spoken with have really liked the atmosphere I have created in the shop. It sounds like everyone is really excited to have a new shop that's right in downtown.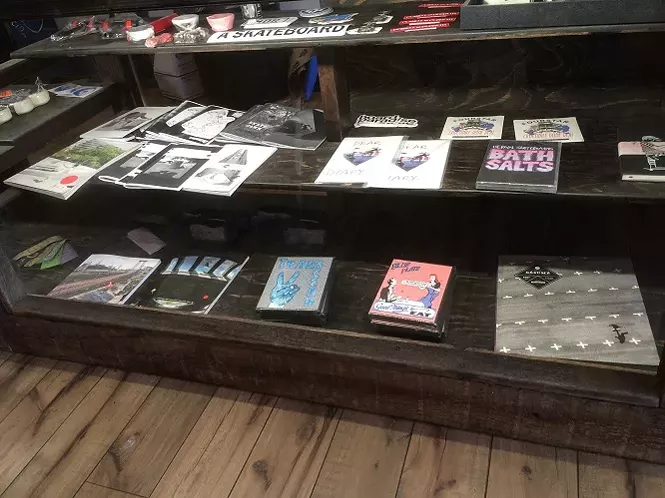 How has it been for you holding events indoors and out on the street in downtown SLC?
I love doing the events. Each one has had its own hardships and obstacles, but in the end, they have all been successful and fun. The SLUG Games were really awesome; the finals were in the rain. It was storybook crap. The other things are my friends just looking for an excuse to party.
As far as a presence online, you've kept everything to just Instagram. What made you choose that route?

I like to do things properly. If I can't create a quality experience from it, I am far less likely to use it. Instagram is something I felt that I have done really well with for the shop, but that's because my team is sick and my homies are, too. All you need is a camera.
What's it been like for you shooting videos in the shop and making cool content?
It's been nuts, actually! Creating and keeping up on content is half the job. Luckily, with the dudes on my team that
are
homies, all I have to do is point and shoot. On the other side, if I didn't have cool brands available, none of that would matter, so keeping up on stock photos has been an interesting game.
What do you hope people will get from the shop that they don't normally get at other places?

The rawest skate shop
feel
available in Utah. You won't ever see a long board in the store. I'd rather close the doors. We aren't censoring ourselves either—back that with feeling like Norm [from
Cheers
] every time you walk through my doors.
What can we expect from the shop over the rest of 2016?
The rest of the year will be rad. September we will be doing the Roughside contest with
SLUG
and Johnny Roughneck. There is a new format this year, and it is going to be awesome. I will also have other art-driven events. Then snow comes in and it gets real. Still ironing out details, but it's going to be something awesome for downtown.