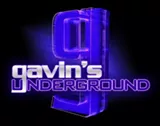 Recently, amid the series of outdoor festivals and events, was the annual Millcreek Festival—a chance for the Millcreek Business Association to showcase the artists in their area and give residents a chance to see art made by their neighbors. Among the artists at this year's event was
Synapop
Studios, the company name for the artwork of Melinda Frewin, who has created awesome glassworks for years, and print works that are all made on an old-school press. Today we chat with Frewin about her career and the work she's been producing with her brand. (
All photos courtesy of Synapop Studios.
)
Melinda Frewin
Synapop.Weebly.com

Gavin: Hey Melinda, first thing, tell us a little bit about yourself.

Melinda:
Hi Gavin! I am a native Salt Laker, married mother of two and a rescue mom of two dogs. I'm a volunteer board member of the Millcreek Arts Council, an artist for Salt Lake Laser Etch, a member of the Glass Art Guild of Utah and Wasatch Area Lampwork Artists. The love of nature and our earth is always on my mind and in my heart. I'd love to be a full-time studio artist someday.
What first got you interested in art growing up?
My love of art began in third grade, and painting was my favorite subject. The one assignment that "art sparked" I was a plaster cast relief tile. The horse head portrait tile was the one I painted. I remember it so well because it was chosen to be displayed in the main office glass case right outside the principal's office. That week, I stood and stared at it as much as I could. My friends would come along and comment on their experiences and interactions with horses, and that is when I first learned that a piece of art can start a dialogue. Art creativity continued outside of school when at the age of nine I discovered a grandmother's sewing machine. I mooched fabric scraps off my mom's friends and began sewing fashion clothing for my Barbie dolls. My friends would purchase my doll outfits for 25-50 cents each. It was so successful that I built a storefront for my designs out of cardboard boxes and my friends' dolls would stop by and shop.
What genres drew you in as you were coming up through school?
Sadly, as I moved up through school I believed the stories and talk about artists being poor and unable support themselves, so I studied business. I wasn't creatively fulfilled studying accounting and economics in college. Soon I didn't care anymore if artists are poor, and switched my major over to
fine
art. Throughout my college semesters, I fell in love with ceramics, letterpress and digital technology. I would have also liked to explore printmaking and sound art.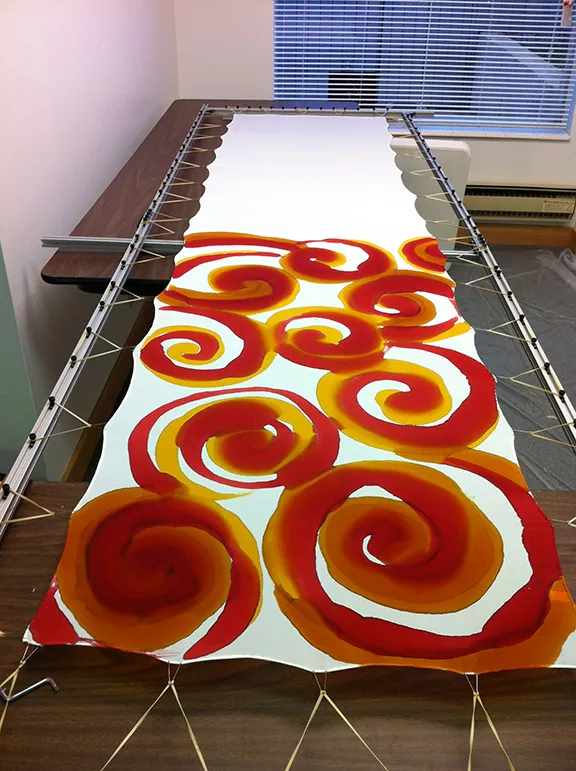 You earned your BFA from the University of Utah. What made you choose the U and what was their program like?
The U was always the university I wanted to attend because its has a beautiful campus with endless learning possibilities, fun events, plus I could live at home. The fine art program is full of creative passion and art experimentation. My major is Sculpture Intermedia—we excelled in sculpture because we students could make absolutely anything that we felt needed to be explored or commented on. We learned exciting skills such as kinetic sculpture, bronze and aluminum casting, welding, woodworking, large-scale installations, site-specific installations, movement, audio, digital projection, stop-motion animation and more. The department would bring in resident professional artists for an entire semester to share their experiences. Our professors had us collaborate with other departments such as dance, computer programming and engineering. They felt it was important to get out of our building and examine the possibilities of art in other fields. In my kinetic sculpture class, one of our collaboration projects was a concept of how aspen trees communicated via their root system. The trees had motion sensors and would react if a person approached or walked by. Depending on how much motion was created, the LED root system between the trees would flash and the leaves on the trees would move. We were a team of three—an artist, an engineer, and a programmer. Because the sculpture department sees beyond just the 3D form, they opened up the entire world for us to be inspired by and we could express ourselves in any way shape or form.
I read that you worked more with sculpture and that you primarily created glass works. What specifically got you hooked on glass as an art form?
There is something exciting about the properties of glass. Its basic components all come from the earth and are transformed by extreme heat into something new. It is 100 percent natural and recyclable. My first creations with glass were stained glass panels because I fell in love with the interplay of light and transparent glass. Next, I moved on to fused glass because of the added excitement of more weight and coolness to the touch. Right now I'm practicing torchwork glass, because playing with fire is just plain fun. Knowing how to manipulate glass with these skills inspire me towards new projects. No matter which technique I use, it always comes down to the love of light through transparent color and the coolness and weight of this medium.
When did you start taking an interest in letterpress?
That is a funny story. A classmate and I registered for the letterpress class at the U during a summer semester. It was the first day of class, and we were amazed at the vast amounts of vintage printing equipment in the Book Arts Room at the Marriott Library (everyone should wander up to the fourth floor and see for yourself). The smell of ink, the touch of lead type, all the old wood cabinets full of type and of course the gorgeous old printing presses one after the other lured us in. We had
an assignment
to set type and print it on a Vandercook press. It was hard work, super slow, very precise, a lot of clean up—and I was hooked. The second day of class we walked in only to be notified that due to low enrollment the class was canceled. NOOOOOOO! There would be no ink smell, the sound of presses printing, the touch of lead type what would I do? That is when I decided to find my own printing press.
What was it like for you finding the equipment you wanted to work with and learning the skills?
If anybody out there has wood type, I will give it a safe and happy home! Thank you for letting me say that. Finding printing presses and equipment is fairly easy. They can be found on eBay, Craigslist, KSL classifieds, etc. The hard part is coming up with the money and moving heavy equipment. Everything is so expensive, because with the invention of computer printers, the old stuff was thrown away or melted down and is now rare. Presses were sold for scrap, lead type melted down, and wood type was burned. Wood type sets have been broken up and disbursed into craft projects and home decor do-dads, and that is why I plead for wood type donations; I strive to preserve what I can of vintage letterpress. To learn how to use my specific type of printing press (Chandler & Price platen press), I took an intensive class at the San Francisco Center for the Book a few years ago. I learned how to oil all the movable parts, troubleshoot kiss issues, print properly by not crushing my fingers in the clam shell. On my own, I have been learning the quirks of my press, how to mix ink colors, and the nature of paper thickness, glossiness, and drying time of every single print. I learn something new with every print run and I hope to master this skill someday. One thing I've learned quickly is that the humidity determines
drying
times, and I have no control over the weather.
How did the idea come about to launch your own brand? Where did the name Synapop come from?
One of my classmates was a design major at the U, and a large majority of his classes involved learning how to create brands. We discussed branding for years, and I didn't want to have anything to do with it because I felt fine art didn't need it. But the world doesn't work that way; right now it is all about branding, marketing, image, color schemes, fonts, themes and having your business stand out. I'm open to exploring and experimenting in business, so I'm testing if the brand helps get my letterpress postcards seen.
Synapop
is an acronym for "Sometimes You Need A Packet of Postcards" because that is what I wanted to do: print letterpress postcards with my single set of wood type and encourage people to mail them to each other. Most people don't ask what
Synapop
means; it sounds really weird so I figured I could get away shoving all my art styles under that brand. The logo was fun to design, it looks like my printing press but in a nature form. Some people see tree rings and others see flowers; either way, I hope it makes everyone know that natural world is important to my brand.
What was it like just starting out and creating new works for people?
Starting out as an artist was terrifying. I'm sure you've heard it a million times before that art is the culminations of emotions, love, heart and soul of an artist and in full view of criticism. Any snide comment could deeply hurt a fresh new artist. At first, I would get so discouraged when someone would walk by with their friend and say out loud to me "I wouldn't buy that because it's weird" or "my three-year-old could make that." Those comments hurt for a long time, and made me question my own work. Now when I switch between mediums and create new work, I still get comments like "still looking for a style?" or "I can't define you by your work." It doesn't hurt anymore because thanks to endless shows and critiques at school, I've learned to listen, consider and then make decisions rather than hiding away and beating myself up mentally. Also, those comments are opportunities to talk about your work and get your ideas across to the naysayers.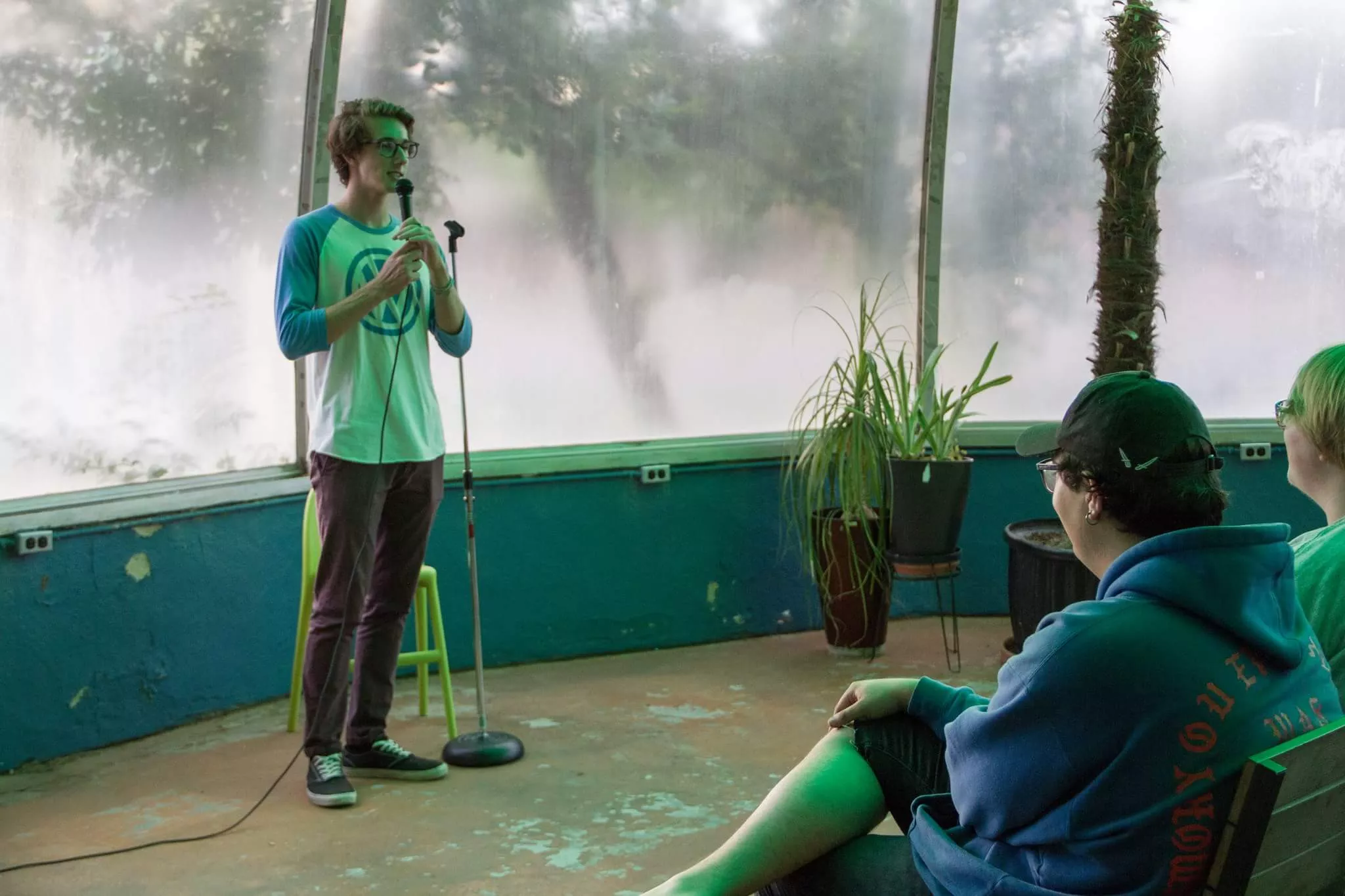 What's the process for you in choosing a new item to create?
My pieces all stem from what is going on in my life. Last year my father passed away, several beloved pets crossed the rainbow bridge and I was struggling with my own health issues. Out of all that pain, I learned how to fuse and encase
cremains
in glass so I can hold my loved ones close when I need to. This year I'm recovering from cancer surgery and felt I really needed to talk to people through happy colors, so I expanded my postcards to now include greeting cards. With a greeting card, I can go beyond letterpress and add hand-dyed fabric embellishments. Fabric adds an additional texture and layer of emotion to enhance the sentiment to be written inside. My letterpress work is about correspondence and communication; fiber is about clothing or coverings, and feeling safe; and glass, wood, and metal express my love of our earth.
What kind of challenge has it been adapting the press to work on multiple surfaces and items?
The printing press is very limited because it can only print on flat, thin surfaces. The biggest challenge is making and mounting print blocks to use in the press. I don't use my lead or wood type because they are very old and would be damaged printing on anything other than paper. I'm working with Salt Lake Laser Etch in etching blocks out of acrylic or wood. The next step is to mount the block to type high (.918") which include
lathing
a piece of wood and mounting the print block as near as possible to that height. After the block is type high, the press packing has to be adjusted, and possibly the platen. In other words, just a lot of fine tuning and patience to get it all to work right.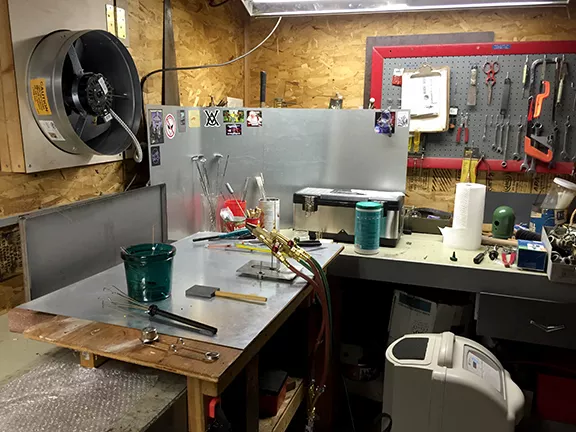 What was the general reaction from people seeing your new works in this form?
Generally, there is no reaction until I tell people it is printed on a vintage printing press. For the people who are familiar with old-timey printing, they recognize the art form right away, and gush over the imperfections and personality of letterpress. The process makes the piece memorable. My followers love when I add anything printed to my pieces because they know it was printed by hand.
What are some of the more creative items you've made that take a lot of work to produce?
My more creative works are site-specific pieces or installations. One artwork I felt was very effective was made for the Great Salt Lake. It is a set of fused glass waves and
torchwork
colored buoys (see photo below). The glass pieces were arranged on the Great Salt Lake beach in the shallow water and then photographed. It's a piece about my memories as a kid and the very important ecosystem that thrives there. The steps to make that piece are time-consuming: scout a location, sketch ideas, build ceramic molds, cut lots of glass into specific shapes, arrange glass, full fuse, anneal, cold-work, slump over molds, cross fingers and pray to kiln gods for success, anneal again, cold-work finish. At the same time, when the glass kiln is firing; light up the torch, make different color and different sized marbles, anneal, go to photography site with all the glass pieces and photograph. Whew, how's that for work? It was worth it! Another piece I'm proud of is a projection piece. It seems very simple but took months to create and edit the video and audio. The piece is about how thoughts and worries keep us awake all night. The video is of my face and expressions. The audio is my voice speaking the thoughts that keep me awake all night. The audio begins to overlap and soon is just a bunch of noise. The whole thing is projected onto a bed pillow. Artwork that seems the easiest or simplest is actually the most time-consuming art to make but the most successful.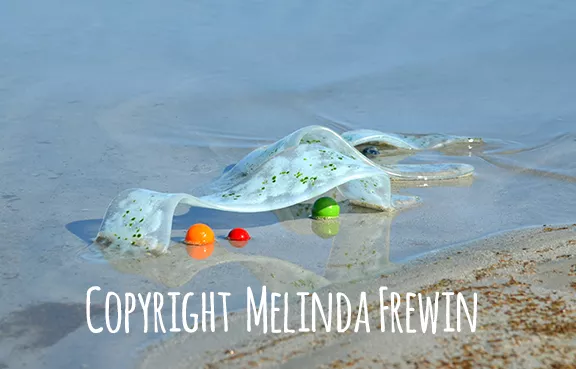 For those looking to buy, what else do you create beyond the standard cards?
My fine art pieces are located at
CONCEPT Gallery
in Salt Lake City. They represent my fused glass art, conceptual pieces, and silk pillows. Be sure to stop by on a gallery stroll night and see all the fabulous artists that display their space.
How can people get a hold of you for custom orders?
I've been approached a few times for custom orders, but they never happen. I think it's because people get discouraged by the prices. Quality art has a lot of experience, time and money invested into it. Letterpress is beautiful but expensive to create due to the lack of equipment and all the setup time before hand. Glass art is expensive because one can't just fuse any glass together. Glass artists have learned the science of glass such as its COE, fracture and boil temperatures. Please email me at
synapopstudio@gmail.com
or stop by the print shop if you want to discuss a custom order. You can also find me on
Facebook
and
Instagram
.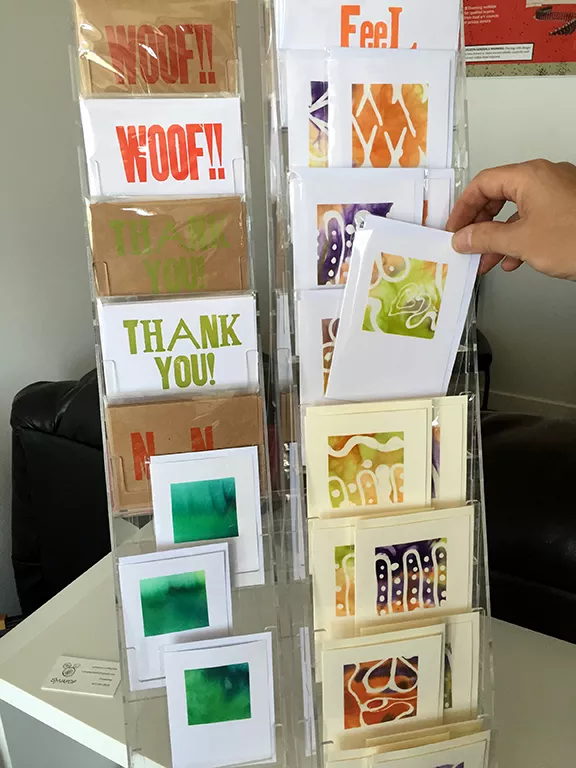 What can we expect from you over the rest of 2016?
The rest of the year I want to keep exploring and making greeting cards with my hand dyed fabrics and 100 percent recycled papers. The cards were a huge hit at the Millcreek Arts Festival; several people said they were going to be put in frames to display in their homes. I'll also be working on the glass torch encasing
cremains
and learning implosions. There is an interactive, conceptual, wetlands installation I want to create but would need a gallery space that wouldn't mind a little bit of mess!