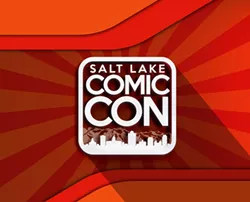 As a journalist who strives for honest disclosure, I suppose it's time to 'fess up: I have no idea if I know how to be objective about Salt Lake Comic Con.
This isn't about my role as a panelist on a few of the event's programs this year; many members of the local media take a similar role, and manage to report thoroughly and honestly about everything that goes on. Instead, it's a recognition of how much has shifted in me personally ever since I started covering Salt Lake Comic Con in 2013, and not just coincidentally.
I grew up as a geeky, comic-book-reading,
Star Wars
-adoring kid, in a generation long before American popular culture in general had been taken over by super-heroes and fantasy franchises. I attended the San Diego Comic-Con in the mid-1980s, when it hadn't yet become Ground Zero for marketing to a certain demographic. But years went by, including time spent studying literature and the arts in a different way, and becoming a writer who looked at "serious" art. The geek in me went into a state of dormancy, emerging only sporadically, like a cold sore that I couldn't quite conceal when an
X-Men
movie came out.
My mistake was falling back on the false dichotomies that have come to define so much of contemporary life. I could be a geeky enthusiast
or
I could be a serious connoisseur of the arts. I could think that comic-book movies were the death of cinema
or
I could be on the side of "grown-up" movies. Never the twain should meet.
But in 2013, as I started covering the Comic Con events (including the spring FanX events), that perspective shifted. I was reminded of what it means to fall in love with the power of stories, in a way that short-circuited my cynicism. I might see people taking their fandom in a direction that I would never consider, but I started to ease back on my knee-jerk judgment. These realizations leaked over into my own enthusiasm for Disney Parks, and became part of the fascination with fan cultures that led me to write a book about that particular fan culture. I could allow myself to be a fan
and
to be a critical thinker. The two things could exist together, without cognitive dissonance.
The 2016 Salt Lake Comic Con provided an ongoing reminder of how these ideas can work together. The Grand Ballroom at the Salt Palace might host 4,500 people screaming for
Arrow
star Stephen Amell or WWE wrestling hero John Cena, but you can also sit in on a conversation about LGBTQIA+ representation in popular culture, or bullying in the geek world, or how some storytelling was affected by the 9/11 terrorist attacks. On the 50th anniversary of
Star Trek
, it was an opportunity to recall that a science-fiction TV series in 1966 dared to explore issues like racism and xenophobia, and dare to imagine a future where races and cultures shared a common purpose. Salt Lake Comic Con may be a shoulder-to-shoulder madhouse on Saturdays as you try to navigate walkways clogged by cosplay photo stops, but it's still a reminder of how much stories matter to people, and how many of the people who become celebrities through telling those stories seem to take that responsibility seriously, and feel humbled by it.
So I will probably always be grateful to Salt Lake Comic Con for awakening something in me, even as I'm able to recognize the bumps and hiccups of its growing pains. For a few days every fall, I'm happily exhausted by my encounters with a love of the popular art that has shaped our culture. It's an imperfect world, but it's a world I'm glad to know is there when I need it.