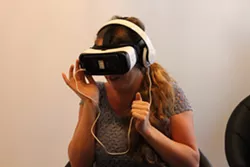 As the rollercoaster train climbs the first lift hill, I turn my head. Behind me, I see two people getting amped for the ride; to one side, passengers in the train on a parallel track wave to us as we near the crest of the hill. We dive into the turns and inversions of Twisted Colossus, a staple of California's Six Flags Magic Mountain amusement park that was re-opened in 2015 after an extensive renovation. I feel the lurch in my seat as we bounce over hills.
That seat also happens to be a chair in a storefront in The Gateway mall.
Virtualities—which opened over Labor Day weekend—brings the fascinating, unsettling experience of virtual reality to Salt Lake City, in a location touted by owner Ryan Burningham as "the first dedicated virtual reality cinema and arcade in the U.S." Those two words—cinema and arcade—define two fairly distinct types of VR experience. The former is largely passive, as the viewer sits in a chair with the virtual reality glasses and headphones on, and moves through a variety of environments, from scuba diving and the aforementioned rollercoaster rides, to a tour through a haunted house, and even a humanitarian video placing you in the middle of the rescue and clean-up efforts after the April 2015 earthquake in Nepal. The latter places the user in 360-degree game environments, like battling zombies or playing mini-golf. Both the games and cinema experiences rotate regularly, according to Burningham, as VR developers offer new environments for users to explore. Rates run from $10 for 15 minutes in the cinema (which is enough time for three or four experiences), to $10 for the first 10 minutes in the arcade, $5/10 minutes after.
As fascinating as it is to experience virtual reality—feeling a rollercoaster train take turns and dives that you're not really taking—it can be nearly as entertaining watching others experience it. During a recent visit, two young women were both touring the haunted house in the cinema chairs. Every few seconds, one or both would squeal and duck as a new scary threat emerged from around a corner. And for those playing in the arcade area, spectators can even see on a giant screen in the room the same things the player is seeing.
One of the haunted house cinema customers moves on to the arcade, and samples the zombie battle game. She spins and jabs with the "sword" that is her controller, at one point banging it into the nearest wall. The zombie takes more damage than the wall, as the wall between real life and a game that feels just like the real thing gets thinner.
385-355-1997, Virtualities.co