Have you ever wondered what life would be like picking up garbage at a space airport? Well, now you can! That's the misleading premise to one of
tinyBuild Games
' most adventurous endeavors,
Diaries of a Spaceport Janitor
, which hit Steam on Sept. 16. The company has already been on a roll this year, with titles like
Punch Club
,
The Final Station
,
Party Hard
,
Clustertruck
(we'll discuss that one later this week) and the full release of
SpeedRunners
. But I couldn't have predicted that a game that looks this old-school would compete with them all on creativity and exploration, with one of the weirdest titles you could ever give a game to make it stand out.
tinyBuild Games
I get the feeling I'm going to be hungry, a lot.
You start the game off by choosing one of nine goddesses, none of which you actually recognize; they're just here to enhance the experience depending on the traits they carry. After that, you start with a short backstory, which amounts to everyone's perspective on having an unpleasant job: You want off this damn rock. As a janitor at a spaceport, your life is pretty meaningless, to the point where enough years have gone by that you can't tell how long you've been there. You'll move
around
the awkward 8-bit land, picking up garbage and hoping to make money off of what you scrap by day's end.
In order to get around and actually do things, you'll need credits that you earn by working on the garbage problem. You'll do so by deciding what is truly garbage that needs to be burned, and what is a possible resalable item that you can
hock
at one of many vendors. The real adventures begin once you're able to use credits to unlock new areas, as you'll find yourself exploring new territory and getting into misadventures. You'll eventually find yourself being cursed by one of
several
items; in my case, I ended up with a floating skull that followed me around as I had to seek out tablets that would tell me what to do. It then becomes your mission to find out why you're cursed and get rid of it, all while trying to find a way out of this custodial cosmos nightmare.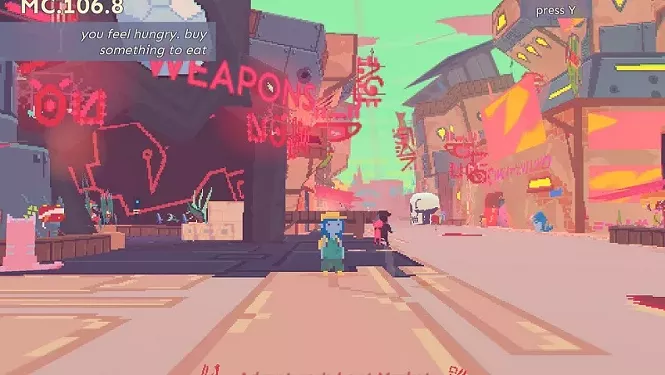 tinyBuild Games
Now I'm hungry, and encouraged to buy stuff.
The most interesting part
to
the gameplay comes before you even start playing. In the instructions to the game, the first thing you see written is: "There is no way to lose this game. Nothing you can do is incorrect." That's a bold statement for a game you haven't even started playing, but it's totally accurate—everything you do leads to some sort of purpose, either by choice or by force. You'll find scriptures and trinkets related to the other goddesses throughout the game, which you can choose to destroy or utilize, with everything coming with its own set of rewards and punishments. But nothing ever seems to lead to death, and in fact it appears that you're in a living hell as a janitor. The game relies heavily on exploration and discovery, which means you're going to be looking around at a lot of things that may serve no immediate purpose, but could radically change things later. It's a unique dynamic for players when they can screw up as much as they feel like, and life will move on without immediate death as you navigate your way through your choices.
tinyBuild Games
I'm slightly excited that eating this is an option.
The other item that sets this game apart is the 3D world structure. It was hard to pinpoint in the blocky world, but the game actually moves a lot like an anime RPG would, giving you full control to explore in areas you're permitted to enter. But the low-quality graphics adds a weird vibe to the movement, and shifts your perspective into a flat realm. It's an aesthetic that's hard to explain to people who haven't see it first-hand; I recommend taking a look at the trailer below to get a feel for it, but it adds a dimensional shift as you move that feels normal yet unnatural. That's not to say it's a bad thing. It gives
Diaries of a Spaceport Janitor
something that helps it stand out from other games of this nature.
tinyBuild Games
At this point, I'll take feeling very strange over being hungry.
There's a lot about this game that, if I were to start talking about it, would devalue the experience of gameplay for average players. Parts of this game are pretty cool to experience, but sound tedious when described. And because of that, I totally acknowledge that this is not going to be for everyone. The game is pretty awesome once you get invested in your character, as well as your quest to take this job and incinerate it.
Diaries of a Spaceport Janitor
can be overstimulating at times as you find yourself engaging in many side-missions to learn more about where you are, and the many alien travelers who happen to litter frequently. But after a while that becomes tiresome, leaving only the most hardcore of explorers to delve into what it has to offer. For $10 on Steam, it's an awesome little sci-fi 3D adventure game with many throwbacks to early PC gaming, which totally hooked me. You just really have to love questing and traveling to get the most out of it.