Utah, in general, doesn't have a ton of dance-centric festivals. Sure, we have a thriving dance community that's sometimes collaborates in fun ways, but few major events span a weekend and showcase everyone at the moment. But we are getting small pockets of change that now include one- or two-night events, and that's something awesome to build upon. The latest event to make its debut is the Salt Lake Salsa Fest, hosted by DF Dance Studio, running Sept. 30 - Oct. 1. Today we're chatting with dancer and one of the main organizers,
Koryl
Wadsworth, about her career and working with DF, as well as the festival taking place this weekend. (
All pictures provided courtesy of DF Dance Studio.
)
Koryl Wadsworth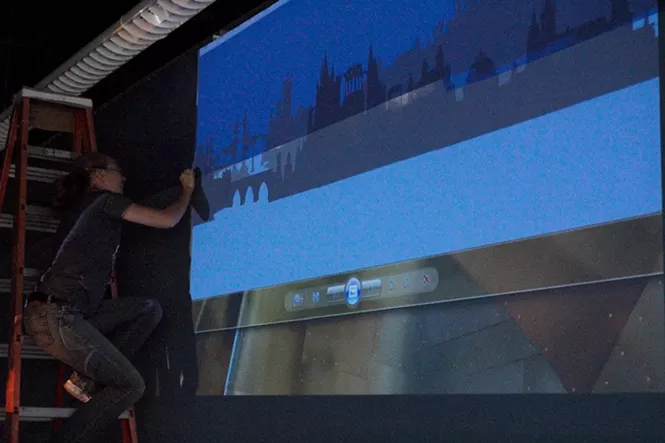 Summer Brander Photography
SaltLakeSalsaFest.com
Gavin: Hey Koryl, first thing, tell us a bit about yourself.
Kory:
Hey! I'm a small-town country girl with a love trying new things. That's what brought me to Salt Lake—I was looking for a new dance adventure.

What first got you interested in dance, and how did you become involved with it growing up?
In kindergarten, my best friend was the youngest of five dancing sisters, so it was inevitable that we would enroll in dance to be like them. I really loved the challenge of dancing, so I made it my "thing" through elementary and high school. Even now, I challenge myself by learning new styles—salsa, for instance.
You attended BYU and received your BA in dance. What made you choose the Y and what was your time like there?
A BYU ballet dancer came to Idaho and danced in
The Nutcracker
when I was eight, and from that point on I always knew I'd dance at BYU, too. It was great time studying there—I did semesters abroad several times and learned styles that were new to me: modern, folk, and ballroom.
Atakan Ekiz
Utah's Bachata King and Queen Julio Morales & Frida Moses
For a period of time, you worked with the dance community in Idaho. What was it like making that transition and working with the schools up there?
I love Idaho and had many opportunities to teach dance there. I found that I was missing opportunities to take dance classes, though. That's what brought me to Salt Lake. DF Dance Studio was holding an audition for a higher level salsa team, and I had to be on it!
What eventually brought you back to Utah to work with DF Dance Studio?
The salsa team audition was my first connection to DF, and then shortly after I made the team I was hired to do marketing, events, and some teaching. DF Dance Studio is a really wonderful community to be part of.
Kurt Myers
DF Dance Salsa Instructors Julio Morales and Yana Mkrtchyan
How did the idea come about to do a dance festival specifically garnered toward salsa?
DF's owner Maria Ivanova is passionate about salsa. She was "Utah's Best Female Salsa Dancer 2011" and has major salsa connections from her extensive training. She saw a need to bring national
salseros
to Utah, and started DF on the path to holding this big event.
What made you decide to hold it in DF's studio for the location?
The future goal is to make Salt Lake Salsa Fest a big annual event held in a large venue. For this first year, though, we decided to hold it on the dance floors that we know and love. We're transforming the studio with lights and lots of white satin to make it feel really special.
Kurt Myers
David Olarte & Stilo Dance coming to SLSF from Arizona
What was the process like in getting all the dancers and performers on board?
Maria has been the champion of contacting people from out of the state (and even out of the country). They know her from salsa conventions and threw genuine excitement and support behind her for heading up this new festival. As for the DF dancers, they are pumped! They get to rub shoulders with the most famous names in salsa without traveling to other states. There's a lot of excitement around the studio in these weeks leading up to Salsa Fest.
Who are some of the people and classes you're most excited to see at the festival?
All of the pros coming to Salsa Fest have YouTube videos that I've been watching in excited anticipation: Luis Ernesto Lopez Nunez, Mike
Zungia
& Jennifer Silvas, Javier Campines & Erica Reyna are just a few. Watch a few of these videos and you'll understand me when I say, I can't wait to see and learn from them all!
Luis Ernesto Lopez Nunez coming to SLSF from Mexico
For those who wish to attend or participate, what do they need to do?
Log onto SaltLakeSalsaFest.com and click on the "register" tab to choose the pass that best fits you. If you're interested in volunteering (in exchange for nice Salsa Fest discounts), call DF Dance Studio at 801-466-0490. You can also just show up and pay at the door! Performances start at 9 p.m. on both days, and the workshops start at 10 a.m. on Saturday.
What are your thoughts going into the fest, and what do you hope people will take away from it?
I am just so happy to be involved in an event that can literally transform Salt Lake's salsa and bachata scene! There are so many people in our area that enjoy these Latin dances, but I think this festival will light a passion within them. I hope the event will make people curious about dancing and inspire them to learn this fabulous skill!
Javier Campines & Erica Reyna coming to SLSF from Los Angeles
What else can we expect from you and DF Dance Studio after the festival?
DF holds fun events weekly, so visit
our Facebook page
or website often for great ideas about keeping yourself entertained. We start with Michael Jackson's "Thriller" class on Oct. 3 that will run until Halloween, we have a Glow-In-The-Dark Dance Party coming up on Oct. 15, and we're putting on "A Murder Mystery" show on Oct. 28. We hold classes and private lessons every weekday—call if you're interested! Also, expect another Salsa Festival a year from now. As for me, I'll be learning more salsa.