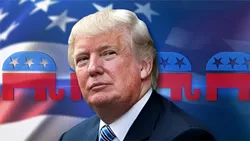 President-elect Donald Trump.
At times during this election season, Utah popped up a time or two as a predictably "red" state that, given the bile spewed by Republican candidate Donald Trump, might actually swing "blue."
This fleeting thought, though, gave way on Tuesday night to reality: Utah remains a solid, impenetrable shade of red. Utahns overwhelmingly picked Trump as the nation's next president, giving the reality television star and businessman 46.8 percent of the vote. Hillary Clinton garnered 27.8 percent, edging independent Mormon Evan McMullin by about seven percentage points.
Preliminary results Wednesday morning showed that 41.4 percent of Utah's 1.4 million registered voters cast ballots. Clinton won in a pair of Utah counties: Salt Lake and Summit.
If there ever was any true belief that Utah could vote for a presidential candidate besides a Republican, that sentiment did not seem to filter below the top of the ticket. Indeed, statewide races for governor, attorney general, auditor and treasurer all fell to Republican candidates.
And in congressional races, all of the Republican candidates won by healthy margins. As expected, the closes contest was for District 4, where Republican incumbent Mia Love bested Democrat Doug Owens by a full 10 percentage points.
In District 2, Rep. Chris Stewart raked in 62 percent of the vote. In District 1, Rep. Rob Bishop claimed nearly 65 percent and in District 3, Rep. Jason Chaffetz garnered 74.1 percent. Incumbent Senator Mike Lee beat challenger Misty K. Snow 68 percent to 27.3 percent.
Things didn't go any better for candidates vying for state office. Democrat Mike Weinholtz's efforts to topple Gov. Gary Herbert's reign fell woefully short, mustering only 29.6 percent of the vote.
One of the few election upsets came on the Salt Lake County Council, where Democrat Catherine Kanter upended Republican incumbent Richard Snelgrove by winning just over 50.9 percent of the votes.
In the race for county mayor, incumbent Ben McAdams held off Republican challenger Dave Robinson by winning 61.6 percent of the vote.
By a 13 percent margin, Salt Lake County voters also approved Proposition A, which will allow the county to issue $90 million in bonds to help pay for the acquisition and upkeep of county parks.
County election results are available
here
.
Statewide results are available
here
.