Few television shows in history will ever be remembered as timeless classic works. Sure, you have your personal favorites; you even have arguments over what will stand the test of time. But there's a very short list of programs that, decades after their ending, are still talked about with reverence and appeal, to the point where even the bad episodes stand out and the formula is copied over and over into modern television productions.
The Twilight Zone
is one such show, standing the test of time for more than 55 years since its debut on CBS, seeing many releases over the years including a brand new Complete Series release on Blu-ray on Dec. 13.
CBS Television Studios/Paramount
"Time Enough At Last"
In 1959, back when CBS was surviving on shows like
The Many Loves Of Dobbie Gillis
,
Rawhide
and
I've Got A Secret
,
The Twilight Zone
popped onto the schedule with a late-night look into the unknown. It was a show filled with social commentary dressed as science fiction, slipping in messages and commentary about America and the society of its time past the ruthless censors of old. In many ways it's like looking at yourself through a warped lens—seeing things from a stranger perspective while still retaining the value of what's being seen. The series lasted five years with Rod Serling at the helm, and enlisted some of the greatest cinema, television and book writers of the era to contribute to the weekly show. It was a launching pad for many an actor, including William Shatner, Robert Redford, Dennis Hopper, Charles Bronson, Anne Francis, Elizabeth Montgomery and more. To encapsulate the impact this single series had on the medium and the country in a single paragraph doesn't do it justice.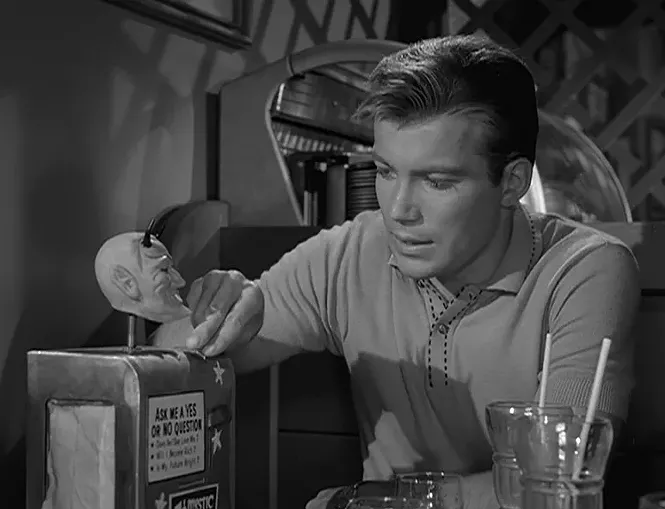 CBS Television Studios/Paramount
"Nick of Time"
This Blu-ray set is everything, even the fourth season people don't talk about much because they switched to one-hour episodes for a year. This complete 156 episode collection includes all the bonus content you can handle. Each episode comes with the option of original or remastered audio, every episode has been cleaned up (including the few recorded on videotape and kinescoped) so that they look better than the versions you see on Netflix and Hulu. Most of them come with isolated music scores for a unique viewing experience, as well as audio commentaries and bonus content. One of my favorites was listening to Jonathan Winters recite the alternate ending for "A Game Of Pool," and then seeing a clip of the alternate version used for the '80s revival of the show.
CBS Television Studios/Paramount
"A Game Of Pool"
Some of the funniest highlights on the special features are the old-school commercials. Hearing Serling speak on behalf of Oasis Cigarettes is probably the most entertaining and depressing thing to find in this collection. Knowing what we know now about how terrible cigarettes are for you these days, you can only imagine how toxic they were back in the late '50s, and how frequently the commercials were running during shows that were seen by millions. But they're not all depressing, as you see former famous brands like Sanka,
Kimberly Clark
, Milk Wave Lilt, Halo, Veto and Studebaker shell out their brands in less than 15 seconds with the show's iconic music in the background.
CBS Television Studios/Paramount
"To Serve Man"
The one drawback to this release is that it doesn't feel like a "special" release. Back in 2004, when they first released
The Twilight Zone
on DVD, the menus and special features were animated and creepy. You felt like you were buying something special as the menu introduced you to some of the best cliffhanger moments the show could offer. Now the menu is just a swirling ball of stars on a blue and purple backdrop—there's nothing special here. The first set also included a companion guidebook that gave insight into the episodes without having to jump to Wikipedia for info. Now that information has all been boiled down to random audio commentary by that book's author, Marc Scott Zicree. In essence, the items that gave some of the original
sets
value have been washed away and compacted into the smallest set possible.
CBS Television Studios/Paramount
"Eye Of The Beholder"
There's no denying if you're a fan of
The Twilight Zone
, this is most likely a must-buy, but I would encourage it more for the rabid fans. The average fan who has favorite episodes is going to watch what he or she wants on streaming video, which makes sense, but is also a shame because they're missing out on some cool features you don't get on a streaming service. But for longtime watchers who can quote episodes by heart,, and love to dive into every parallel universe possible, this needs to be added to your collection. I also recommend it for people who can't get enough of shows like
Black Mirror
so you can see where they get their influences. Enjoy the show and remember to always keep your wits about you... in the Twilight Zone.