Of all the items to come my way during the holiday season, none surprised me more than when HBO sent me awesome stuff from their holiday gift catalog. Every year, the cable network tries to produce items that fans of their shows will need to show off, and this year I noted
Game Of Thrones
items ranging from coloring books to diamond jewelry. But the two that ended up in my hands this Christmas season were
Game Of Thrones
Clue from USAopoly, and
Game Of Thrones
beer created by New York brewery Ommegang.
"We're very strategic about the types of products that we develop," said Josh Goodstadt, Vice President of Global Licensing and Retail for HBO in an online interview. "They have to make sense within the world and themes of the show, and they also have to be something we think fans are going to be excited about. Our product development team is always on the lookout for the latest trends in licensing and we also work closely with our licensing partners to have them bring us the ideas they're excited about and want to develop."
For this particular review, I decided to share with friends and play-test while drinking. Because if we're going to do
GoT
anything, it might as well be all at once. While my friend Mark popped open the beer I began to setup Clue. This particular version has two sides to the board: You can play in either The Red Keep or Meereen, with cards and characters specific to both areas. After you've set up like normal Clue, you're passed out Character Trait cards which give you an extra ability once per game, just to make things interesting. You play mostly as you would play the traditional version of Clue, but with one additional caveat: Intrigue Cards. Any time your character is moved to another room, you draw one of these cards, some with awesome bonuses, but others containing White Walkers. If you're the last to draw the eighth White Walker, you're eliminated from the game. Both sides of the board have their own challenges to deal with, all with the same goal: find out whodunit.
"There are so many epic locations and memorable (if not quite lovable) characters in
Game of Thrones
and we wanted to capture the scope of the show as well as possible. USAopoly had the idea to include two of the most iconic locations so fans would be able to play with as many of their favorite characters as possible," said Goodstadt.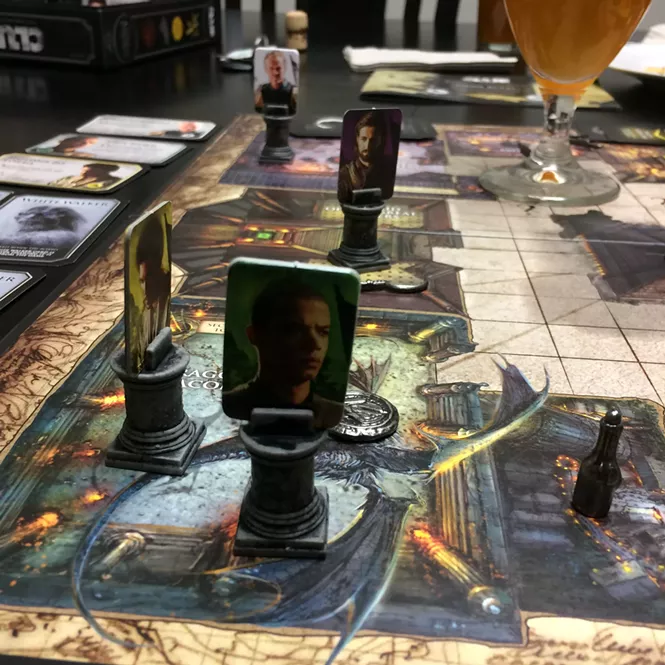 It was so Grey Worm in the Dragon Catacombs with the Vial Of Poison.
As a game, this version of Clue is more of a challenge for two reasons. First, you're dealing with more rooms. Standard Clue features nine that you can easily rule out after a while, but these have 11 and 12 respectively, which adds more walking and deducing on your part. It also gives more opportunity for your opponents to figure things out before you if they get a lucky draw of the cards. The second is the ever present White Walker countdown timer. Each time you move someone, that person ultimately draws a card, which means within three rounds it's very likely one of you isn't advancing to solve it, even if you know who did it. The small bonus to this is that anyone can pick this game up and play it. The box says 18+, but we're assuming that's because of the sexual and violent content of the series, of which little remains in the game. (Unless you count the references to bedchambers.) A 10-year-old joined us in the game at one point, and they were able to pick up the game without any issues.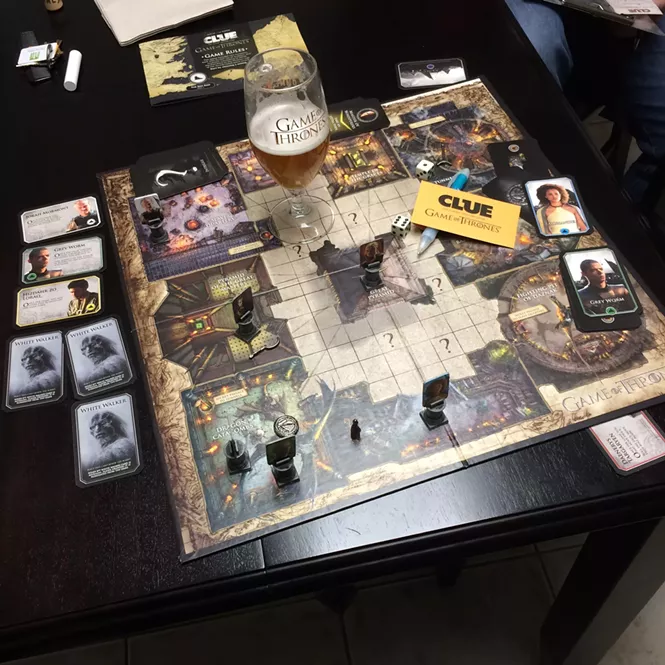 Exploring through The Red Keep.
While we were accusing each other of murder, the adults enjoyed the two beers from Ommegang. They came as a package deal, along with a special beer glass labeled with
GoT
's logo. We were treated to "Valar Dohaeris," a Belgian Style Triple Ale, and "Valar Morghulis," a Dubble Ale, both corked and decorated as if they came from the King's private collection. The minute we popped the cork and took a whiff, we knew we had a special kind of beer in our hands.
"Our ultimate goal is to give fans as many ways as possible to engage with
Game of Thrones
when they're not watching new episodes," said Goodstadt. "We knew that there was a lot of crossover between the
Game of Thrones
audience and the craft beer crowd, and the challenge was just finding the brewery that could help us develop beers that felt unique and creative and that also tied back to themes of the show. Brewery Ommegang immediately stood out to us as the best option for a beer partner. They are very well respected in the craft beer world for their delicious and creative brews, and the medieval imagery and themes of their brand also tie nicely back into the imagery and themes of
Game of Thrones
. We were very impressed with their ideas and have been very pleased with the results of the seven beers we've released thus far."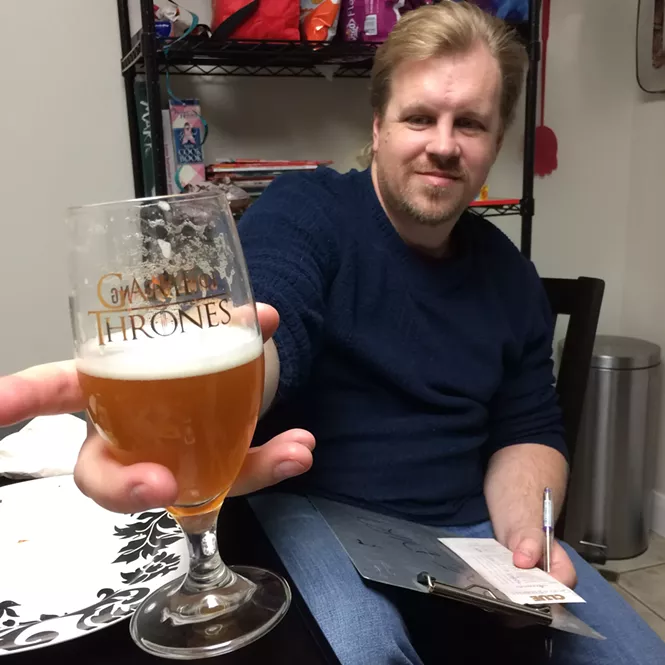 My friend Mark, enjoying the brew and winning at the game.
The Triple Ale itself was more on the fruity side, with a great pour and a frothy head at the start, a golden look that shimmers well in the light. It's a weird mixture of bitterness from the hops and a sweet taste from the honey malt. This particular brew has a yeast note that lets the bitterness sit with you for a while. It went down smooth and didn't have a hint of bad aftertaste, but it definitely didn't feel like we were drinking beer. Oh sure, we got the aftereffects of it all, but at no point it time did I feel like this beer was going to obliterate me, or just go to waste. For a local comparison, it tasted a lot like the Rêve from Red Rock. The Valar Dohaeris is a tasty beer that should be savored.
The Dubble Ale, in my opinion, was the better of the two. This one has a far darker amber color and is more carbonated than the other, with a chocolate/mocca flavoring. Again, for a local comparison, I felt like I was drinking a Devastator from Wasatch, but this one also containing a bit of the fruit taste. This one had more of a kick to it, with a caramel aftertaste that I quite enjoyed, a little bit on the tangy side.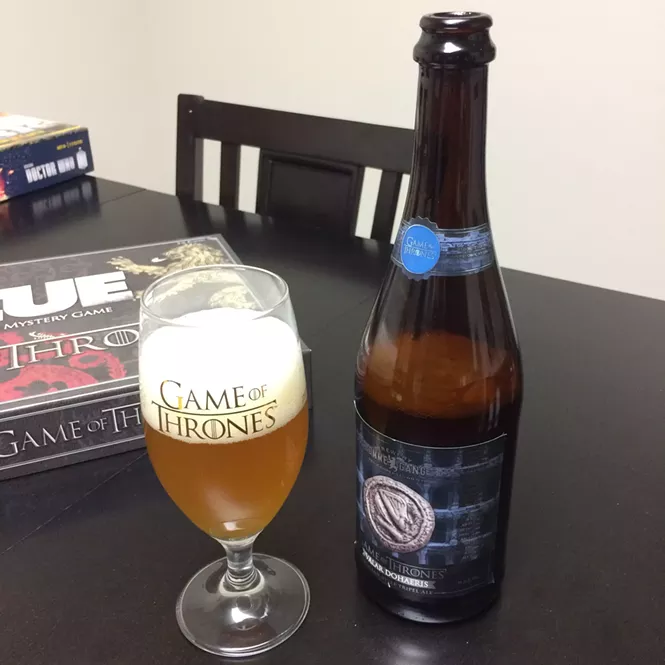 A bit of the Belgian Style Triple Ale, Valar Dohaeris.
As far as gifts go, these are both fine choices for your "hard to shop for" friends who love Game of Thrones. There's a lot of cool items in the HBO catalog, but this is a lovely combination that will help bring friends together. Yeah, you could drink the beer alone, but that's no fun. If you're going to get a gift for a fan of a series that everyone seems to love, it's best to get one you can share with a group while you drunkenly hum the theme song. If it's too late for the holiday to snag these items, fear not: HBO has some pleasant surprises coming in 2017.
"The things we're most excited about right now for next year are our new line of
Game of Thrones
wines, created in partnership with Vintage Wine Estates and available spring 2017, and the upcoming
Game of Thrones
Live Concert Experience, which kicks off in Kansas City in February and hits 28 North American cities this year (including Salt Lake City in March). Having seen some of the concepts as the show comes together, I think fans are going to be really excited to see some of their favorite scenes reinterpreted in this dynamic new setting," said Goodstadt.