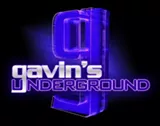 For years, when I was working a day job on the west side of downtown, I and my co-workers frequented The Rose Establishment for coffee, tea, natural sodas and the occasional awesome food items during the cold-weather months. Considering all the changes and strife the area has experienced over the past decade, it's a miracle many of the businesses on that side of the city have survived. The Rose has not only survived, it has thrived as a central community hub for those who tend do everything just a little differently than the rest. Today we chat with owner Erica O'Brien and manager Cody Kirkland about the shop and how they've succeeded over the past six years. (
All pictures courtesy of The Rose Establishment.
)
Erica O'Brien & Cody Kirkland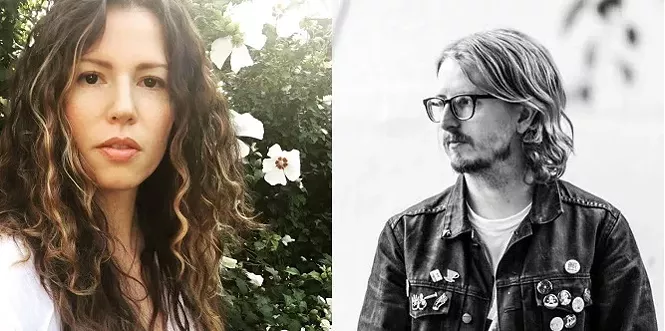 TheRoseEstb.com

Gavin: Hey Erica! First off, tell us a little bit about yourself.

Erica:
I was born and raised in Price, Utah. I went to college in Santa Barbara, Calif., where I earned a BFA in photography and got really into yoga and yerba mate. Since then, I've spent all my time dreaming up The Rose, creating it, guiding it into what it is today, walking my dogs and thinking about what I'm going to create next.

How did you first take an interest in coffee culture beyond just knowing what you enjoyed drinking?
Erica:
I actually didn't drink coffee until I was trained by Four Barrel, our coffee roaster, right before opening. Tea had always been my drink of choice up to this point. I soon became obsessed with drinking and making coffee and espresso. It opened me to a whole new world.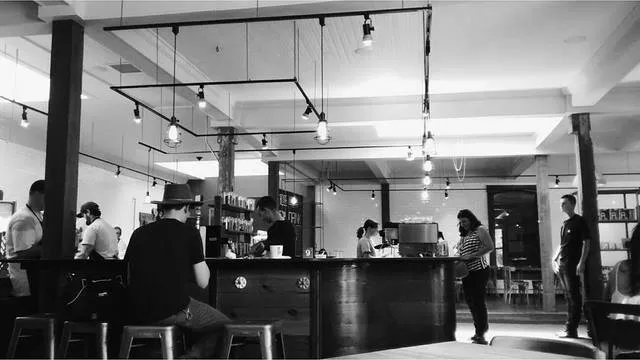 How did the idea come about to open up your own coffee shop?
Erica:
I was doing a bit of soul-searching at the time and I wasn't loving what I was doing. I knew I wanted to run my own business, but I also wanted to contribute to the community at the same time. I looked at what I truly loved, and all signs pointed to creating an atmosphere where people could come together, be themselves, meet others, get inspired, etc.
When did you come across the old Big City Soup location on 400 South?
Erica:
A friend of mine, who worked right near Big City Soup, knew it was for rent and told me to hang out with him in the area so I could get a feel for it. I had written off the whole Gateway area as unsafe, uninspiring, not enough parking, etc. I thought I was looking
everywhere
for a building/location but for some
reason
this particular building was a blind spot for me until... it wasn't. It was a very exciting, long awaited experience for me. I had been searching for nearly two years.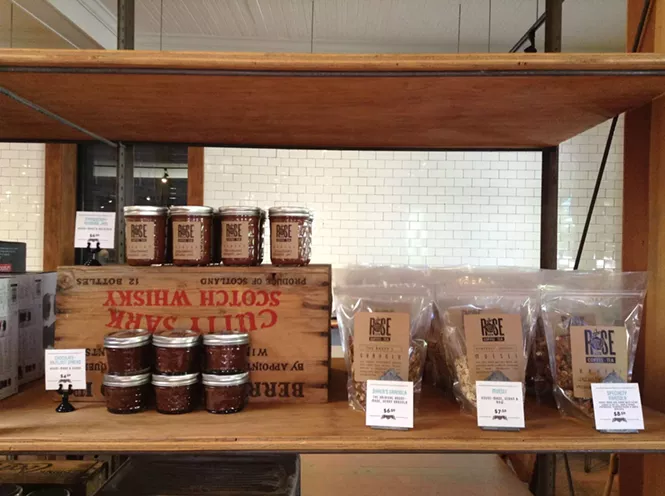 What was it like turning the place into the kind of space you needed for a coffee shop?
Erica:
It was the best part. We tirelessly worked with no day offs for over a year. This time period of working side by side with my dad, creating a dream, along with the excitement (and fear) of the unknown was one of the most fun, scary, hard, and gratifying experiences I've ever had.
What influenced the brew-to-order business sense rather than having your standard pre-made choices and flavoring?
Erica:
I suppose it was because I never grew up on or had any experience with what I would call "bad" coffee and super-sugary drinks. I easily subscribed to a more clean, simplistic approach to drink-making, not unlike the decor and style of the building. Four Barrel and other cafes in the west had moved in this direction and it aligned with me. My thought, at the time, was "who needs another '90s style coffee shop and why not offer something different, why follow any rules?" I also figured that if I'm making a choice about the business, no matter what it was, and that choice was grounded in an intuitive belief that serves the bigger picture, I could move forward with it even in the face of opposition, and there were many confused, bewildered, argumentative and at times angry faces in the beginning.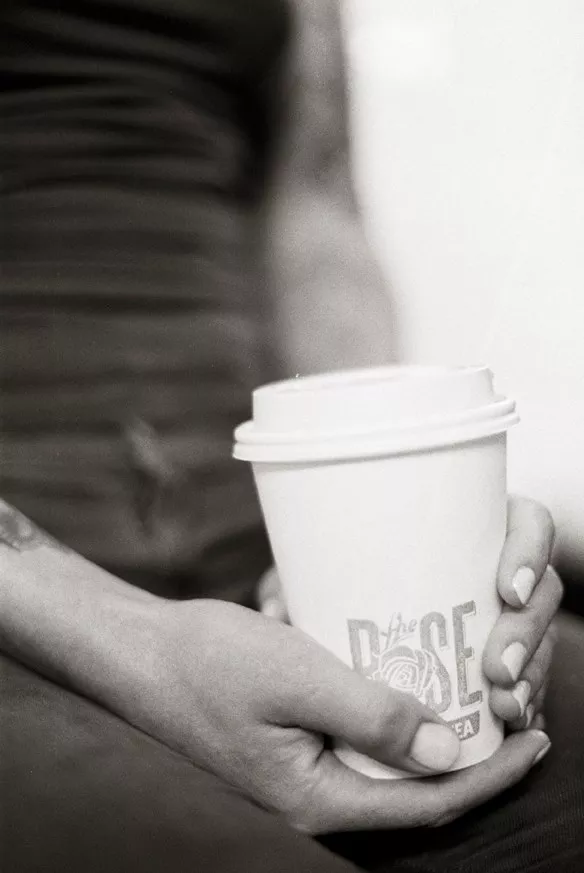 How do you go about choosing the kind of coffee and teas you have on hand? How much work goes into preparing each one?

Erica:
I'm going to let our cafe manager, Cody Kirkland, answer this. He's who has been making this happen for years now and I'm deeply grateful for his expertise, passion and commitment to the process of drink creation and execution.
Cody:
Every Monday, I order three different single-origin coffees from Four Barrel Coffee. I usually pick coffees that will contrast with each other in order to offer regular customers a varied flavor experience day after day. I try to offer a straightforward crowd-pleasing Central- or South-American coffee, a complex and floral Ethiopian coffee, and a real intense fruit-bomb Kenya or something. I order Four Barrel's Friendo Blendo espresso blend to use for most of the week, plus a couple days' worth of whatever single-origin espresso they have. It depends on what crops Four Barrel is roasting at the time—they purchase and roast coffees seasonally, so their selection varies month to month, and they send me samples of every new coffee. I do the same thing with teas, but on a quarterly and not weekly basis. I'll sample dozens of teas from a handful of wholesalers and select a varied roster of VIPs in each category of tea and tisane. I do this to build a diverse menu, as well as to find interesting flavors for my seasonal Signature Drinks menus. Those signature drinks come about in various ways. In the summer, I'll let in-season produce dictate what types of flavors I introduce in sodas and coffee and tea cocktails. I call them cocktails even though they absolutely aren't
cocktails,
since they contain no spirits. I build them like cocktails, though, balancing bitterness, acid, sweetness and other flavors, in the same
way
I would a cocktail, and they end up being just as complex and interesting as one. Sometimes I make drinks just to utilize something we would otherwise waste. In the summer, our chef Cori Norton made a rhubarb and rose galette. She macerated the rhubarb with sugar and rose petals and instead of dumping the remaining liquid down the drain, she gave it to me. I added a little citric acid to give it some oomph, mixed it with soda water and celery bitters to order, and ran it as a drink special. Sometimes our drink menu is very meticulously planned and tested, but sometimes it creates itself out of circumstance.
Do you work with many local roasters, or is it more about finding types that people have never tried before?
Erica:
We only use Four Barrel Coffee. They continue to reinvent themselves in all the ways that align with who we are at The Rose and where we want to continue to go. They are an incredibly beautiful, fun and conscious group of people and they feel like family.
Cody:
We use as many locally produced products and ingredients as we can, but when it comes to coffee, we work with our all-time favorite: Four Barrel. Coffee isn't local for us, after all. It's from Guatemala and Rwanda and Nicaragua and Ethiopia. I'm less concerned about where the coffee is roasted and more concerned about who is roasting it, as well as its quality and sustainability at every step of its life cycle, from when it is planted to when I open a case of freshly roasted coffee every Thursday. I'm not saying that I don't appreciate our many skilled local roasters—I do. We have some amazing roasting companies, and the whole Rose staff frequents them. I'm proud to live in a city with such high-quality local roasters. I just have a favorite, and I'm sticking with them. We're still the only cafe in Utah to serve Four Barrel and with their seasonally changing coffee offerings, that's variety enough for us.
I know one of the biggest complaints over the years was that the shop had no wifi. What made you decide to go that route and essentially go against the grain in terms of other shop's hospitality?

Erica:
No wifi makes sense to me in an environment like The Rose. We are so much more than a coffee shop, more of a cafe, blending great drink-making with great seasonal food and pastries. Just like we don't over-use flavors, spices, sugar, etc to distract ourselves from the essence of what is already inherent in the plants and ingredient choices used in making our food and drinks, wifi would only distract from what we want to create here in experience. I mean, isn't it always everywhere nowadays, anyway? Why not decompress from the norm and enjoy the book or the conversation while filling your soul with delicious food and drinks.
How do you choose the kind of foods and pastries you have on hand?

Erica:
We don't have these on hand, we make everything from scratch and grow some of our ingredients on the roof. We utilize as many local suppliers as possible as long as they have grown their crops without pesticides and humane practices with animals. We do a lot of research and home study. Most all of our staff have a passionate interest in what they do and they are given the freedom to create what they are passionate about. Ideas are discussed within the
team,
if they align and make sense we put them on the menu. We do our very best to keep reinventing the menu while keeping it responsibly sourced, healthy and unexpected, yet still approachable. Basically, if we all get excited to eat and drink what is created then we run with it. When we get sick of it, or something goes way out of season, we change it.

Looking back, how has it been for you to sustain a shop on the west side for over six years?

Erica:
It's been very challenging and very exciting. But mostly challenging in the first three years. I've grown a lot, personally and professionally, and so has the neighborhood. We started very small with only coffee, tea a few pastries, and thank God we did, because it needed time to evolve into what it is today. We slowly and steadily blossomed. Pun intended.
Do you hope to expand the shop in any way, or the business as a whole down the road? Or are you comfortable with things how they are now?

Erica:
As far as what's next, I constantly think about this and it's constantly changing. I have ideas but if I had the opportunity I wouldn't create another Rose. I love what The Rose has become, and I don't foresee any life altering changes. If I won a million dollars, I would probably buy a farm and save as many unwanted and abused animals as I could. Just sayin'.
What can we expect from you and The Rose Establishment going into 2017?
Erica:
We are looking forward to reimagining and refining our bakery, as well as adding more vegan and gluten free options, thanks to Alicia Pacheco, who will be starting as our pastry chef in January. Chef Cori Norton is already planning what we will be growing this year in our garden and the spring menu. So look for changes and updates this spring on our
Instagram
.