The
Space Hulk
series has had an interesting run over the years. It originally started as a two-player board game in the late '80s, set in the same universe as
Warhammer 40k
. A "space hulk" refers to ancient ships that have been roaming the galaxy abandoned, and it's up to a single player to command a team of space marines to check out what's inside, while the other plays the villain who apparently still controls the ship. That basic concept has kept the game running through four editions over the course of 25 years, and spawned its own set of video games since the early '90s. The latest title to come out is
Space Hulk: Deathwing
, released by
Focus Home Interactive
on Dec. 14.
In this version, you play a librarian who is a member of the Marine Corps known as the Dark Angels 1st Company. Carrying a trusty sword and an even trustier sidearm, you have to traverse the Crusade Ship and kill off hordes of Xenos that are roaming the ship. You have a variety of weapons at your disposal as part of your gun, including a pulse wave, electricity and good
ol
' ammo that will pop the head off anything that gets in the line of fire. You also have CPU comrades as part of your company who can help you take down foes to a degree, but they won't do all the work for you. In fact, you'll be spending a lot of time protecting your fellow Marines, who are supposed to be as well trained as you. You roam around in a terminator suit that takes damage to various areas, which you'll have to monitor and repair as you go.
My first reaction to
Space Hulk: Deathwing
is that I felt like I was playing a revised version of
Doom,
partially because of the gore and partially because of the design. There are parts of the levels where I can't tell if they were trying to make a space shooter or a medieval adventure, so they just melded the two together. There are times where this works well, especially considering the universe it takes place in. But often I feel like I glitched the game, and the graphics changed mid-stream. I'm also thrown off a bit from the plot, or I should say lack of plot, because I'm not entirely sure what I'm fighting for half the time. Sure, I get it: Gotta kill space baddies—but to what purpose? In similar games like
Doom
,
Halo
and
Titanfall
, I have a sense of why these creatures need to be eliminated. But beyond the opening cinematic story, I don't feel particularly invested in killing them, beyond the fact that they look awful.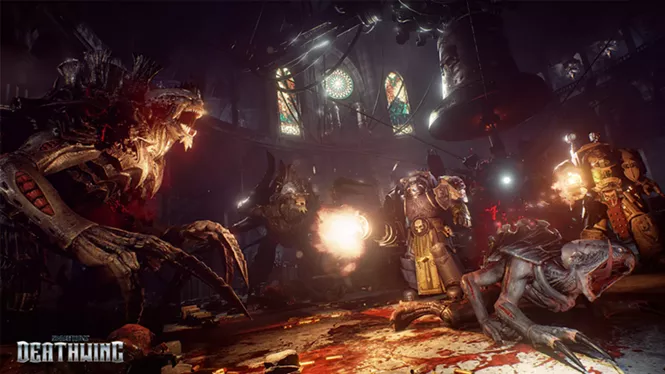 The controls are wickedly badass, to a surprising degree. Often I'll find a learning curve with a lot of shooters, as they just don't seem to conform easily; it's a phenomenon I like to call the "Developer's Touch." In essence, everyone tries to make their controls just ever so slightly different, so that you're not immediately playing a clone of someone else's game—which can be equal parts entertaining and frustrating. But here, the controls are easy to pick up on, and don't require a lot of time to get used to them. Changing between weapons and psychic abilities works wonders, and gets even better down the line as you progress. As you make your way through the game, you unlock new weaponry, which can be used later on levels you've already passed to make them easier, or achieve better results. It gives the gameplay just a slight edge over others where you're stuck with what you got,
regardless
of how you did before.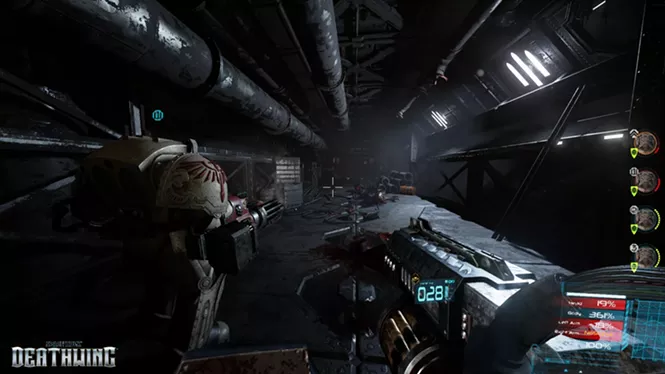 The bigger issues that you'll have to keep your eye on are the suit and the team. The suit takes damage, a
lot
of damage, and often there are very few alternatives to avoiding it. Melee attacks are a pain, and maneuvering, while realistic given the size, is incredibly hard. It's like fighting in a giant water balloon that's wrapped around your body. Managing your team is another story altogether, as you have the ability to tell them what to do, but in the heat of battle, you can become forgetful. It would be nice if the team had an automatic reaction to things, and the AI were more on point, but instead you have to tell them to be on the offensive or defensive, not to mention other tasks that you can't handle alone. It feels like added control that comes off as babysitting, rather than helpful.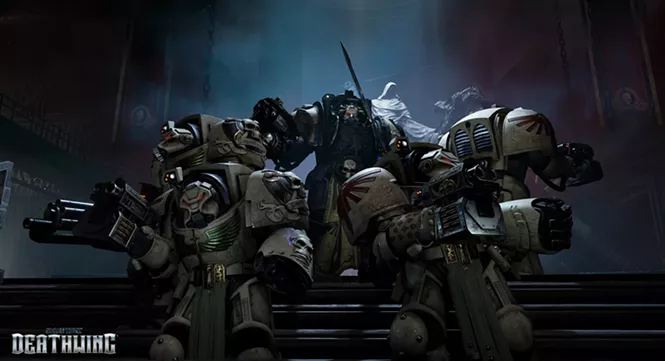 Space Hulk: Deathwing
is a fine shooter, but it comes with a lot of quirks that make it time-consuming. If I were playing this with multiple people online and didn't have to deal with a lot of the monotony alone, it would be a different story. But getting an online game going can take nearly 30 minutes at the moment, because the audience isn't that large right now. The best way to attempt this one would be to find friends who enjoy the series and play it together, but going at it alone is best left to the die-hard fans and those who live for solo challenges. It isn't a bad game; it's just not going to be for everyone.