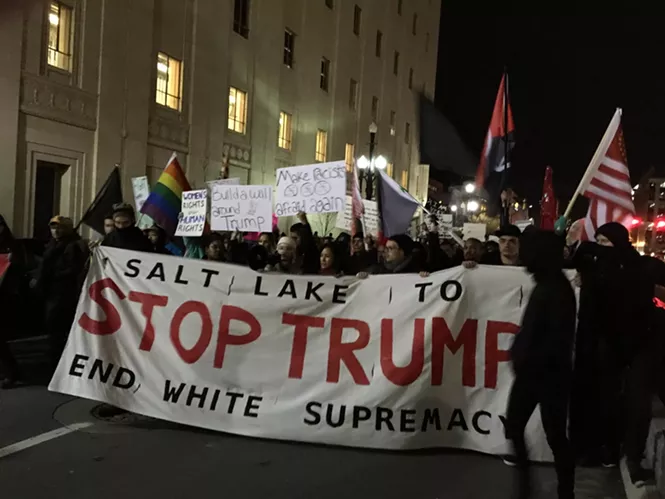 President Donald Trump told the American people in his inaugural address that starting now Washington D.C. is listening to the people.
But Trump—not known for the gracious way he accepts criticism—might be less included to harken to hundreds who took to the Salt Lake City streets Friday night had to say.
A mob of marchers chanted out disapproval of Trump's approval by white nationalists, his hardline immigration rhetoric and his ties to anti-LGBTQ voices, among other things.
On the very night that Trump assumed the role of Leader of the Free World, Students for a Democratic Society chapter at the University of Utah organized a downtown protest.
Ian Decker, a Democratic Society member, said he wanted to ensure that Trump's radical mores weren't normalized.
"We want to start from Day 1," Decker says. "We want Trump to know that if he makes one single regressive move, it's going to be met with crisis, that we are ready to bring the country to a stop if he takes away the rights of working people."
Theresa Nielson, also with the Students for a Democratic Society, hopes to see a groundswell movement among the historically downtrodden.
"We're hoping to mobilize working-class people, and students and oppressed people to fight against Donald Trump as well as other members of the ruling class that don't have our interests in mind."
Nielson says she was heartened to see the colossal turn-out.
At times, protesters expanded across the width of the road. The mass was so large that chants toward the front often didn't match up with chants that rang in the back.
"I hope this momentum continues," she said.
The demonstration commenced in front of the Wallace F. Bennett Federal Building, wound northwest around City Creek, continued up Main Street and then trudged up State Street to the Utah State Capitol.
Protester Rebecca Barker was also impressed by the size of the group, but wished that more people would have stood against Trump before the election.
"It feels a little too late, but it's what we need to do now," she said. "We just want to show that the people have the power still. We want to be heard."
Spencer Cannon, also in attendance, agreed. "I've never seen a crowd this big in Salt Lake," he said. "It's good to see a lot of fight back. These are the battlegrounds, fighting for our rights. For everybody's rights."
Trump was prominently in the crosshairs Friday night, but the organizers didn't give Democrats or former president Barack Obama a pass. On the steps of the State Capitol Building, a young man shouted anti-Democrat and anti-Trump slogans.
"The Democrats have failed to give us any real solutions," Decker said later. "If you look at Obama, he'd deported more people than anyone else in U.S. history. There was job growth but it was temporary jobs or part-time jobs, things that don't support families."
A majority of people, however, were protesting the 45th president. Marcia Culley waved a pole that had a mock-Trump head atop.
"We're just so against Trump," she said. "He's against everything we believe in. He's against women, gays, minorities, immigration. Just bad from the get-go."
Students for a Democratic Society also aim to bolster the campus as a sanctuary space where undocumented immigrants don't have to look over their shoulders for fear of deportation.