Enrique Limón
Herds of protesters gathered outside the Chaffetz' town hall on Thursday.
When the Salt Lake County GOP dispatched an email blast urging members to cheer on Rep. Jason Chaffetz at his upcoming town hall, rumors emerged that it was an attempt to quell dissenting voices.
Those allegations were fueled on Thursday night when demonstrators, who were told the venue was full and they couldn't get in, saw rows of empty seats via social media.
Chaffetz, R-Utah, has arguably the most noted of Utah's delegation. But in left-leaning circles, he's become a cause of endless consternation. As the chairman of the House Oversight Committee, Chaffetz promised to doggedly pursue allegations against then-presidential candidate Hillary Clinton, but has shown little interest in investigating President Donald Trump's supposed ties to Russia.
Droves attended the town hall at Brighton High School to give Chaffetz a piece of their minds. But the school auditorium holds just under 1,100, and a few hundred were met at the door by police officers telling them they couldn't get in.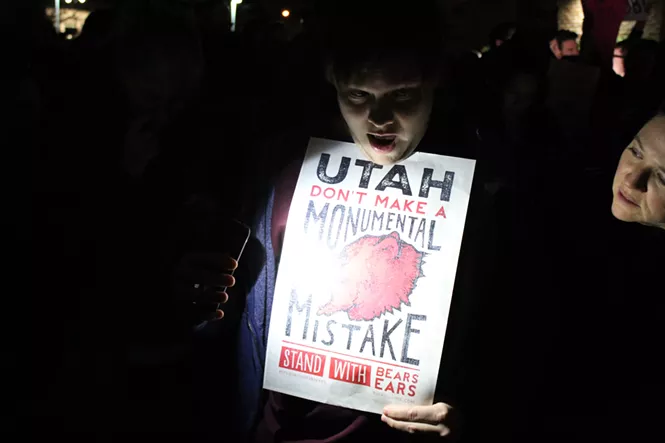 Sara Kramer, with Atheists of Utah, said she was nearing the front doors around the time the cops police started turning demonstrators away.

"People started chanting 'Investigate Trump,' and then they started saying they were at capacity and they weren't going to let anyone else in," she said.
About 20 minutes after Chaffetz began speaking, Cottonwood Heights Chief of Police Robby Russo confirmed to City Weekly that there were vacant seats, but to try to fill them would be pandemonium.
"At this point, trying to open it up and fill 20 seats, how do you do that?" he said, as protesters chanted 10 feet away. "Who do you pick? It would cause more of a problem than it would solve. I feel bad because I want as many people to participate as can in this process."
The mass of people remained outside for the duration of Chaffetz' Q-and-A session. Some tried to listen to live-streams, many chanted and waved signs, or shot the breeze with new friends.
At least a few attendees considered Chaffetz' gesture to hold a town hall to be a disingenuous ruse.
Phil Cone, who joked that Chaffetz could be found next to the word "smug" in the dictionary, had made it inside but left early. He called the evening a waste of time.
"He treats us all like we're in the ward and we want to settle down, and settle down. He thinks it's all stand-up comedy," he said. "He won't answer any questions he doesn't want to answer."
Cone said next election he will register as a Republican so he can vote for Chaffetz' primary challenger.
It wasn't just liberals who weren't able to attend the town hall, however. South Jordan resident Dale Langkilde voted for Chaffetz and he had hoped to hear the congressman's ideas about health care. Instead, he was mingling outside among a large contingent of voters who vehemently opposed Chaffetz' politics.
"The election is already done. They should get in line and support our representatives," Langkilde said.
He added he wasn't annoyed by the protesters, but wished there was more of a conservative presence to "drown them out."
First elected in 2008, Chaffetz has served Utah's Third Congressional District for more than eight years, winning re-election comfortably each year.
Although the 2018 election cycle is in its infancy, a GOP opponent has emerged: Damian W. Kidd.
"I think Chaffetz will continue to do the things he has done for almost a decade—seeking media attention, chasing higher office, applying oversight based on personal interest, calculating decisions, flip-flopping and, most recently, responding to complaints waged against him…" Kidd said in
a recent statement
.