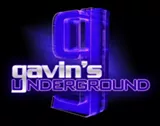 An unusually warm February brought out people in droves who didn't mind walking around in the mild rain to see what was on display for this month's Salt Lake Gallery Stroll. That was both a blessing and a curse for a Friday night, as many galleries chose not to participate this month and instead took the night off, but it gave some opportunities for people to get around to other galleries they may not visit on their standard route. This month, we popped into Art Access to check out a dual exhibition, featuring a mixed-media display called
Dreams of a Lucid Traveler
by Aleta Boyce, and a collection of photos of ancient ruins under night skies called
Ancient Nights
by Mark Toso. We chat with Boyce about her career and the story behind her exhibit, all with photos from the Friday night artist reception.
Aleta Boyce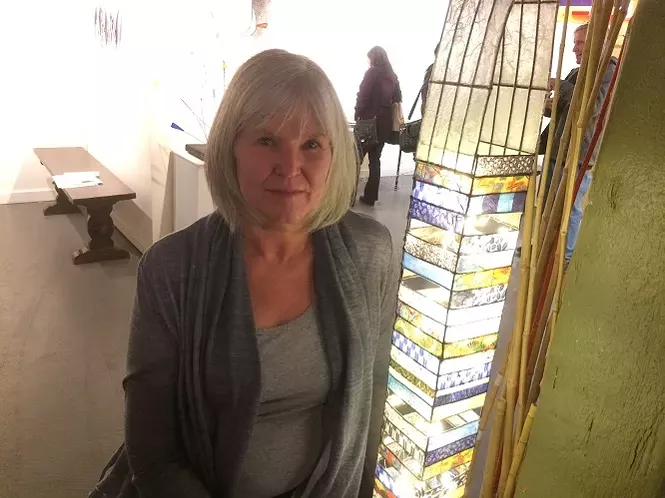 AletaBoyce.com

Gavin: Hey Aleta, first thing, tell us a little bit about yourself.

Aleta:
I'm an artist living in Utah, I recently switched from painting and drawing (which I did for more than 30 years) to multi-media sculpture that uses archival paper, caning or metal and LED lights.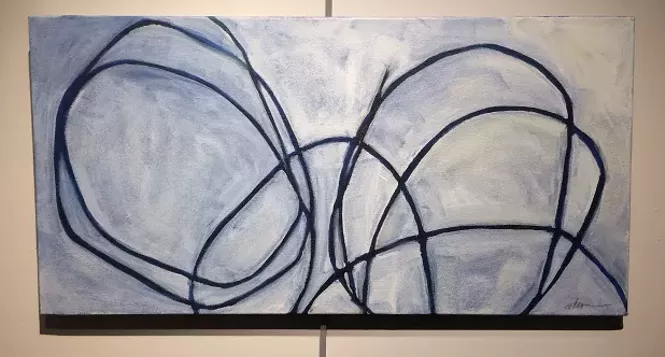 What first got you interested in art growing up? What influences did you have?
I can't remember
not
making art or having plants or animals around. I always had a sketchbook, drawing every tree, horse, dog or frog I could find. In high school, I found a great teacher and started working on sets, lighting and costumes, note realizing that the scale of a
theater
would influence me for the rest of my life. In college, I started wanting to make my own art rather than working with someone else's concept. I worked as a part-time illustrator and transferred from The University of Science and Arts of Oklahoma to Cameron University in southwest Oklahoma. After I graduated, I got married and went with my (then) husband to New York state, where I worked full-time and studied art part-time. While we were there, I got to see the American Ballet Theatre at their summer residence, the New York Jazz Festival and the Picasso Retrospective at MOMA. It was a great experience. He was accepted to the U's biomechanical engineering department, so we moved here and I started doing some freelance work at the zoo and Tracy Aviary while I took art classes and worked at a print shop. Since then we divorced, but we remain friends.
Prior to college, what were your early works like?
Though my teachers and friends said I was talented, I'm pretty sure I was average. I really think it's the amount of drive, persistence and time you put in that matter, along with luck. I've been lucky enough have a pretty supportive family and just stubborn enough not to quit. I grew up in southwest Oklahoma, but I liked Japanese prints and the impressionists from an early age, and especially Monet and Rosa Bonheur. As soon as I saw abstract art I loved it—Franz Kline is still one of my favorite artists, and Helen Frankenthaler. I think the
theater
has made me appreciate monumental works and really large paintings and sculpture. Claus Oldenburg was a favorite for many years, especially after seeing his Giant Hamburger. That was revolutionary at the time.
You received your BFA from Cameron University. What made you choose their program and what was your time like there?
There were three universities close to my hometown, and Cameron had a pretty progressive program and was affordable. I could work part-time if I lived in Lawton, also. We had a lot of guest speakers and we traveled to other universities and galleries—Dallas, Kansas City, wherever there was a large museum with great art. I remember seeing three of the big waterlilies canvases in Dallas, and I was struck by the abstraction and the sheer size of them. While I was in college I was still drawing a lot of wildlife and animals, some on a large scale but somewhat modern in style—large portrait shots rather than a natural stance, as if they were confronting the viewer. I was still doing them when I came to the University of Utah, but I started branching into layers of plants and more abstract paintings while at the U.
What eventually brought you from Oklahoma to Utah? And what made you decide to stay?
My ex-husband was doing an advanced degree in biomechanical engineering at the U of U, so I started taking ceramics classes in art while I worked at a print shop in Sugar House. Kevin Frazier was teaching ceramics at the time, and he told me that if I wanted to learn art from every angle that teaching was a good way to learn. You are forced to look at art from the point of view of more than a hundred different people a day, all with varied experience and backgrounds. I hated the idea of teaching, but I tried it, and he was right. It's a collaborative effort—the students and I all learned a lot each year, and when computers entered into the mix we learned about websites, PhotoShop, computer graphics, animation. I still keep in touch with a lot of students, and I still enjoy the small town experience.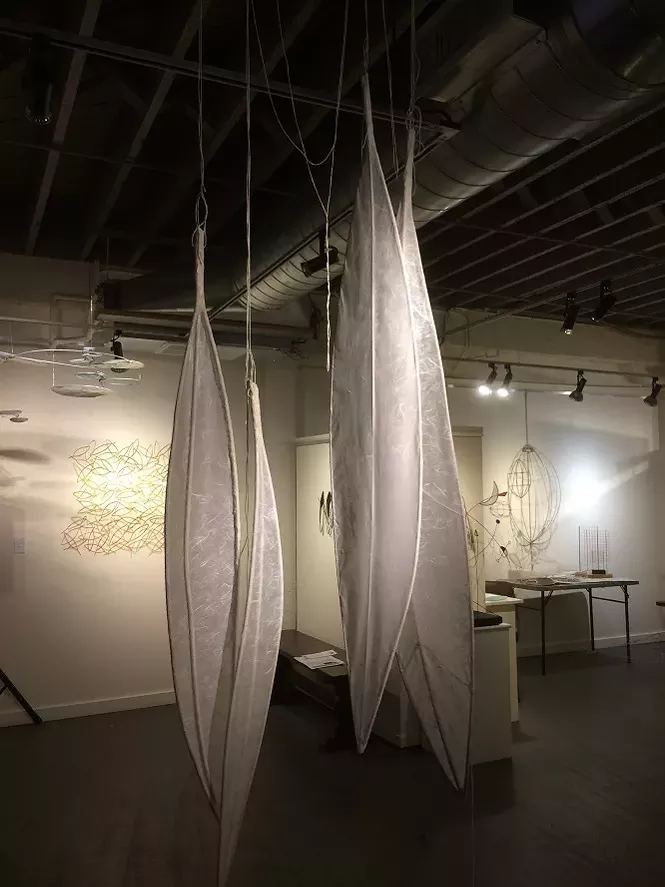 You create works in various genres, but what specifically drew your attention to multi-media pieces?
When I was studying at the U in ceramics I was allowed to use one of the older kilns to melt glass for layering onto flat panels of fired clay that had drawings and glazes on them. I became fascinated by the layers of images and colors or clear panels and was accepted to several shows in Utah during that time. I can remember spending hours melting glass or plastics, playing with lenses and lights, trying all kinds of glazes and paints on ceramics and thinking how to make them into art. About this time, I found myself single, and began teaching secondary art. Life took a turn and suddenly I only had two months of summer to really work, so my sketch books and that two months became very important. I traveled to see shows and galleries as much as I could, and once I spent the summer painting on a small island off the coast of Puerto Rico. They have really big bugs and cute frogs. And spiders. Giant spiders. Great adventure.
How was your time at the University Of Utah and what brought on the decision to become a full-time artist?
I was lucky to study under Dorothy Bearnson while I was taking ceramics classes and doing my art education degree. She knew I would have to teach a bit of everything in public secondary schools and she had a great way with students. Over the next 13 years, I taught everything from drawing, painting and ceramics to (SLCC) college level computer art courses. After 13 years of being single, I met my husband Jim while scuba diving. After we married, I started teaching art history for Utah Electronic High School. I entered the
Masters
Degree program at the U for Instructional Design and Educational Technology to learn how to be a better teacher online, and I still keep in contact with some of the students in that program as well as one of the instructors. After teaching online and doing art part time I started entertaining the idea of working time at art and my husband Jim was very supportive. I saw the works of a sculptor in New Orleans named Viorel
Hodre
and emailed to ask if he would teach me the techniques he uses. We went down for a week and ended up being friends for life. He's one of a handful of people who works in this medium in the U.S.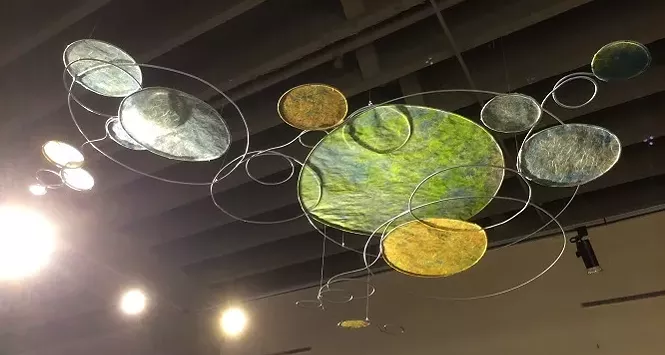 What was it like for you breaking into our art scene and taking part in exhibitions?
I've been in Utah a long time, but when I moved outside of Salt Lake City, I lost track of the art scene. The last time I had more than one piece in an exhibition was over 15 years ago, so it's time to try and reforge all those contacts and connections. The people at Art Access have helped a lot, and I've meet some really great people while working on this installation, both artists and supporters of art.
Tell us about the exhibition you have for this month's Stroll.
It's an installation with paintings, sculptures and items to make a story about a young man who starts seeing things that others can't, somewhere in his teenage years. He starts seeing doctors and they prescribe medications that don't work. His father introduces him to the man who teaches him how to cope with reality, but his dreams are another matter.
The blog
tells more of the story and hopefully, gives insight to the installation. His father gives him space in which to work and he recreates his dreams, which his friend believes are real. It's my first large installation, and though I had a story in the background, I didn't think it was critical to the installation until after I visited Meow Wolf in Santa Fe. That is such an amazing installation, and it gave me an idea of what can be done with collaboration between artists, computer people and a radical business model. I knew it was what I need to work towards in whatever way I can. Trying to integrate a blog, the installation with light, sound and art along with sales of individual pieces while also using GoFundMe to pay for expenses—well, it's been fun. I look forward to feedback to see if the blog works at all. I'm not aware of anyone trying it for this purpose. Do you? I'd love to hear from anyone who does, as I think it's got great potential.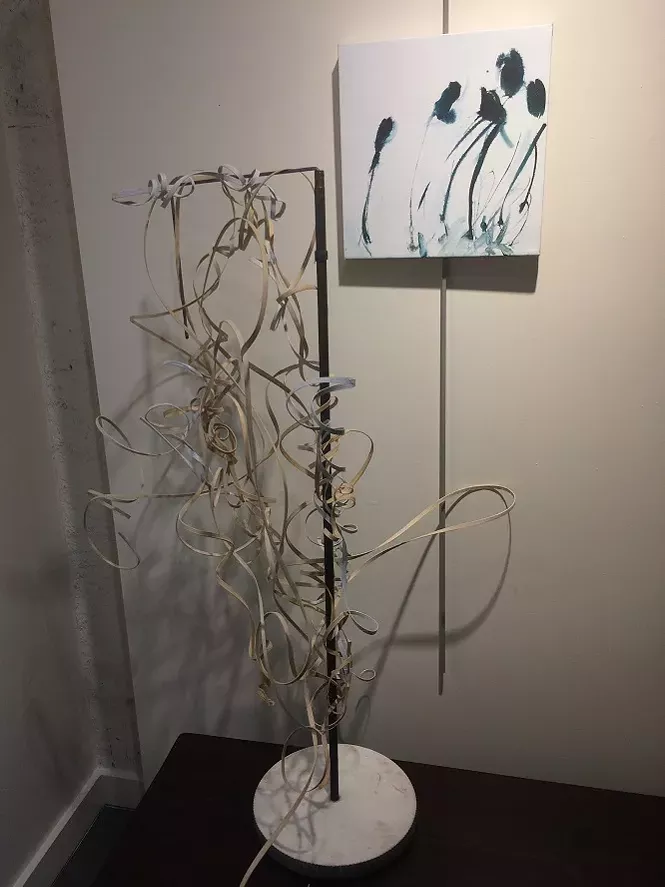 How has it been working with Art Access for the show, and sharing the month with Mark Toso?
Wow, both are amazing. The people at Art Access have been nothing but supportive and helpful, and I really like Mark's work. I've seen a lot of the places he photographed, and I can't imagine what kinds of exposures he used to get both the ruins and the stars to work. I was extremely lucky that the Art Access director and the board chose to combine his work and mine.
What do you hope people take away from this show?
I hope they enjoy the idea of a story behind the art, and perhaps wonder about the nature of dreams and reality. Have you ever met someone who told you a story that you started believing, even though it was highly improbable? It's kind of a "Big Fish" concept—each person's reality and story is a bit different seen through a different lens.
What are your thoughts on our local art scene these days?
I'm really excited about it. There are some big changes in the way artists do business and are using the internet for income, animation, sound and art, and I'm seeing a lot more upscale crafts, urban art, more kids and diversity. I like Utah's art scene because most of the people I meet are
really
interested in art, not just going to shows to do business or impress others. We have a group of artists in Tooele that comes to SLC to see shows quite a bit, and though we are isolated by mountains, we're only 30-40 minutes from downtown. Double that for rush hour, of course.
What artists have you been checking out lately that you'd recommend to people?
We're headed up to Seattle to see the Kusama show in Seattle in June. I haven't seen her infinity rooms yet, so I'm combining that with a trip to study with Steven White in Oregon. He's one of a handful of people in the U.S. working with Unryu paper to create art lights. Meow Wolf in Santa Fe is my latest addiction. It's a group collective of artists who have created an immersive experience called "House of Eternal Return." I really like the mystery and story behind it, and I can't wait to see what they come up with next. One of my favorite locals is Rachel Pettit, a
plein
air
painter here in Tooele, and I'm always watching the work of and so many artists I've met recently in Salt Lake City area that I can't even start to name them, but I'm following their work on Facebook and Pinterest.
What can we expect from you over the rest of 2017?
I have a large commission to finish—a set of large lights for a house in Albuquerque, some smaller pieces for online sales and some unusual costumes for a summer production by LaForge Theatre here in Tooele. I'm also hoping to find some artists and/or computer people in SLC that want to do a collaboration, or possibly a group show. Sometimes it's hard to connect with SLC artists so I'm hoping this will help someone see my work and think it's a good complement for their project.