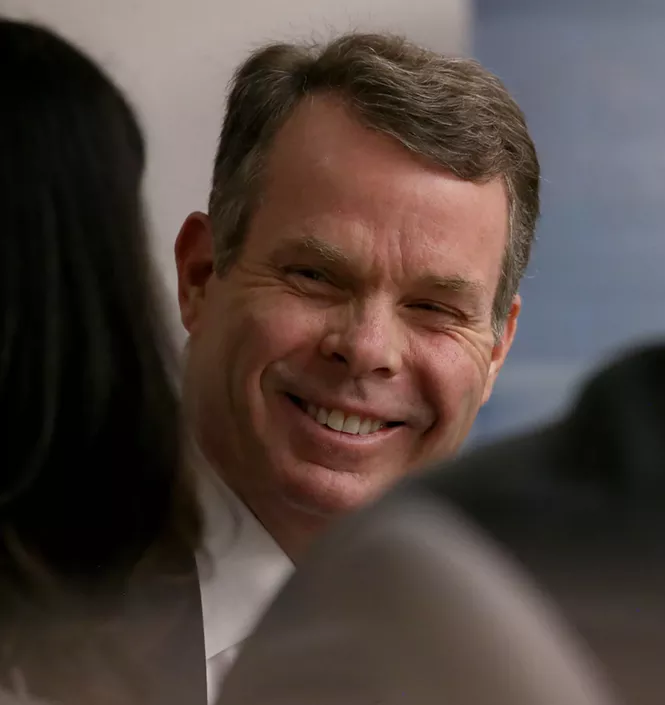 Staring down the barrel of a potential 30-year prison sentence, John Swallow geared up to mount a legal defense at trial Thursday, but not before scoring an incremental victory.
By midmorning, when prosecutors rested their case, they announced to jurors—a few of whom met the news with incredulously wide eyes—that three of the 13 corruption-related charges against the former attorney general were dropped.
Those charges, counts 5, 6 and 8 in the criminal complaint, were for allegedly receiving or soliciting a bribe, money laundering and tampering with evidence. Though the charging document doesn't line up each count with a specific misdeed, it's reasonable to assume that they had to do with Jeremy Johnson, and evidence the state had counted on producing but couldn't.
Key witness and incarcerated businessman, Johnson refused to take the stand day after day at trial by invoking his Fifth Amendment right against self-incrimination on advice from his attorney, Mary Corporon.
The trial picked up Thursday morning with FBI Special Agent Jon Isakson in the witness box resuming his testimony. The terse exchange from Wednesday between lead defense attorney Scott Williams and the lead investigator continued.
Williams asked that Isakson refrain from adding explanations to his yes or no answers.
"I understand that you want to explain yourself, but I'm just going to ask that you answer the question," Williams said at one point.
The day prior, Isakson had accidentally digressed into territory that violated of a pretrial court ruling when he addressed the declination of federal charges against Shurtleff and Swallow.
In response, the defense penned a message for the judge to read aloud, that both informed jurors of the error and excoriated the special agent, who Williams suggested in opening statement was resolute on nailing his client, and thus in the investigation process, refused to consider exculpatory evidence.
Isakson acknowledged to jurors that he mistakenly ventured into testimony that was beyond his scope of authority.
In the morning before jurors resumed their spots on the dais, the defense argued to the judge that testimony elicited Wednesday about Shurtleff's arrest and subsequent charge unfairly implied that Shurtleff was guilty of similar crimes for which Swallow stood trial.
"Now the jury is left with having been told they arrested Mark Shurtleff on the same day as John Swallow," Williams said. "A suggestion that he's guilty and we all know that he has not been so adjudicated."
The prosecution countered that testimony about an arrest does not imply a conviction.
Later in the day, the defense began calling witnesses, beginning with Eric Pearson, who worked as a corporate attorney for Marc Jenson. Jenson, another convicted businessman who was locked up for fraud, was called as the state's first witness and offered perhaps the most damning testimony.
Jenson testified that former attorneys general Mark Shurtleff and John Swallow illicitly took his money and favors.
Pearson, however, told jurors that Jenson routinely paid for rounds of golf, meals and stays at Pelican Hill, a ritzy California community.
Phillip Smith, who worked in the telemarketing industry, also took the stand. He said business leaders were advised to get involved politically, but he said he never offered money for favors to either former attorney general.
The defense is expected to call an expert witness on Tuesday. The jury was excused Thursday afternoon.
Outside the presence of the jury, the defense asked Judge Elizabeth Hruby-Mills for a directed verdict. Both sides defended the remaining counts and whether the state elicited testimony or admitted evidence that supported the charges.
The judge took the order under advisement. She could rule as early as Friday.