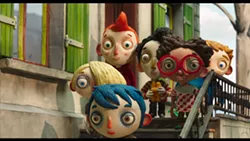 While Disney's 300-pound beast in the room might dominate the box office, Utah theaters include a restored cinematic landmark, killer mermaids and an animated Oscar nominee.
Julie Dash's 1991
Daughters of the Dust
—the first film by an African-American woman director to receive U.S. distribution—gets a 25th anniversary restoration showcasing both its significance and its flaws. The freaky Polish musical-horror tale
The Lure
somehow takes the notion of generally-topless asexual mermaids on land, and turns it into a narrative that doesn't make a damn bit of sense.
Eric D. Snider finds Jim Broadbent's welcome lead performance the main draw of the wispy, high-minded drama
The Sense of an Ending
,
MaryAnn Johanson praises the deep ideas incorporated into the haunting stop-motion animation of the Oscar-nominated
My Life as a Zucchini
(pictured), while
The Belko Experiment
fails to deliver on its satirical premise.
In this week's feature review, Disney's live-action version of
Beauty and the Beast
can't find a worthwhile place between trying something new and cashing in on nostalgia.