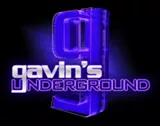 Thanks in part to the EAE program at the University of Utah, a lot of cool video games come out of this state. Through their program, many designers, programmers and artists have been able to collaborate beyond the projects they create in class. One recent partnership to come out of the program is Gravity Well Studios, which is about to release a brand game for PC called
DIVE: Starpath
. Today we chat with the co-founders of the studio about their careers as well as their work on the new game and what they're working on now. (
All pictures provided courtesy of Gravity Well Studios.
)
Dani Powers & Garin Richards
GravityWellStudios.com
Gavin: Hey Dani and Garin! First off, tell us a little bit about yourselves.

Dani:
Born and raised in Salt Lake City, I am the art lead at Gravity Well Studios. I specialize in concept art for games, but I've also illustrated comic books and sell my work online and at local conventions such as Salt Lake Comic Con and FanX. I'm an all-around nerd, pretty much.
Garin:
Originally from Hawaii, I moved to Utah some time ago to pursue an education. As a game developer, I'm always looking to create the next great experience! If I'm not programming, I'm keeping teams afloat in my work as an IT professional and working with local school districts to perpetuate the importance of technical education and game dev at conferences and lectures.
How did you each get into video games growing up?

Dani:
My dad, mostly. When I was a little kid, we'd play
Myst
and
Riven
together, then later went on to
Halo
and
Command and Conquer
. I was always attracted to the storyline that built up the world and characters. Later I got into RPG's on the GameCube and XBox, branching out from watching games to playing them myself.
Garin:
My first system, with photographic proof, was a Sega Genesis with a copy of
Sonic the Hedgehog 2
that my parents had gotten for my sister and I when we were kids. Eventually, I would get into
Halo
as a teen and the interest just skyrocketed from there! I eventually geared my schooling to one day learn how to make cool games—and here I am!
What titles did you love the most, both when you started and games you play today?

Dani:
Bioware's
Mass Effect
franchise will always have a special place in my heart, especially for the focus on character and story elements and how those apply to gameplay. Video games give us a personal journey through the minds of the development team, and you get to explore the world they imagined and built for you. I'm currently playing
Mass Effect: Andromeda
and loving it (though my sleep schedule is suffering)!
Garin:
I have always been a fan of games that create new worlds with interesting stories to tell! I grew up with characters like Lara Croft, Master Chief, even Crash Bandicoot. The sci-fi universe has always had a place in my heart growing up in a
Star Trek
/
Stargate
household, which led me to my home office being half covered in
Halo
merch. Currently, I'm playing
The Last Guardian
and
Horizon Zero Dawn
, completely affixed in the worlds that these teams have created.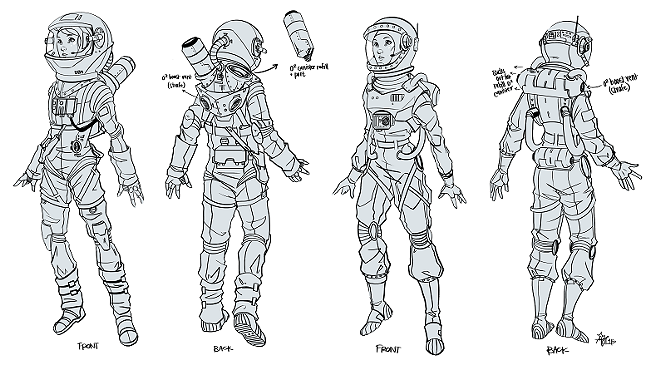 Dani, how did you get involved with art and eventually became a game artist?

Dani:
No joke, I've been drawing since I could hold a pencil. That being said, it took a little searching to find where in the art world I fit in. I am in love with the design process as much as I'm in love with drawing out those ideas. Game art is a very collaborative thing, and I like bouncing ideas off other people to make my designs functional and coherent within the larger game world. In the end, the game industry was such a natural fit.
Garin, what led you down the path to game design and engineering?

Garin:
Growing up I was always a bit of a geek, constantly trying to figure out how things worked, taking things apart and sometimes successfully putting them back together. I latched onto computers the moment I touched one. I discovered that I was really into programming, the hardware and playing games, so it would make sense that my two passions would converge at some point!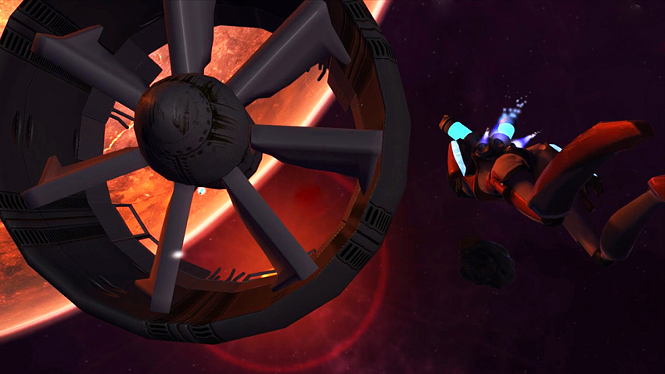 How did the two of you end up meeting each other?

Dani:
We met in our senior year at the University of Utah's Entertainment Arts & Engineering program. EAE spends the first few semesters honing our skills as game designers—for me it was art, for Garin it was programming. Then, in the final stretch, we are given free rein to make games.
Garin:
She had recently pitched
DIVE
and I immediately was hooked by the space and exploration concept. We then joined forces along with a few other classmates and the first incarnations of
DIVE
soon followed.
At what point did you decide you wanted to create your own studio? What made you choose Gravity Well for the name?

Dani:
Gravity Well was a direct factor of
DIVE: Starpath
, something we wanted to create as a banner to fly under as the game development process went on. As far as the name goes, it came to us very organically. We wanted to reference our love of space travel through our studio's name, especially since we were working on a science fiction title. Gravity Well suits the studio.
Garin:
The studio decision came when we knew that we wanted to share
DIVE
with more than just our friends and families. And come to figure out you need an LLC to be able to properly release on, say, the Steam store. After a few days of paperwork and delegation, we were official!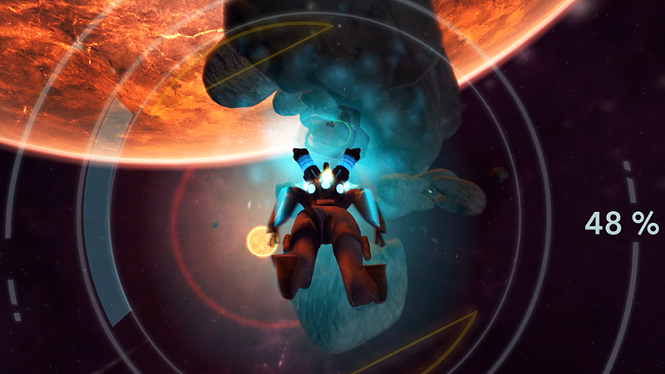 How was it for you both forming the company and finding the talent to join?

Dani:
We were pretty fortunate to begin the LLC while still studying at the University of Utah. All the talent was literally in the room, with the EAE staff there to help get these indie studios up and running. We were free to start the companies and manage them as legitimate businesses, but with a good support network of industry veterans waiting in the wings with critique and advice if we asked for it.
Where did the idea for DIVE: Starpath come from?

Dani:
DIVE Starpath
was in part inspired by the
New Horizons
mission past Pluto and gravitational assist physics. From there, the idea expanded on up-close encounters with planetary bodies and how someone could navigate that orbit between flying off into space and being pulled into the atmosphere. What would it be like to skim the atmosphere of these worlds?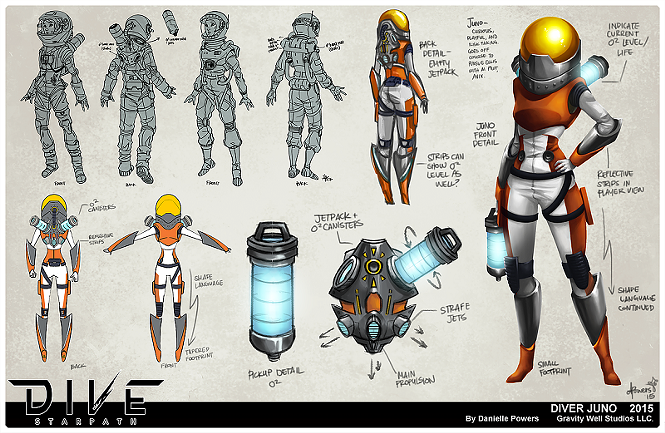 What was it like for you to design the mechanics behind it, and create a system that would be familiar to gamers but unique in approach?

Dani:
This was where our engineering and technical art departments really shined. We had a clear vision from the start of what we wanted to play, and from there it was all about applying the gameplay elements in a way that flowed with controls and retained that fun factor.
Garin:
We wanted a fun arcade flight feel that mimicked many of the experiences we've grown up with, but also had the vastness and grandeur of flying through space. Balancing what players expect to occur versus what would actually mathematically happen was a fine line to walk. We didn't want to lose the fun factor in the science, but we still wanted to operate within it to an extent.
What kind of little additions and twists did you throw on the art style for the game?

Dani:
The art style evolved a fair amount as we worked on
DIVE
, largely a factor of our talent pool. Our art team outnumbered our other teams three to one, so we really wanted to take that manpower and push the visuals to the next level. As a result, we took a fairly stylized approach to our character, Juno, and the inorganic objects she encounters on her journey. Then, when it came to textures and planets, we pulled out all the stops and applied more realistic light-interaction and materials.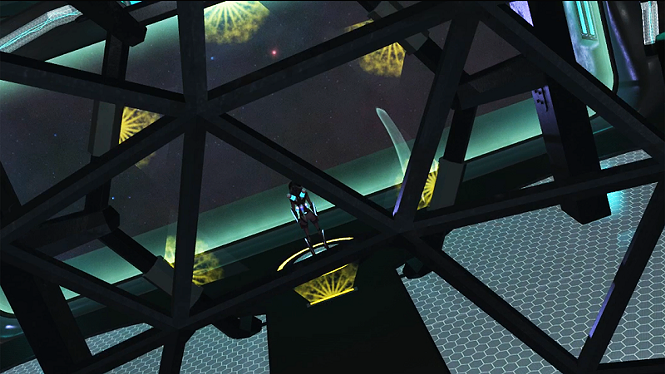 What was the initial reaction like from people during the testing phase? How did it affect the game's final design?

Dani:
We went through several testing phases from various audiences, including at the Game Developer's Conference in 2016 and throughout our Steam Greenlight campaign. The game's final design lent much of its evolution to this feedback, adding and improving on the narrative within the game and expanding on our level flow. When you're so close to something for such a long time, it takes an outside perspective to point out what really grabs the player, and gives you a better idea of what you should be focusing on.
Garin:
Interpreting feedback during all phases of testing is almost half the job! As we neared the end and many elements were finalized, it was really all hands on deck fine-tuning expectations and the player's experience within the
DIVE
universe. What was it that the player enjoyed? How can we turn that up to 11? Coming up with the answers to those questions focuses your final design into creating a meaningful experience that you hope everyone can enjoy.
You're launching the game shortly. When can we see it, and what platforms are you putting it on?

Dani:
DIVE: Starpath
is launching for free on April 14 to Steam, the PC platform. The game is currently in open beta on the Windows 10 store. We are beyond thrilled to share it with the world!
What other projects do you guys have lined up for the rest of 2017?

Dani:
Following
DIVE
's release, we want to run support on the game and ensure good quality of life on Steam: bug fixes, patches and the like. We can't talk about our next project just yet; you'll have to keep an eye on the stars for that.