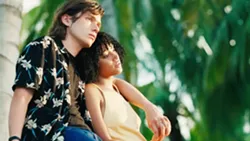 Two franchises that couldn't possibly be more different bring their latest installment to multiplexes, along with a young-adult romance adaptation and a trio of new art-house offerings.
Everything, Everything
(pictured) hits the right, sweet notes in adapting Nicola Yoon's novel about a teen with an autoimmune disorder dealing with first love. Richard Gere's appealing performance explores how being needed can become a substitute for being loved in
Norman: The Moderate Rise and Tragic Fall of a New York Fixer
. The documentary
Obit.
profiles
New York Times
obituary writers in a way that digs into what makes any human life interesting. Liev Schreiber plays Chuck Wepner—the "real-life Rocky"—in the under-developed biopic
Chuck
.
After
Diary of a Wimpy Kid: The Long Haul
, Eric D. Snider concludes that the series would be much better off with cartoon animals than pretending to be about actual humans.
In this week's feature review, Ridley Scott continues trying to smuggle Big Ideas into his
Alien
franchise in
Alien: Covenant
.