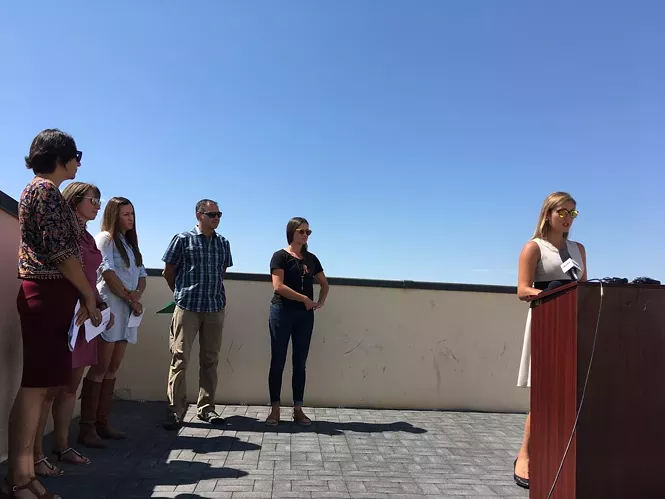 DW Harris
Heal Utah's Policy Director Ashley Soltysiak.
While consulting with local businesses, Leaders for Clean Air representative Erin Strahm hears a similar, dismal refrain from those who have trouble luring new employees to the state. It goes like this: Recruitment becomes exponentially more challenging when companies are forced to sell Utah as a great place to reside—despite the polluted air that on the worst days hangs in full view like an ashen cloth across the Wasatch Mountains.
"People don't want to move here because of the air quality issue," she said. "It's a major factor in quality of life, and it's a major factor when people are looking at jobs, when you're trying to attract that young talent, attract people to your business."
Leaders for Clean Air is a nonprofit that provides electric vehicle charging stations and support companies in the implementation of clean air practices.
The co-founders of Wylder Goods, Jeannie Dial and Lindsey Elliott, say the reputation of Utah's air puts local businesses at a disadvantage, but the sickly air isn't just only a problem in professional lives. Dial said her younger sister suffers from asthma and decided it best to move away. "On a personal level, we're all dealing with this crisis on a very compelling and intimate level as well in our families and in our communities," she said. "I hope there is action taken from the top down."
Wylder Goods, an all-women run outdoor and fitness brand, is one of about 30 businesses (including City Weekly) that signed a letter bound for Gov. Gary Herbert's office, as well as directors of the state's health and environmental departments, urging them to prioritize air quality.
A handful of company representatives held a press conference Tuesday afternoon on the roof of Petzl America in West Valley City.
Strahm said local businesses feel pressure to be more environmentally responsible, as do employees, but government representatives need to feel that pressure too.
The ugly haze that welcomes applicants or vacations to the Salt Lake Valley leaves a lasting impression.
"What's the first thing they notice about our amazing state? They're driving through something that's brown or yellow or gray, and it isn't sexy and it isn't pretty," said Kelly Lake, Lux Catering and Events co-owner.
On top of the aesthetics, the air is harmful and leads to more sick days taken by staff and their children, she said. "We've come to expect this … and I think it's time to expect a little bit more."
President of Petzl America, Nazz Kurth, noted that Salt Lake City—considering its proximity to a gorgeous mountain range and renowned ski resorts—should have a massive competitive advantage, but the poor air wipes that advantage away.
Political leaders, he said, need to lead. "Enough with the talking. It's time for specific actions, so my request is we as a community of business leaders, as families of Salt Lake, we call upon our elected officials to make clean air a priority."