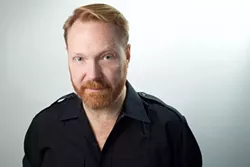 Host Kevin Allison (pictured) brings
Risk! Live
to The Urban Lounge (241 S. 500 East) on Saturday, Sept. 9 at 6 p.m. for an evening of daring personal storytelling. Local participants at press time include Mike Sharp, Kate Dowden, Brian Higgins and Sammy Sponenberg.
Tickets
are $22 for this 21+ event.
The 2017-2018 Utah Symphony season opens with another live symphonic accompaniment of a beloved movie—in this case, Steven Spielberg's 1981 classic
Raiders of the Lost Ark
. John Williams' iconic score resounds through Abravanel Hall (123 W. South Temple) Sept. 7 & 8, 7 p.m., as Harrison Ford's Indiana Jones kicks Nazi butt.
Tickets
are $29 - $59.
If the Salt Lake Greek Festival's taste of contemporary Greek culture isn't enough for you, you can also go old-school Greek culture with the
Classical Greek Theater Festival
. Beginning Sept. 7 at Westminster College, a production of Euripedes'
Ion
makes a tour of several Utah venues, including West Valley City's Utah Cultural Celebration Center, Weber State University and BYU. Dates, times and ticket prices vary; visit website for more info.
The Greek Festival isn't the only cultural celebration energizing downtown this weekend. The
Utah Brazilian Festival
takes over The Gateway (200 S. 400 West on Rio Grande on Saturday, Sept. 9, 1-7 p.m. beginning with the Samba Carnaval Parade. Other activities include musical performances by acts including Batuke Brazil and Brazilian Roots, authentic Brazilian dance and of course plenty of great food, plus arts exhibits and children's activities. Admission is free.
If you didn't get enough fairground fun at the Salt Lake County Fair, it's time now for the
Utah State Fair
, featuring rodeo events, the West Coast Lumberjack Show, Xpogo Stunt Team, music, games, rides, food and more.
Visit website
for ticket prices and daily operating hours.