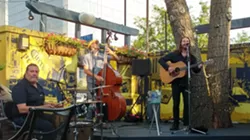 Goodbye Stephen Dark, Hello Nathan Spenser
Bidding farewell to our ace investigative reporter Stephen Dark last Thursday at Gracie's sucked. But I welcomed the distraction provided by the Nathan Spenser Revue. Usually covers sets suck (there's a theme this week); that includes when they're average, something to listen to besides the walla-walla chatter or HVAC hum in the room. But the songs this trio played all caught me off-guard. You don't hear many of them in covers sets, especially in an acoustic guitar, upright bass and drums trio. I'm tempted to list a few, but I want you to experience them the way I did. Maybe it'll take your mind off what's buggin' you for a while. Then go to the
NSR's Reverbnation page
and dig some of their originals, which are damned fine in their own right. Personal favorite: "Famous Amos." 'Cause cookies don't suck, and neither does the Nathan Spenser Revue. (This picture, though? It sucks. Sorry, guys.)
R.I.P. Walter Becker
Speaking of loss: After everyone we lost in 2016 (Bowie, Prince, Abe Vigo da), I decided it's time to dwell on the acceptance stage of the grief process. That means accepting that our heroes a re dropping like flies. But the news that Walter Becker—one of two batteries in the gleaming, vibrating duo Steely Dan, the duo that could do no musical wrong, and the guy that gave us way more than 11 Tracks of Whack—passed on … That sucks. And sometimes that's all you need to say.
Road Trip: Punk in Drublic in Boise
Stuart Stevastos via Wikimedia
Fat Mike of NOFX
If you're free on Sept. 17, you didn't suck down enough beer at
City Weekly
's Utah Beer Festival, and you like punk rock, check out
Punk in Drublic's Boise iteration
. It's a craft beer festival merged with old-school Warped Tour action organized by Fat Mike of NOFX. The Fat One's band headlines alongside Bad Religion, with bands like Goldfinger, Less Than Jake, Bad Cop Bad Cop and more. It's like Warped Tour, before it sucked! Passes will set you back $50 bucks, but that's money well spent, yeah?
CW