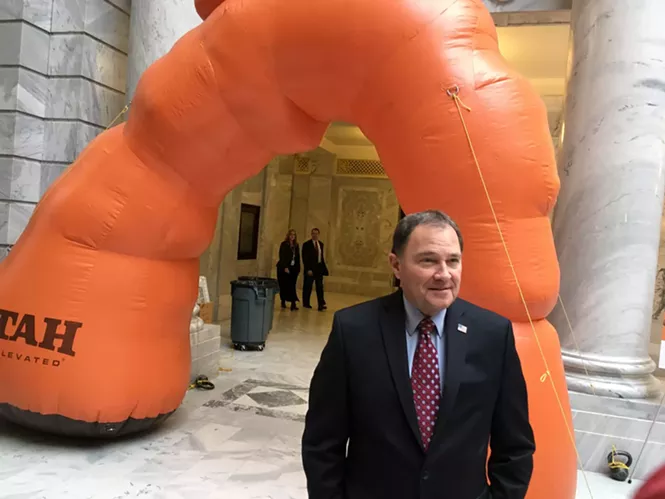 The People's House rang to life Monday morning as lawmakers assembled for the start of the Legislative Session—a 45-day sprint during which an estimated 500 bills will make it to the governor's desk.
Gov. Gary Herbert made a brief appearance in the famed rotunda where members of Utah's outdoor and tourism industry had set up booths for the day.
The state's marketing plan to promote the "Mighty Five" national parks—Zion, Bryce Canyon, Arches, Canyonland and Capitol Reef—has been so successful, he said, that now the government is encouraging potential tourists to visit some of Utah's lesser-known gems.
"The national parks are filled up so we need to start pushing people out into some of our state parks and other recreation areas here in the state of Utah that have great potential," he said, citing Provo Canyon, the San Rafael Swell, high Uintas and dozens of state parks as potential recreation spots.
Herbert's budget proposal includes $22.5 million for tourism promotion—up from around $7 million when Herbert entered the office. The state's marketing is on top of private and local government promotion. Tourism generates about $8.4 billion in economic impacts.
Last year, after the state lawmakers passed a resolution demanding the federal government undo Bears Ears National Monument, conservationists and companies that specialize in outdoor gear labeled Utah as an anti-public land state. Herbert pushed back against that notion on Monday, and he doesn't believe President Donald Trump's decision to drastically shrink two national monuments will affect tourism.
Some folks who live near the former monuments, he noted, are hopeful that the change reduces the number of bodies that fill the nearby canyons and cultural sites.
"We have a conundrum here where some want more travel and tourism and some want less on the Bears Ears sacred land area," he said. "That's going to work its way out through courts or through legislation, but all of it will remain public land. There's not been one square acre of loss of public lands with the Bears Ears Monument before or after."
As the session progresses, Herbert expects education funding to be once again a priority, as well as tax reform and ideas exploring how to maintain infrastructure as the population continues to grow.
"It's a beehive of activity," Herbert said as noise bounced around the vaulted ceiling.