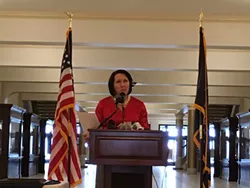 DW Harris
Rep. Karianne Lisonbee
Undeterred by a 45-year established U.S. Supreme Court ruling legalizing abortion, a few Utah lawmakers are introducing a pro-life bill this session that would outlaw some women from getting abortions.
Focusing on unborn children with disabilities, House Bill 205 would bar a woman from terminating her pregnancy if the sole reason is because the baby would be born with Down syndrome. Pro-life lawmakers and advocates organized a press conference Monday morning to announce the bill in the Hall of Governors at the Utah State Capitol.
Sen. Curt Bramble, R-Provo, a co-sponsor of the bill, proclaimed Utah a "pro-life state" that if given the chance it would overturn the landmark Roe v. Wade Supreme Court decision. Instead of trying to outlaw abortion outright, however, supporters zeroed in on language that permits terminating a pregnancy if it is "unwanted."
In some cases, they argued, the pregnancy is wanted up until they find out that the fetus has an extra chromosome. Worldwide, Down syndrome fetuses are much more likely to be aborted than others, Bramble noted.
"There is nothing more important than protecting those that are the most vulnerable among us. An unborn child is a human being. An unborn child is not a non-responsive lump of tissue." he said. "An unborn child is one of Heavenly Father's children."
Primary bill sponsor Rep. Karianne Lisonbee, R-Syracuse, argued that the current abortion laws amount to unequal protection for Down syndrome fetuses. Calling it a dehumanizing bias, Lisonbee argued that many people wrongfully perceived people with Down syndrome as having a lower quality of life.
"Our friends with Down syndrome are full of love and kindness. They have great enthusiasm for life and much to give. But to give, they must be allowed to live," she said. "It is sad that so often our society places priority on perceived intellectual ability or outward appearance. This shallow hubris must not be allowed to creep into our laws and legal system."
Allowing pregnant women to terminate their pregnancy to avoid giving birth to a child with Down syndrome is an act of discrimination, Lisonbee said.
Advocate Amber Berkley told the first-floor crowd that when she was pregnant with her third child in 2014, her doctor told her the child would likely be born with Down syndrome. She was then asked if she wanted to terminate the pregnancy, Berkley said. She and her husband were scared but were guided to some resources about raising a child with Down syndrome.
"Yes, we would inevitably meet and deal with many challenges," she said. "But what we also found, is that we were told that we would find more joy and more love than we ever had imagined. We found that diagnosis to be much more real and much more powerful than the clinical one he had received."
A second component of the bill would require a doctor to provide resources about Down syndrome to women who are pregnant with a Down syndrome child.
Likening the practice to eugenics, Sutherland Institute Senior Fellow Bill Duncan acknowledged that if passed, the bill could be struck down by the courts. He argued, however, that the state should push forward because it would send a message that medical professionals should be "encouraging understanding" among pregnant parents.
"The U.S. Supreme Court has completely disavowed any idea that a person's life should be determined by whether or not they have a disability or some other trait," he said. "This law extends that principle … to preborn life."