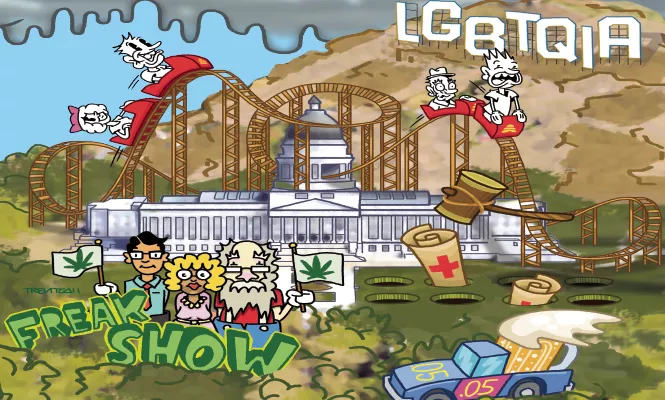 Were you worried the state's Legislature wouldn't deliver the goods this year? You know, some of those out-there moves that make you ask, "Now, what have they been doing this session?"
Worry no more.
Capitol Hill turned it up the heat this week when the House of Representatives dropped a Fresh Prince of Bel-Air parody video titled "Fresh Prints of Bills Here." The moves—certainly cringeworthy—made national headlines, including an appearance on The Late Show with Stephen Colbert Thursday night that left Jon Batiste shaking his head in disgust.
Just look at these fellas:
Via facebook.com/utahreps
They're definitely up to (no?) good.
Rep. Mike Noel, R-Kanab, who also makes an appearance, introduced a bill this week trying to capitalize on his perceived public-lands victory in Southern Utah. Noel introduced House Bill 481 to rename the road through Grand Staircase Escalante and Bears Ears national monuments the "Donald J. Trump National Parks Highway."
Noel told KSTU Channel 13 the designation would be a sign of appreciation for Trump's work on public lands and advocating for its local control. Given the public outcry against the move, Noel might be perceived as one of the guys who "started making trouble in the neighborhood."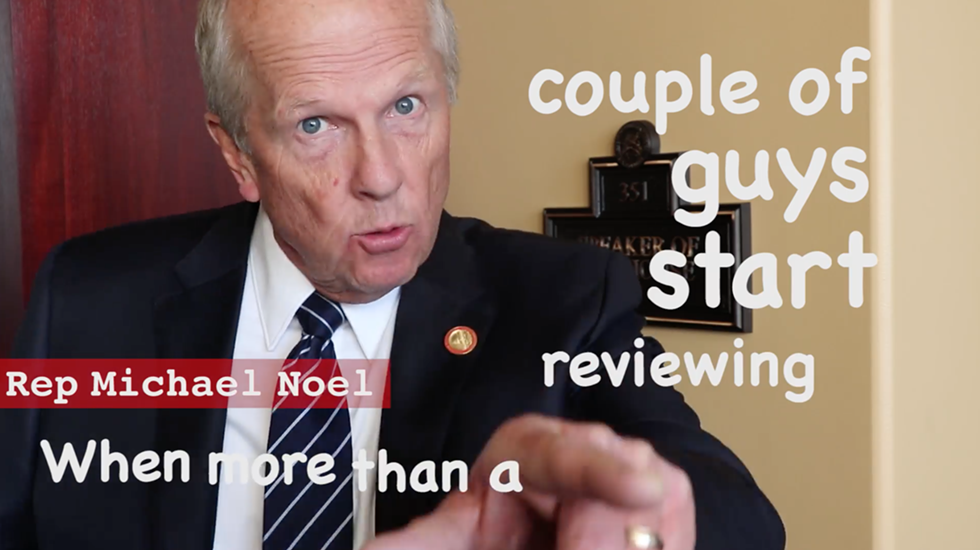 Via facebook.com/utahreps
OK, enough of the jokes. The Legislature only has one week left in the session to finalize any bills, so it's full-steam ahead.
Have you ever been stuck at a red light and would like to run it? Sure? Then Rep. Ken Ivory, R-West Jordan, wants to help.
Ivory introduced a bill this week that would essentially convert a red light into a stop sign. HB146 would allow a driver to proceed through a red light when no other cars, pedestrians or bicycles are present. Ivory said he introduced the bill after hearing a complaint from a constituent who drove through a red light after it did not change, perhaps because of nearby construction.
"This is a safe-on-red bill. It's not a run-a-red-light bill," Ivory told The Salt Lake Tribune.
The legislation would be the second red-light-based bill this session. The House already has passed HB58 that would allow bicyclists to treat red lights as stop signs and stop signs as yield signs.
The state's six ballot initiatives—the ones that would legalize medical cannabis, expand Medicaid, increase taxes for public schools, create a redistricting commission to cut down on gerrymandering along with two opposing initiatives that aim to change how candidates get on primary ballots—also have been the talk of this session.
A House committee advanced HB471, sponsored by Rep. Brad Daw, R-Orem, that would extend the time from when a ballot initiative passes to when it becomes law—from weeks after the November election to 60 days after the next general session. The extra time, he explained, would allow the Legislature to tweak an initiative or make accomodations for it. Uh, wasn't this the reason the public went this route? Because the Legislature didn't do it for them?
"I'm nervous about the concept of empowering the citizenry to intervene so swiftly and rapidly as to even derail the deliberative and systematic processes of the Legislature," new Rep. Travis Seegmiller, R-St. George, said during the hearing.
Daw says the measure wouldn't change the initiative, but allow legislators time to "clean things up."
Rep. Patrice Arent, D-Millcreek, however, said she wasn't worried about "empowering the citizenry," adding she trusts the public process which "needs to be respected."
Seegmiller, don't forget, is the new guy on the Hill that filled Jon Stanard's seat after his abrupt resignation and subsequent news of promiscuous behavior with a call girl, according to the Daily Mail.
Via facebook.com/utahreps