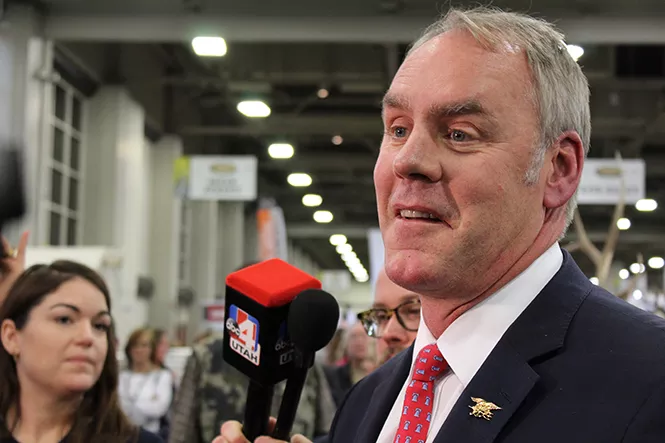 Enrique Limón
Honey, I Shrunk the Public Lands: During his visit to last month's Western Hunting & Conservation Expo held at the Salt Palace, Interior Secretary Ryan Zinke said he'd heard "nefarious arguments about mining and oil and gas" in the Bears Ears area.
Public lands advocates feared the day would come.
And it did March 20 when the Bureau of Land Management—in a precedent-setting move—auctioned 43 parcels of land in the archaeologically rich region of Southern Utah.
The quarterly online auction covered 51,483 acres in San Juan and Grand counties. None of the land offered fell inside the old Bears Ears National Monument boundaries, but a few plots border it.
Landon Newell, an attorney with the Southern Utah Wilderness Alliance, says the move is a "pretty considerable change in the direction of the BLM."
Three years ago, the bureau planned to lease the same lands but decided to hold off on the sale to gather more information when it was advised the leasing could result in "adverse effects," according to reports at the time.
"So to avoid that conflict, they deferred leasing so they could make an informed decision," Newell says. "[Interior Secretary Ryan] Zinke tossed out all those leasing reforms and essentially brought us back full circle to the 'lease everything, lease everywhere' approach of the Bush administration—these parcels would likely not have been offered under the Obama BLM."
The sale drew criticism not only from SUWA, but other groups such as the National Trust for Historic Preservation and Native American tribal representatives, including Utah Diné Bikéyah.
"The regrettable decision by the Bureau of Land Management to lease these lands will place highly significant archaeological resources at risk," Brian Turner, public lands attorney for the National Trust for Historic Preservation, said in a statement. "It is also inconsistent with BLM's decision in 2015 to defer leasing of these parcels because of the considerable degree of unique cultural resources in the area."
Utah Diné Bikéyah held its own protest outside the BLM office in Salt Lake City following the auction. Mark Maryboy, a board member, who attended the protest, later told City Weekly, he's worried that if companies proceed with any type of drilling on the land, it would "be devastating to the human population in general."
"This area is full of archaeological sites and native artifacts," Maryboy says. "I think they've [BLM] done the research, but I think it's the administration that's pushing them to do this."
The relationship between Zinke, President Donald Trump and the Native American tribes hasn't been too friendly, either. Tribes opposed the shrinking of Bears Ears and Grand Staircase Escalante national monuments last year. As the BLM proceeds with land leases, Maryboy says they won't give up their fight.
"We've come to know [Zinke] as being a person with little knowledge, little experience," Maryboy says. "He seems to be more concerned with enriching himself more than trying to protect the environment and I think the last thing on his agenda is conservation and protection of public lands."
Despite heavy criticism, though, the BLM has defended its decisions, citing energy independence as one deciding factor.
"Oil and gas leases sales support domestic energy production and American energy independence," reads a statement from the agency. "The BLM's energy program includes an all-of-the-above approach that includes oil and gas, coal, strategic minerals and renewable sources, all of which can be developed on public lands."
While it's hard to say what might happen to the land that's now leased, the problem, Newell says, is the BLM has lost the ability to stop future development or change its land policy on the parcels since the leases allow for "surface disturbance." And with the BLM's online auction format, it can be harder to determine who is bidding on the land.
One company—Ayers Energy LLC—won bids on 19 parcels. However, the company does not appear in public registration databases in Utah or Wyoming, its listed address for the auction. According to a report in The Salt Lake Tribune, there are also signs the company could be a "straw buyer," purchasing the leases for a third party.
"Leasing in this area is extremely speculative and that's evidenced by the fact who bid on the parcels," Newell says. "If you look at who bid on these leases, they are by large, a collection of nobodies ... they gobble up lease parcels but have no track record of ever producing or putting into production the lease parcels."
Some of the companies could be purchasing the leases to appeal to outsiders. Touting how much land they have under lease, Newell says, can attract potential investors.
Despite claims from the Interior Department that the online process provides greater transparency, Newell says there are now more hoops to jump through to determine who's who, as seen by the Ayers bidding.
"What we have now is a bunch of nobodies that are entirely speculating that they'll strike it rich and sell it to Exxon on the future," he says. "If they get a whim to go out and drill a well, BLM has already set itself down that path by issuing that lease."
As for what's next, groups like Utah Diné Bikéyah are gearing up for the BLM's plans for the Shasha Jaa' and Indian Creek Units of Bears Ears. In its statement from last week, the organization called the "scoping phase" of planning "disrespectful to the judicial branch of government and a waste of taxpayer dollars."
While Zinke has previously said he knows of "no oil and gas assets in the Bears Ears" and of "no permit put forward for uranium," Maryboy says the tribes are still wary, given their history with uranium mining.
"People are concerned about uranium in general," Maryboy says. "Navajos had a lot of experience working in the uranium mines ... most of these people are now gone. One of them is my father. He was blasting into the rocks to bring out more uranium and a lot of Navajos didn't understand the effects of uranium—there was no ventilation in those mines. I think the white folks knew and stayed out of those mines when the Navajos were down there."