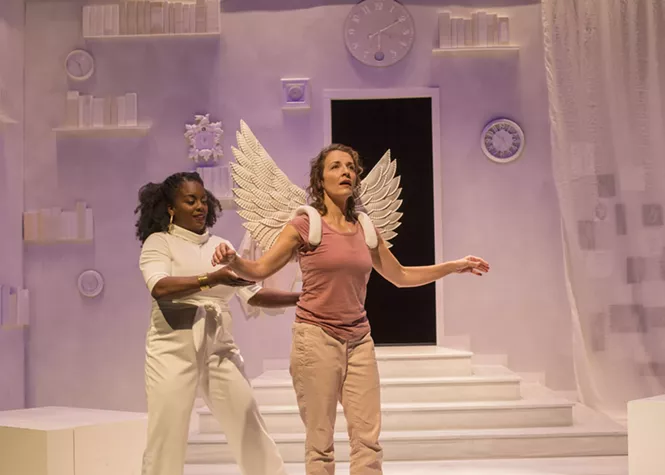 Rick Pollock
Dee-Dee Darby-Duffin and Susanna Florence
There's a certain freedom that comes from not attempting to puzzle a creative work out logically. Jennifer Nii's
The Weird Play
erupts from some place deep in the creative amygdala, a questing exposed nerve of a play that's both simpler and more complicated than any synopsis could distill.
On the most superficial level, it's about a relationship, although that relationship could just as easily be one between a believer and her deity as between two lovers. The blindfolded One (Susanna Florence) is led by Two (Dee-Dee Darby Duffin) into a a white room composed of bookshelves and clocks, a kind of timeless heavenly library. They express emotions to one another, but the words are somehow both precise and opaque: "You are exquisite."/"I am wounded." And then the relationship is complicated by the appearance of Three (April Fossen), who seems somehow more down-to-earth.
Alex Ungerman directs with a fluidity that focuses on the verbal and physical dance the characters undertake, while the design team—set designer Halee Rasmussen, lighting designer Jaron Hermansen, costumer Philip R. Lowe—facilitate the creation of a dreamlike world. It's an immersive experience in which all the components work together towards something grand, yet intimate.
And while such descriptions can easily seem like overly complicated ways to say "I don't get it," "getting it" is in some ways beside the point. This is a theatrical experience where the demand on the viewer is to
feel
it, to connect in an almost visceral way with people experiencing the rapture of infatuation, the pain of jealousy, the unsteadiness of suddenly realizing that you need more than someone else can provide. Along the way, it provides moments of aching clarity, like One emptying a backpack full of items representing the ways people can be self-destructive and determined to escape their emotions.
So
The Weird Play
isn't a riddle that needs to be solved, nor is it a test that makes a viewer feel inept for not being able to put its pieces into clear thematic boxes. Like all of the most compelling art, it's more interested in asking than answering, not employing theatrical surrealism as a way to distance you from reality but as a way of making feelings like brokenness and elation as real and concrete as a clock or a book.
The Weird Play
Rose Wagner Studio Theater
138 W. 300 South
Through March 11
planbtheatre.org
Wait List details: The run of
The Weird Play
is completely sold out. BUT YOU CAN STILL SEE THE SHOW ON A SOLD OUT DATE! A pre-paid wait list will form in the Rose Wagner box office one hour before showtime. You must be there, in person, to get on the wait list. Then check back five minutes before showtime. As many waitlisters as possible will be seated; all others will receive a full refund. Plan-B has never had a sold-out performance where at least two waitlisters haven't been seated.