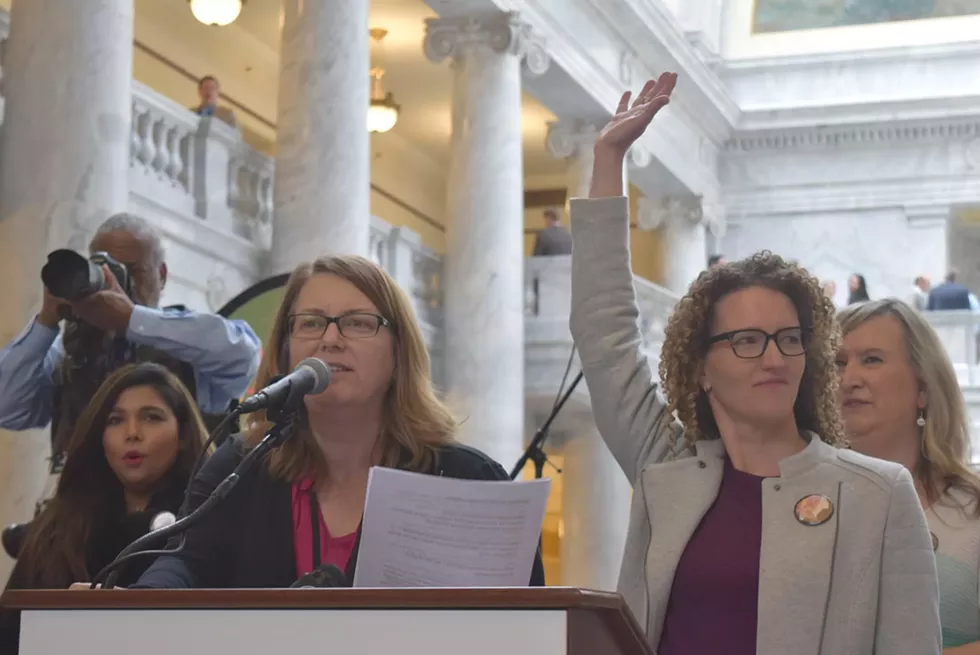 Ray Howze
Lara Jones, left, and Eugenie Hero Jaffe of KRCL 90.9 FM kick off Thursday's International Women's Day celebration.
Capitol Hill was rocking Thursday afternoon but not in celebration of any bills passed this session.
The crowd of nearly 200 people gathered in the Capitol's rotunda made all the noise.
As part of International Women's Day, KRCL 90.9 FM hosted its Amplifying Women's Voices Rally featuring a dozen speakers capped off by a performance from the Brooklyn-based band Lucius.
"Today is a day that we celebrate all women and all female identifying individuals ..." Lara Jones, host of KRCL's Radioactive, told the crowd. "According to the World Economic Forum's 2017 Global Gender Report, gender parity is 200 years away, so in the midst of 'Me Too' and 'Time's Up,' it's time we press for progress."
A few pink pussy hats donned the crowd as well as signs advocating for the passage of the Equal Rights Amendment and Bears Ears National Monument. The crowd even erupted in loud enough cheers to make it hard to hear inside the nearby House and Senate chambers, some said. Thursday was also the final day of the 2018 Legislative session, but for an hour, the focus was elsewhere.
One spectator, Ashley Thalman, sat in the front row with two of her kids, ages 7 and 9, and said she checked them out of school to listen to the speakers and, of course, to see one of their "favorite bands," Lucius.
"I wanted to celebrate International Women's Day with them and show them examples of strong women and men supporting equity," Thalman said. "Things like this are a major touch point and this kind of stuff stands out in the memories of children."
Speakers included representatives from Planned Parenthood, the League of Women Voters, Utah Diné Bikéyah, Better Days 2020, the Utah Women of Color Council, Comunidades Unidas, Equality Utah and the Transgender Education Advocates of Utah.
Mayra Cedano, from Comunidades Unidas, received some of the biggest shouts of support.
"Let's continue to fight racism, xenophobia, classism, sexism and all the oppressive systems," Cedano told the crowd. "Let's continue to do so on a day-to-day interaction … but hey, don't forget to check your privileges, right? Because we don't want to be perpetuating the same systems that we're trying to reform."
Karrie Galloway, director of Planned Parenthood in Utah, encouraged everyone to get involved and to educate themselves when it comes time to get to the ballot.
"Planned Parenthood's mission here in Utah is not to just make sure you can have safe sex, responsible sex, maybe good sex, but we are also here to help the young leaders come forth," Galloway said. "We need them for our organizations and we need them to make our laws.

"We need to make sure we are registered to vote, we need to make sure we know who we're voting for and we need to make sure we know what that person stands for."
Ray Howze
The lead singers from Lucius entertain the crowd during Thursday's "Amplifying Women's Voices" celebration.
Following the 30 minutes of speeches, the crowd gathered closer to hear a set from Lucius broadcast live on KRCL. Despite the rotunda's poor sound quality and continuous echo, the sound carried well enough to get some people dancing.
Jones said the main message she and organizers wanted to share was that "we all have a voice." She hopes the younger generation picks up some of the momentum, as seen with students in Florida following the Stoneman Douglas High School shooting.
"This next generation that's coming up—with all these kids from Parkland (Fla.) and across the country demanding that we grownups do something for crying out loud, instead of being beholden to our donors and our lobbyists and public pressure—it's really inspiring to see what's coming up next."