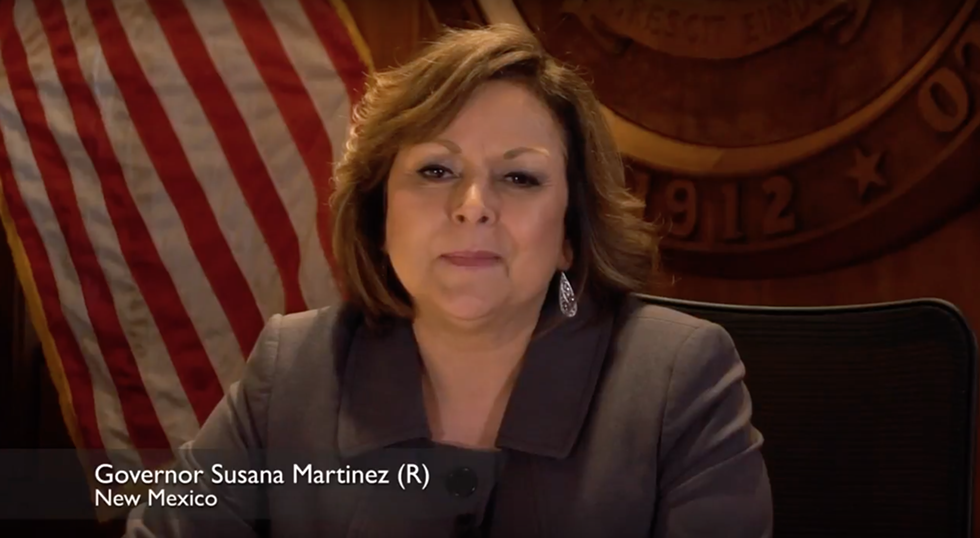 New Mexico's governor wants Utah to listen—just listen, carefully.
"Keeping dangerous criminals off the streets and behind bars where they belong has always been one of my top priorities," Gov. Susana Martinez said in a video message posted to YouTube.

Sounds reasonable, right?
But there's more to Martinez' message. It's directed at pretrial detention reforms—bail and how courts determine the dollar amounts—and has been a topic Utah court officials and legislators have seriously discussed since last year.
"Here in New Mexico, we've been working hard to crack down on a catch-and-release revolving-door criminal justice system—a problem that irresponsible interpretations and rules implemented by courts and the Arnold pretrial risk assessment tool have only aggravated," the governor goes on to say. "New Mexico implemented this pretrial risk assessment tool to devastating results."
The video shared with media outlets was part of a news release posted by the American Bail Coalition (ABC) this month. The coalition is a bail-advocacy organization opposed to courts implementing a new screening process developed by the Linda and John Arnold Foundation that is meant to help predict whether a defendant will commit a crime while on bail.
The screening process creates an automated report that includes a defendant's background information, failure-to-appear records and their history of violent offenses. It then rates them on a 1-6 scale based on how likely they are to miss a court date.

The algorithm-based process is controversial. Supporters say the system could limit prejudicial judgments that could be influenced race, gender and even clothing, according to the Associated Press. Critics, like the ABC and Martinez, say it supplants a judge's own judgment and creates the proverbial "revolving door."
However, the ABC's news item said Utah would "roll out broad criminal pretrial release reforms that include the state-wide implementation of the Arnold Foundation's Pretrial Risk Assessment Tool" on May 1. According to Utah Courts spokesman Geoff Fattah, that is not accurate.


"The information being put out by the bail industry is not correct," Fattah told City Weekly via email. "We haven't set an implementation date.
"We are still training people, from jail staff to judges. Once we have done that, we will set an implementation date."
When reached by phone Wednesday, ABC Executive Director Jeff Clayton said it's "an open question" on how it will be implemented in Utah. Clayton said he was unsure about the May 1 date included in the organization's news release.
Utah legislators discussed the reform last September, but failed to delay the system's implementation. Court officials said they would move forward, according to a report in The Salt Lake Tribune. Then in the coming months, officials switched course and said they'd work with lawmakers before launching the program.
Clayton said one possible source of confusion could have originated from bail-bond companies and whether they were operating under the impression some of these reforms would take place next month.
"We'll see what the judicial behavior is toward all this," Clayton said. "The way the law is set up, judges could probably ignore it if they want to."
Martinez' video was shared through a YouTube account not associated with the governor's office, but one connected to public-relations agency Media Vista Public Relations, working on behalf of ABC.
"The original video shot by Gov. Martinez was sent by her directly to members of the legislature, judges and DAs," said Elliott Chang with the public-relations company. Chang said they were given a copy and permission to "use it as they wished."
When asked for clarification Wednesday, a spokeswoman with Martinez' office responded: "The implementation of the pre-trial detention rules by the New Mexico Supreme Court is disastrous for our communities. The governor will continue to stand against dangerous criminals and repeat offenders being let out on the streets and will lend her voice to any state considering these faulty rules."
Fattah said there are a few major differences between what Utah is considering and what New Mexico did.
"[Utah] did not pass a constitutional amendment, and [Utah] did not do away with monetary bail," Fattah wrote. "Cash bail will still be available as an option to all of our judges."
So, bail reform is still in the works. Just listen carefully.
"I encourage those in Utah to be very skeptical of voices calling for misleading devices that would result in letting dangerous criminals back out on the street to terrorize communities," Martinez later said in the video.
Skeptical, indeed.