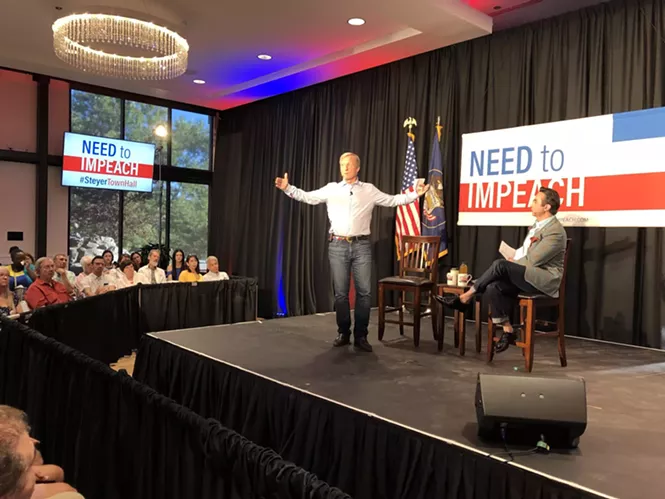 Kelan Lyons
It's my party and I'll impeach if I want to: Hedge fund manager Tom Steyer addresses a Salt Lake City crowd on Friday, June 29.
Billionaire Tom Steyer had two questions for the crowd gathered Friday night at the Falls Event Center: Has President Donald Trump met the necessary criteria to be impeached? And, is it urgent to get him out of office?
Some 250 attendees shouted a resounding "yes!" in response.
Steyer, a California philanthropist and previous fundraiser for Hillary Clinton and former President Barack Obama, was in town for the 20th stop of his Need to Impeach tour. Since launching the initiative in October 2017, more than 5 million people have lent their signature asking Congress to impeach President Trump.
Referencing the president's firing of FBI director James Comey and the alleged acceptance of foreign government money, Steyer said he believes there's enough evidence to initiate charges. Acknowledging he's not better ideologically aligned with Trump's defacto replacements—Vice President Mike Pence, followed by Speaker of the House Paul Ryan—Steyer was quick to point out that's beside the point.
"This is about standing up for the rule of law," he said.
Steyer encouraged the crowd to contact their elected representatives and tell them they support the impeachment process. "We are the people that get to make this decision together," he rallied.
It didn't take long for the town hall to veer off-topic and onto various phrasings of What should we do?, making the night therapeutic for some dismayed by the current administration's policies and the impending rightward shift of the Supreme Court come August. "We've got to acknowledge we're in the basement right now," Steyer said.
He fielded further questions on a range of matters—from how to reach out to Trump supporters and minorities affected by the presidency's "zero-tolerance" immigration policy—to dealing with so-called fake news and gerrymandering.

At one point, town hall moderator Erik Olvera asked Steyer a question. Identifying as a gay, Latino man who hadn't grown up with much money, Olvera asked the hedge fund manager why he, a rich white man, would care about someone like him.
"I believe in the values of America, and that means everybody gets treated fairly," Steyer responded. "I want to lead the world in showing the way it's supposed to be done."
Attendees clapped and cheered until a voice from out the throng shouted a follow-up question—"So, why aren't you running for president?" Steyer laughed along with the crowd.
Eventually, the conversation turned back to the central subject and what to do if establishment Democrats like Chuck Schumer and Nancy Pelosi clear impeachment off the table.
Steyer left the audience with this optimistic thought: "I believe the power's in the hands of the Americans."