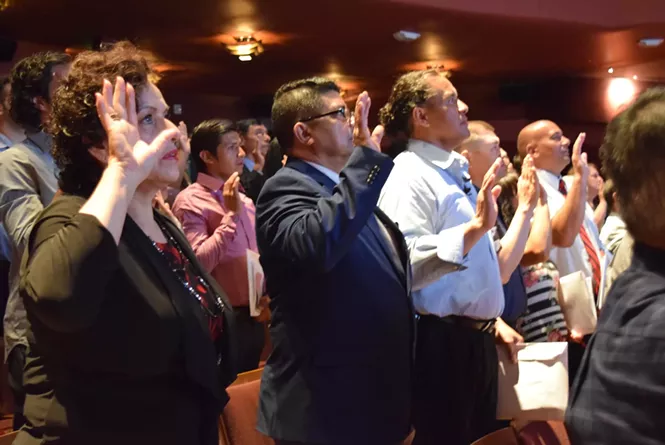 As immigration at the U.S. southern border and travel bans dominate the nation's headlines, Salt Lake City and County still embrace new citizens almost every month.
On Friday, the U.S. Citizenship and Immigration Services office welcomed 111 new Americans in its annual Independence Day celebration at the Rose Wagner Performing Arts Center.
"Just as those who have come before you, you bring your history, talent and culture from throughout the world," 10th Circuit Judge Scott Matheson Jr. told the crowd. "In doing so, you strengthen this country and enrich the lives of all Americans—we welcome you, we thank you and we are proud to call you our fellow Americans."
This newest batch of citizens came from 38 countries in Europe, Asia, Africa and South- and Central America. Across the U.S., more than 14,000 immigrants were naturalized from June 28 to July 10.
Many shared their stories of how they ended up in Utah. Some cried tears of joy and relief following the Oath of Allegiance while others stood to thank everyone who helped them finally achieve citizenship.
Eunice Garley told City Weekly she came to U.S. as a refugee while fleeing Liberia in 2004. She first lived in Connecticut where she initially applied for U.S. citizenship but was denied because of family issues and issues with dated documents, she said. In 2017, she was eligible to apply again.
"I'm really excited I'm finally an American citizen, can get my American passport and finally be free," a beaming Garley said.


Now, she works for a Utah company that helps kids and families with autism.
"The only thing I really want to do, is help people in need," she said. "That's why I love my job—because I get to help people who are mentally incapable of helping themselves."
During the ceremony, the soon-to-be citizens were frequently encouraged to vote and stay informed on current issues. France Merrill, representing the Daughters of the American Revolution, told the crowd to speak to their elected officials, because "they represent you and they need to hear from you."
"Your opinion counts in this country," Merrill continued. "Now that you will be a citizen ... it is your duty to study all the issues that affect you and then make a very informed vote at the ballot box ... You must become involved to keep America great and strong and we all know that diversity is what makes America great."
Jose Gonzalez was another refugee who had to flee his country. He left Cuba in 2005 with his family and the eventually settled in Salt Lake City. Now, he works in construction but said he hopes more opportunities emerge after becoming a citizen.
"I feel relieved and I'm really proud to take the next step [toward] more opportunities to come," Gonzalez said.
But not all of those naturalized Friday were fleeing war-torn countries or other violence. Jane Voorhees came to the U.S. 45 years ago from England with her family. After decades of living in the U.S., she said it was finally time to make her citizenship official.
"This is home," she said. "I'm sure I will go back to visit—but ultimately, I am home."