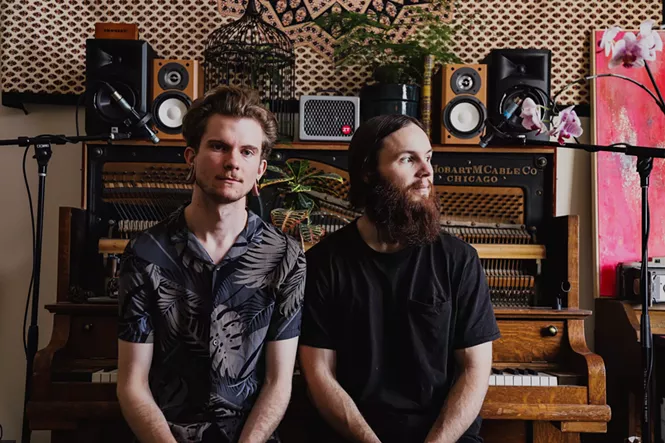 Jones
Strange Familia
Summer's almost over, but local duo Strange Familia keep the party going with new single "Don't Talk About This," premiering exclusively here at
City Weekly
before Brecken Jones and Garret Williams perform at
The Urban Lounge on Saturday, Sept. 15
.
A shimmery, danceable jam built on an unabashed pop beat, jungly drums, chopped and diced vocals and funky electric guitars, "Don't Talk About This" covers extensive ground in its 2:34 run time. Reflecting Jones' and Williams' love of Michael Jackson, it also gets just weird enough to incorporate their fascination with Bon Iver, Neil Degrasse Tyson and Hunter S. Thompson (dig that disembodied robot voice saying "Bienvenidos a Partytown U.S.A.").
Strange Familia are on a heck of a run recently—earlier this summer, they released a four-song acoustic EP commemorating the one-year anniversary of their
Strange Familia
LP. (One of those songs, "Lila," memorialized Williams' 4-year-old daughter, who died in a tragic car accident last October.) Jones and Williams also produced a stand-alone single, "New Girl," that was released in July. Add "Don't Talk About This" to your Spotify playlist
here
.
The duo had a busy spring and summer playing shows in Chicago, Denver and New York, along with Clearfield's 4th of July party and the Beaver Mountain Music Festival on the shores of Bear Lake. Now, Strange Familia celebrates its first headining show in Salt Lake City since March with this weekend's single release party. Support will come from local synth-pop sensation EIXO and Luke Barton's solo Luco project. Tickets are $10 advance, $12 door.