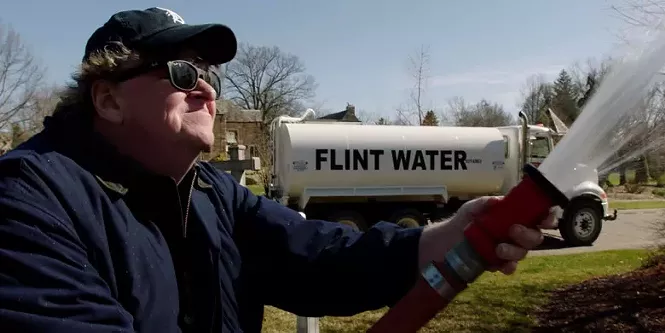 It's a weekend jam-packed with new releases, including Michael Moore's latest documentary, several creepy tales ahead of Halloween season and a mind-bogglingly misguided romantic drama.
In
Fahrenheit 11/9
(pictured), Michael Moore offers a surprising balance of hope and misery from the Trump Era. The story of Lizzie Borden becomes a plodding would-be swipe at the patriarchy in
Lizzie
. The supernatural horror film
Lore
can't find a compelling narrative to match its ominous atmosphere. Pure style goes a long way in the wild, violent, kinda incoherent heist thriller
Let the Corpses Tan
. The end of the world gets a few unique kicks in the character study of
I Think We're Alone Now
.
MaryAnn Johanson praises the perfect mix of humor and training-wheels scares in
The House With a Clock in Its Walls
.
A Happening of Monumental Proportions
wastes a great cast in a story that succeeds only at making Los Angeles look sociopathic, and not intentionally.
Eric D. Snider finds
Assassination Nation
combining raucous fun with self-consciously edgy satire.
In this week's feature review,
Life Itself
serves up a tuneless would-be opera about the majesty of human existence.