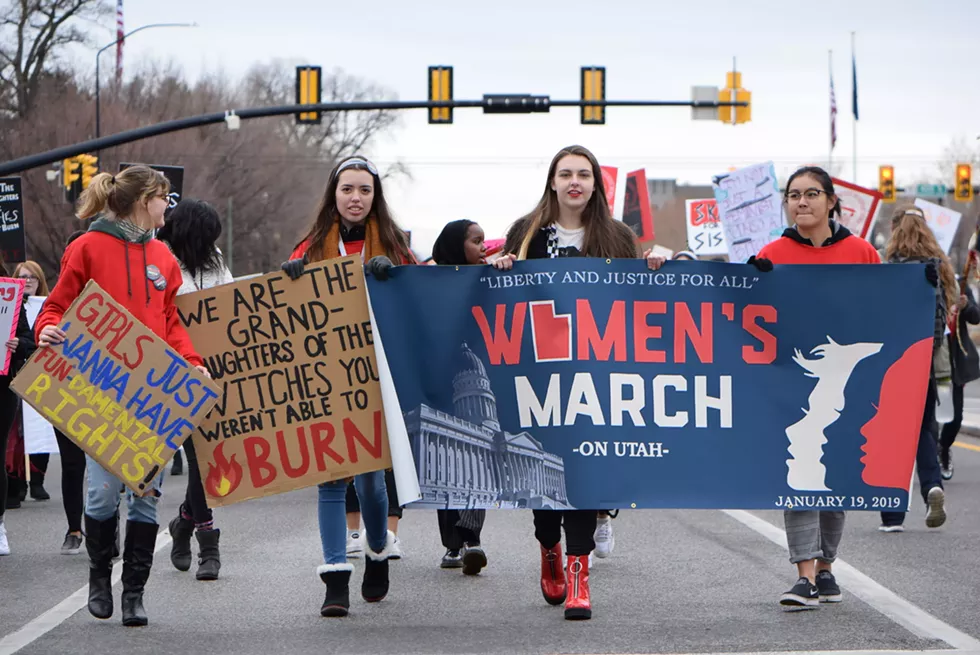 Before they crossed the street to join the other demonstrators in Washington Square, Jennifer Boyce and some 30 members of Peaceful Advocates for Native Dialogue & Organizing Support (PANDOS) posed for pictures outside the Matheson Courthouse. They held red cutouts to symbolize the friends and family members who couldn't be with them: indigenous women who had gone missing or been murdered. Women in the front of the crowd held up a red and white sign—a banner that would soon lead the Salt Lake City protest—that read, "In memory of our stolen sisters."
"My goal is to be there and represent them, and those who are silenced," Jennifer Boyce, PANDOS' committee chair of the Murdered and Missing Indigenous Women of Utah, said. "We're all connected in some way or another. It's going to take a lot of different communities coming together to solve problems of really any kind, but also this one."
PANDOS members were among the police-estimated 2,000 people who marched through Salt Lake City on Saturday to participate in the national Women's March. The third one since President Donald Trump took office. Marchers trekked more than a mile uphill, from the City and County building to Capitol Hill to show their commitment to values like wage equality, women's health and equal representation across career fields.
Ray Howze
PANDOS members underscored the plague of murdered and indigenous women during Saturday's mach.
Salt Lake City's protest was called the "Womxn's March," to emphasize inclusivity and respect for the diversity of its participants. Some critics have accused national march organizers as being anti-Semitic and uninterested in emphasizing intersectional feminism—the philosophy that women's liberation is connected to liberation and justice for other marginalized communities.

"We don't want anyone to feel excluded. Everyone has the right to express who they are and express their concerns. We want to make it a safe platform for all women, from everywhere," Dieu Hoang, a representative from People for Unity, told City Weekly before the protest. "We just want all women to be represented and have their voice heard."
People for Unity, a student-led organization at the University of Utah, organized the rally. The speakers came from diverse backgrounds and emphasized a broad range of issues: Saida Dahir, an 18-year-old Somali refugee, poet and local activist, talked about "the struggle of being a black, Muslim woman"; Ermiya Fanaeian, a trans woman, student at the U and one of the founders of Utah's March for Our Lives chapter, emphasized that each group's liberation is tied to the liberation of other marginalized groups; Jackie Biskupski, Salt Lake City's first openly gay mayor, called on the state Legislature to pass the Equal Rights Amendment; Mishka Banuri, a Pakistani-American student activist and community organizer, gave an emotional speech on the importance of representation in movies and television; and Boyce discussed the epidemic of murdered and missing indigenous women within and outside Utah, and her organization's efforts to engage with local police to address the violence.
"It is not all doom and gloom," Boyce said from the Capitol's steps. "My reality includes the fact that despite my ancestors' literal encounters with both Custer and Columbus, I stand before you. I am here even though many tried to prevent the existence of indigenous people. A resilient, graduate-level, educated indigenous woman who will not quit, because that is the example my mothers and grandmothers have set for me."
Salt Lake County mayoral hopeful Shireen Ghorbani was among those present. "Really for me, it's about staying engaged and helping people understand there are lots of ways they can give back to their community," she told City Weekly, underlining the importance of showing up and supporting vulnerable populations like Dreamers, refugees and trans individuals. "Whatever the issue is, we need to keep showing up because if we don't, we're never gonna be able to fight back."
In her speech, Dahir performed a rousing spoken word piece of poetry about Trump's election. "You see that Tuesday night was just the beginning of this long, dreadful fight. The beginning of this battle, the beginning of this war, and we won't stop fighting till he leaves that office door," she rhymed, offering words of encouragement alongside sorrowful anecdotes before ending on a hopeful note: "To cry is to be powerful. And to be powerful, I say, is to be a woman."