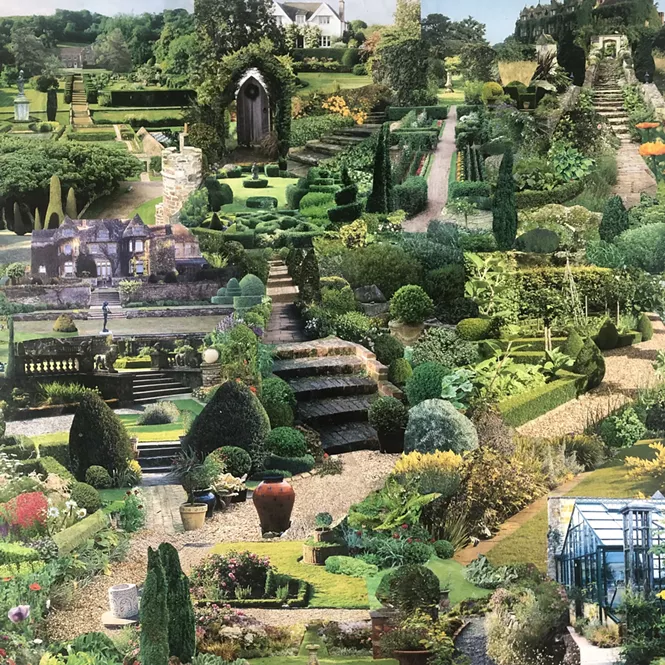 While there seems to be an absence of spring outside, those itching for a rebirth can get their fix strolling indoors via a "green" carpet, in the midst of
Rooted
, a new garden-inspired exhibit meant to redefine the art viewing experience.
Created by SLC based collage artist Siri Elaine, this imaginative concept is an interactive journey through a fairy-tale landscape of installations while viewing a gallery of garden-inspired collages. At this multi-sensory event, visitors will also enjoy delicious food and cocktails while listening to upbeat music.
As an interpretive re-construction of a living garden, the exhibit is an ode to the root of Elaine's inspirations as it delicately weaves a story of rediscovery and finding happiness after trauma. Spending more than 13 months preparing for the exhibit—from tediously piecing thousands of clippings into dreamlike collages, to designing and decorating the studio space for the opening—Elaine knew from the start she wanted something different.
"I wanted this exhibit to be more than just a gallery show," says Elaine. "I wanted to make it a bigger and more personal immersive experience."
Experiencing years of trauma growing up, Elaine reached a turning point in high school when she discovered art through an aunt as a way to get deal with difficult things in life, spending hours at her house making random art with her. "I needed a place to make a connection and get out of the trauma," Elaine says. "She believed in me and being at her house gave me purpose.
Inviting the viewer into the story behind her artwork, Elaine takes a risk with such deeply personal self-reflection but for her, it is all for the greater good. "Art is a really amazing tool in working thru hard times," says Elaine. "I want to be a part of the movement that shows art can heal."
Siri Elaine: Rooted
Commonwealth Studios
150 W Commonwealth Ave #104
South Salt Lake
April 19 and 20
8 p.m. to 12 a.m.