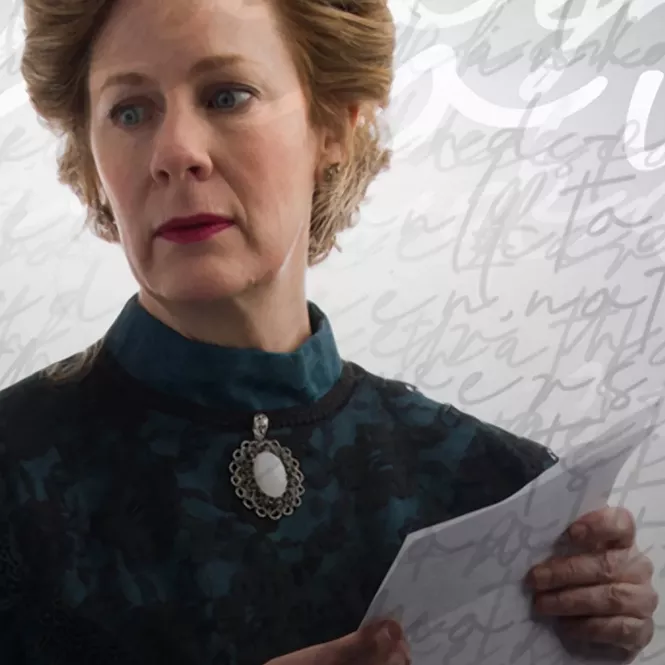 Robert Holman
Christy Summerhays in Sweetheart Come
One of the advantages of staging a world-premiere play is the ability to treat the material as a blank canvas for creative staging ideas. Pygmalion Productions and director Mark Fossen take that notion quite literally for Melissa Leilani Larson's
Sweetheart Come
—and the result is one of the most fascinating pieces of small-scale physical stagecraft on a local stage in recent years.
Based on the real-life story of Emma Hauck (Christy Summerhays), the narrative opens in summer 1908, as Emma struggles with new public responsibilities as her husband, university professor Michael (Patrick Kintz), runs for the city council of Mannheim, Germany. She finds a confidant in their groundskeeper, August (Roger Dunbar), but continues to wrestle with her fears of being out among people, and often retreats into poetic love letters she writes to Michael.
It doesn't take long for
Sweetheart Come
to reveal itself as a character study of mental illness—even if you're not already familiar with the Emma Hauck story—and Summerhays captures with wonderful poignancy a woman trying every possible coping mechanism to pass as "normal" in the glad-handing world of a candidate's wife. Dunbar and Kintz provide great support—particularly Dunbar, whose character grows increasingly enigmatic—but this is Summerhays' show, and she's powerful both in her vulnerability and her fight to control an illness that can't be controlled, and has barely been named.
Yet much of the intensity comes from the set design by Thomas George that inscribes Emma in a single room of her house: three simple walls of butcher paper over a wooden frame, turning the usual depths of the Rose Wagner Black Box stage into something more akin to a cell. Though at first those paper walls seem like merely a clever way to position us in time as Emma writes the month and year of our setting, they are used to multiple brilliant effects. At times the characters draw the position of various objects, like a window or a wood stove; at other times, a silhouette lit from behind allows for a representation of past events remembered; and sometimes it becomes possible for characters to tear through those walls, capturing the thin film between Emma and her grasp on reality. By the conclusion of
Sweetheart Come
, those three plain white walls have transformed completely, becoming a breathtaking visual representation of psychic chaos.
Larson's text provides a superb foundation, building the mystery of Emma Hauck's love letters into a study of both Emma's pain and the attempts by Michael to help her with that pain as best as he can understand it. That text is elevated by the production team, doing the tricky work of pulling an audience member into Emma's fragile mind. We discover her as a writer trying to do that nerve-wracking writer's work of filling in a blank piece of paper—and we see the even more frightening reality of what filling in that blank paper might show the world about you.
Sweetheart Come
Pygmalion Theater Co.
Rose Wagner Black Box Theater
138 W. 300 South
through May 18